After my brother jumped on board at Menton, the last city in the Southeast of France before the border, we sailed into Italy! We were very excited to do so after 3 months of sailing the South of France and to have received many lovely guests this summer in the Cote d'Azur.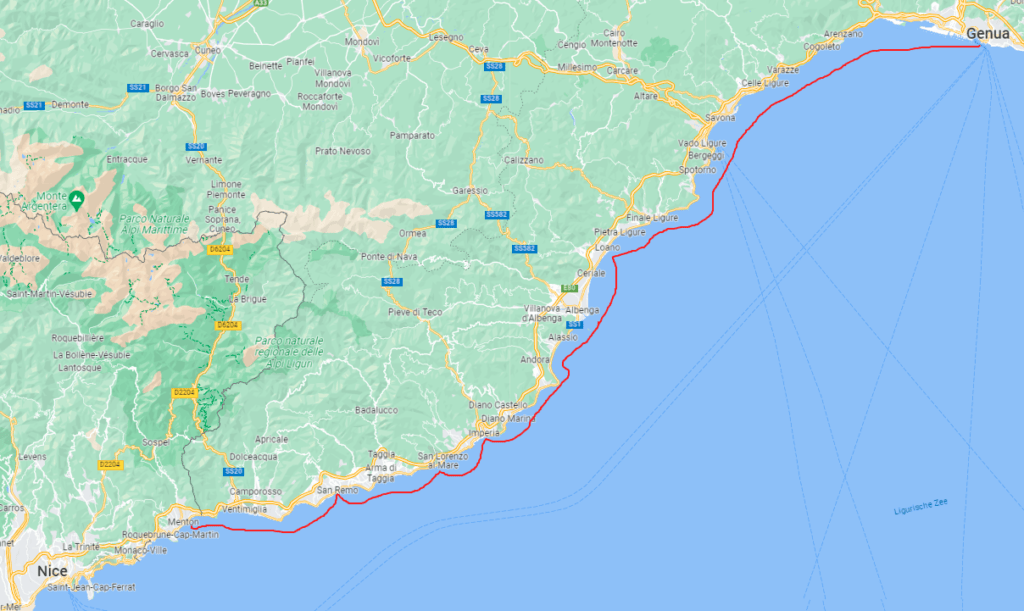 You actually don't notice crossing a border to another land on water! I checked it on the navigation station, comparing it to land, and there we were, in Italian waters. But there is no 'border control', flag or a marker like a special buoy in the water, to let you know you crossed a border. But we did notice right away the change in culture! Because it's common in the sailing world to wave at the captain of a passing boat. But from Saint-Tropez, the atmosphere among (French) boaters on the water was a bit posh. They have large or expensive ships (90% rented, by the way) and feel all that. So they either did not raise their hand and left us 'hanging' or just raised their armed a bit. You could hardly call that waving. When we saw the first boat approaching with an Italian flag, I wanted to raise my hand, but before I could do that, the entire family onboard started waving and the kids shouted: 'Ciao, ciao'! I laughed, waved back and said Ciao as well. I turned to Gilles and asked: 'Have we seen them before or something?'. I was that surprised by all the kindness. But it was also the next boat and the next boat. Really a warm welcome to Italy!
San Remo
The first Italian city we went into was San Remo. We anchored closeby in the harbor and we took our e-bike and step on land with our dinghy.
In that first hour of being in Italy I immediately noticed 5 big difference compared to France where we had been since the 5yh May:
Scooters, scooters, scooters! The first street we wanted to cross, we saw a lot of scooters. Yes, we are in Italy!
A bit chaos in traffic, many people blowing their horns (in the Netherlands only allowed by exception in case of danger, not in cases of seeing your neighbor or want to hurry up 😉). It also gives you the opportunity to find your way easily in traffic when you are assertive, you don't ignore the rules, you just play with them if it benefits you.
Many tiny and skinny people. I could look over the crowd easily when we walked the streets of San Remo.
The prices, wow! The change of the expensive Cote d'Azur when it comes to groceries, food, clothes is big. Icecream now € 2,50 in stead of € 7. Everything is a least half the price.
The enthusiasm, talking, making jokes, being kind, wanting to get to know you. Italians are open and all about connecting. So far we noticed this relaxed atmosphere also in the Italian harbors or anchoring, not the strict approaches the waterregulators in Spain or France had.
So we could more and more enthusiastic when we visited San Remo. We enjoyed cycling in the city of flowers as San Remo is called. We went to the medieval district of La Pigna, which is upon a hill where we walked the narrow streets (see picture below on the left):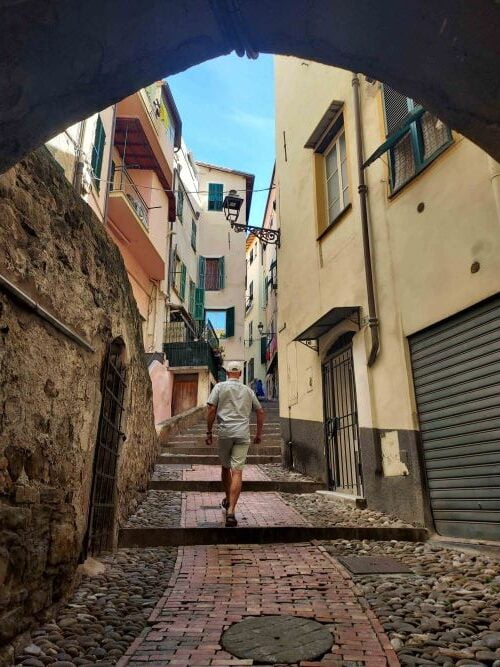 Everyone who was wealthy in the 19th century wanted a house with a sea view in San Remo or at least went there on holiday. In that period more than two hundred villas and luxurious grand hotels were built. Many 19th century villas still stand here. Nobel's villa, Villa Noland Palazzo Bellevue, is well known. We visited his villa (see picture above on the right). It is a fact that Nobel experimented with dynamite in the garden behind the house 😉.
And Italy is still a very religious country, on day 1 in Italy we saw this non passing by, see picture left:
When we went back to the boat, we enjoyed the bakery products we bought, among them cannoli (see picture above on the right sight, a famous dessert from Sicilian cuisine. A cannolo consists of a rolled cookie filled with ricotta. In Sicilian it is called a cannolu, which means small tube.
San Remo has a microclimate thanks to its location on the edge of the Apennines and the Mediterranean Sea. It is not without reason that the jet set of the 19th century chose San Remo to create gardens with tropical plants. Throughout the year, San Remo has no fewer than 300 days of sunshine and even in winter it is rarely below ten degrees. It was a great to start our Italian sailing adventure like this!
San Lorenzo: the Pista Ciclabile
The other reason why I was so excited to sail into Italy, it because I have had Italian lessons for 2 years and I speak the language. The first time I went to Italy (visited Rome with my mother and also travelling to Napels in a rental car) was in 2002, I loved it and also noticed that Italians (at that time) didn't speak English very well. I definitely wanted to see more of the country and come back, so it was in 2003 and 2004 that I did this Italian language course at the University of Leiden (30x travelling to Leiden on an Monday evening). I enjoyed it so much the first year (2003), that I also did the advanced course in 2004 and even the State exam at the embassy of Amsterdam. Since then, I have been to Italy about 5 times for holiday in the last 20 years, and every time the investment in knowing the language has helped me a lot to enjoy the country and connecting with people. My teacher at that time was born in this region where we are now: Liguria.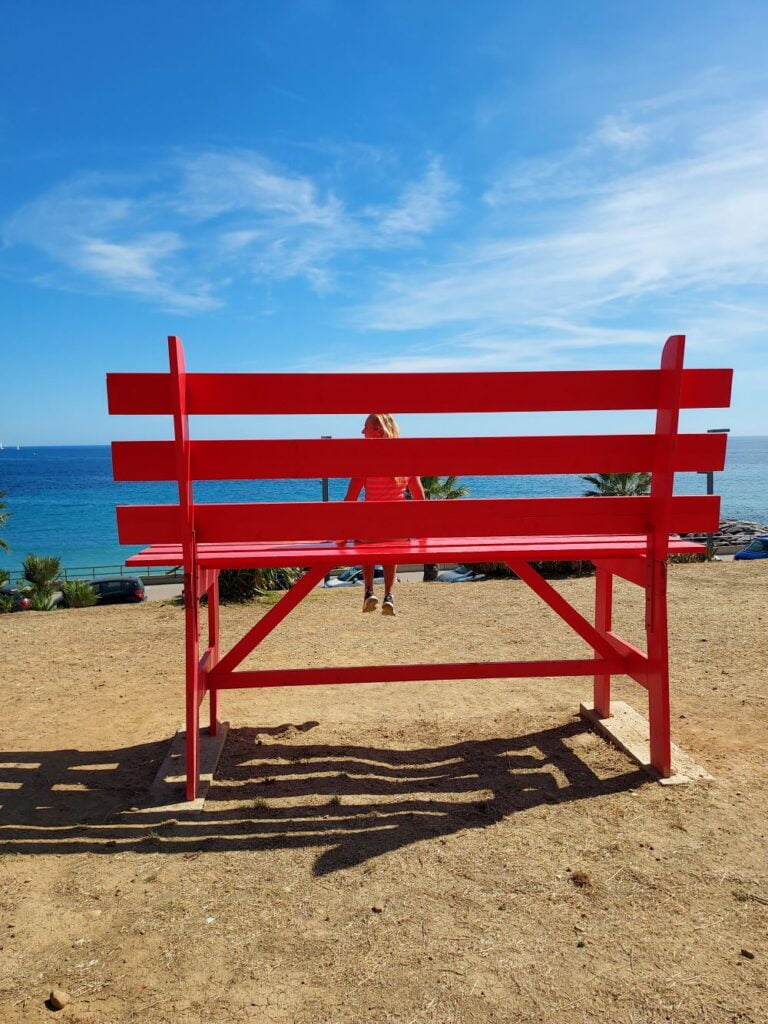 And along this coast is the famous Pista Ciclabile, the bike track at the Flower Riviera. The 24 kilometers cycle path was constructed after the old railway line, which ran along the Ligurian coast from 1872 to 2001, was relocated. My brother and I cycled it and it was lovely to do. Along the way we enjoyed the purple bougainvillea and red and pink oleanders covering the high rock walls. The environment varies from endless views of the sea to short stretches along the beach, from green parks to small villages and agricultural areas. You also drive through long tunnels several times. This is not only nice and cooling during this hot summer day, but also extra fun for real sports enthusiasts, because on both the road surface of the tunnel and on the ceilings you will find countless historical facts, anecdotes and photos of the cycling classic Milan-San Remo, in both Italian and English. The Belgian cyclist and record holder Eddy Merkx, with seven victories at Milan-Sanremo, is of course frequently discussed.
Imperia
After the nice cycling trip, we sailed to Imperia, a beach resort at the coast of Liguria. It was great to see this city with all colorful houses and nice beaches. We had a drink in once of the beaches, which are usually privately owned (by hotels). Italy is famous for it's cocktails, one of the oldest Italian cocktails is Aperol Spritz, a refreshing mix of Aperol, prosecco and sparkling water. I tried that now, I like to try the Negroni, Bellini, Scroppino, Limoncello Tonica, Amaretto Sour, Gin Tonic with gin mare. Lots of days to go 😉.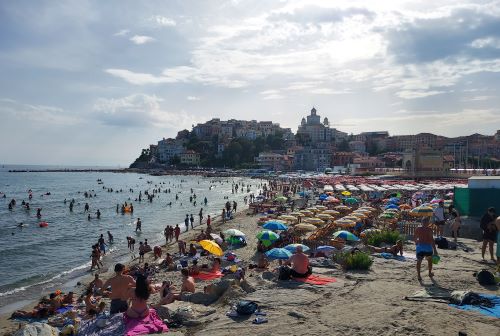 Beautiful sunsets to see here!
And we also had noticed this before, but now there was a poster: we have been sailing for a while in a sea area called the Pelagos Sanctuary, a triangle between the South of France, Italy and Sardinia where there is a lot of Marine biodiversity (whales, dolpines, etc). We have seen whales when we where at the Azores, we hope to see them again!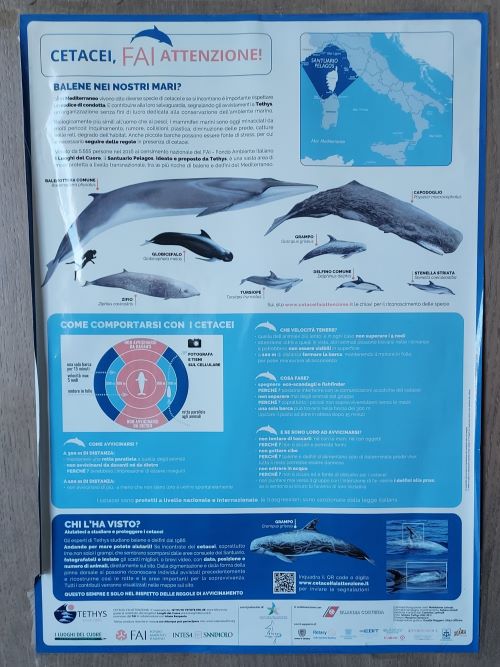 Isola Gallinara
Italy has many islands, big ones like Sardinia and Sicily, but also many small ones. And the first one was about to appear: the island of Gallinara. This islet with an area of 11 hectares and a maximum height of 87 meters, is shaped like a turtle.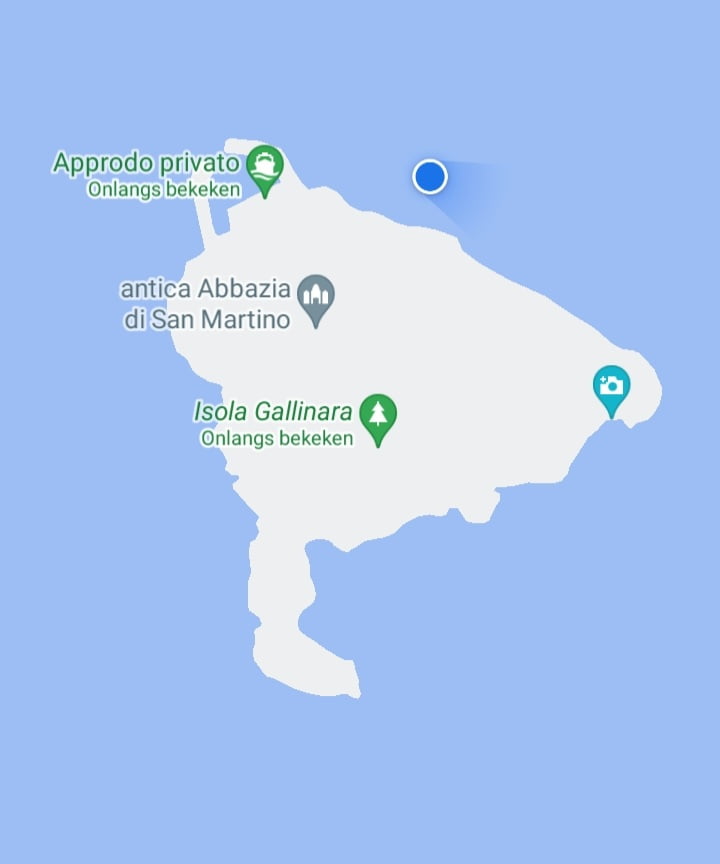 It was owned by 9 Italian families, but in 2020 it was sold to Ukrainian aerospace magnate Oleksander Boguslayev who is a resident of Monaco. He bought the island for just over 10 million euros.
It is a protected nature reserve and it is tolerated that people swim and anchor around the island. We did that too: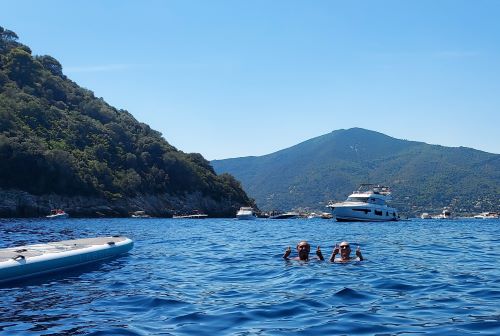 We also did subboarding, paddeling to the little harbor, which is privately owned as well. It was very nice to stay for 1 day around this island, the drone images show that!
Laono
A relaxed city we enjoyed a lot! We stayed here for 2 days. After only anchoring so far in Italy, we sailed into the harbor of Laono. Friendly marinero's greeted us. The harbor is quite luxury, the harbor office is shaped like a boat, and has also a restaurant on top and 5 hotel rooms. It the background you see a bit of the mountain range the Apennines, sometimes impressively high and close to the coast, sometimes more in the background.
Now that we are in a harbor, we were reminded also what the advantage is of anchoring during a hot summer like 2023: in the city it was 38 degrees and in a harbor there is no wind….When you anchor, you always will have a bit of wind and you can jump into your 'backgarden' (read: the Mediterranean) at all times. Gilles found out a good alternative in the harbor: using the outdoor shower at the boat to enjoy a bit of cold water.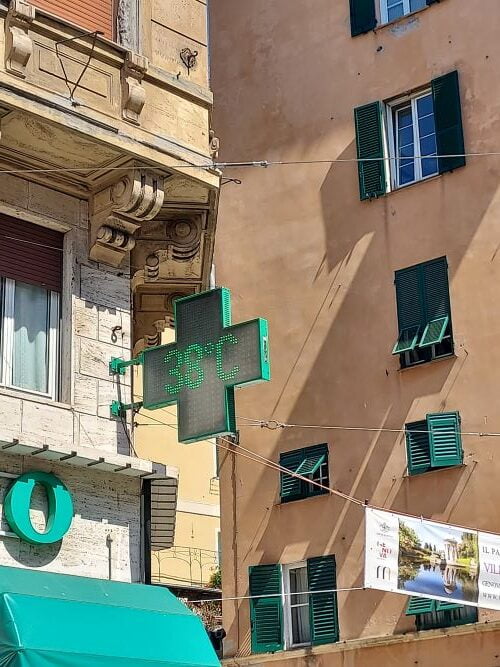 The funny thing with our boatname Horizon is that you think it is a very international name and it's the same every where in the world. No way, many times we have misunderstandings at the harbor office about the spelling of our boat name:
Horizonte (Germany)
Horison (Norway)
Orizon (France)
Orizzonte (now in Italy!)
We were in Laono on Saturday and Sunday and it was very busy. There were markets, fireworks and during the evening the Italians strolled along the boulevard, dressed like we would do for a wedding, but they do it for a night out! Time to try another cocktail: Wodka Sour this time 😉.
Genua
I was very curious to visit Genua. Didn't know a lot about it, first thought, port city and that was confirmed by the big tankers that we saw passing by. But I have learned during this sailtrip to not have expectations (positive or negative) of what we are about to see and keep an open mind. Calais and Le Have in France had the reputation being port cities (industrial) and Marseille as well, but they turned out to be lovely, so how about Genua?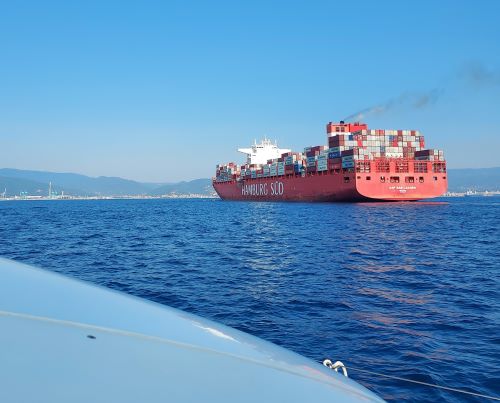 It was a great experience: Genua is one of the oldest cities in Europe and it shows! Great medieval quarters with authentic shops and houses.
Genua is the capital of the Liguria region. Genoa has approximately 600,000 inhabitants and, with the port of Genoa, is the largest port city in Italy and the second port on the Mediterranean after Marseille.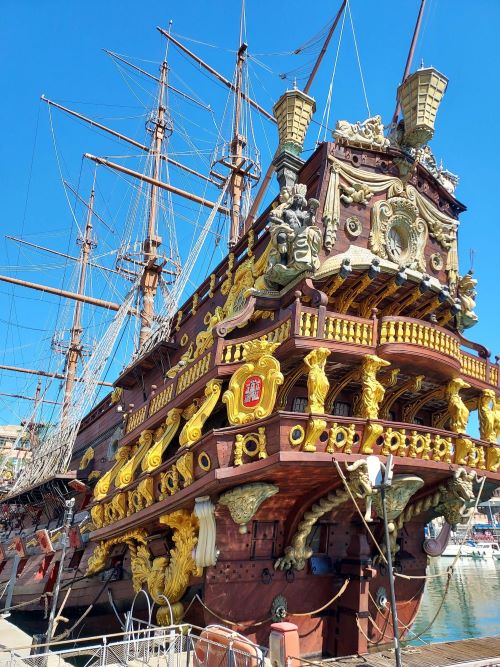 First thing we saw when entering the city center was a huge statue dedicated to Christopher Columbus (in Italian Cristoforo Colombo, in Spanish Cristóbal Colón) who was born in Genua and is the most famous explorer of the era of the great discoveries. He made a name for himself through his 'discovery' of America under the Spanish flag in 1492. Columbus thought he had reached the Indies after crossing the Atlantic Ocean, but in reality he had encountered a New World (for him and his fellow citizens and contemporaries). We also visited his house, which is a copy, not the original anymore.
We enjoyed walking through the different quarters of Genua, especially the Piazza de Ferrari with the impressive buildings and fountains. The Palazzo San Giorgio, a monumental building with murals, which used to be the prison where Marco Polo was allegedly held.
We enjoyed the city of Genua a lot, had a great time walking around there!
And it was also time to say goodbye to my brother, he had sailed with us from Menton into Italy and now took the airplane back from Genua to the Netherlands! I am so happy that we had this week together! When Gilles and I bought the catamaran in 2019, one of the reasons was to share to joy of sailing with our family and friends and build great new memories together. And we did this August at the Italian Ligurian Coast!