We have had different groups of guests on board. We had a great time with them! The location was for example beautiful Basque Country in France, or the North of Spain, swimming in the Bay of San Sebastian or visiting Porto or Lisbon in Portugal.
This is how the guests experienced their stay at catamaran Horizon while sailing with us: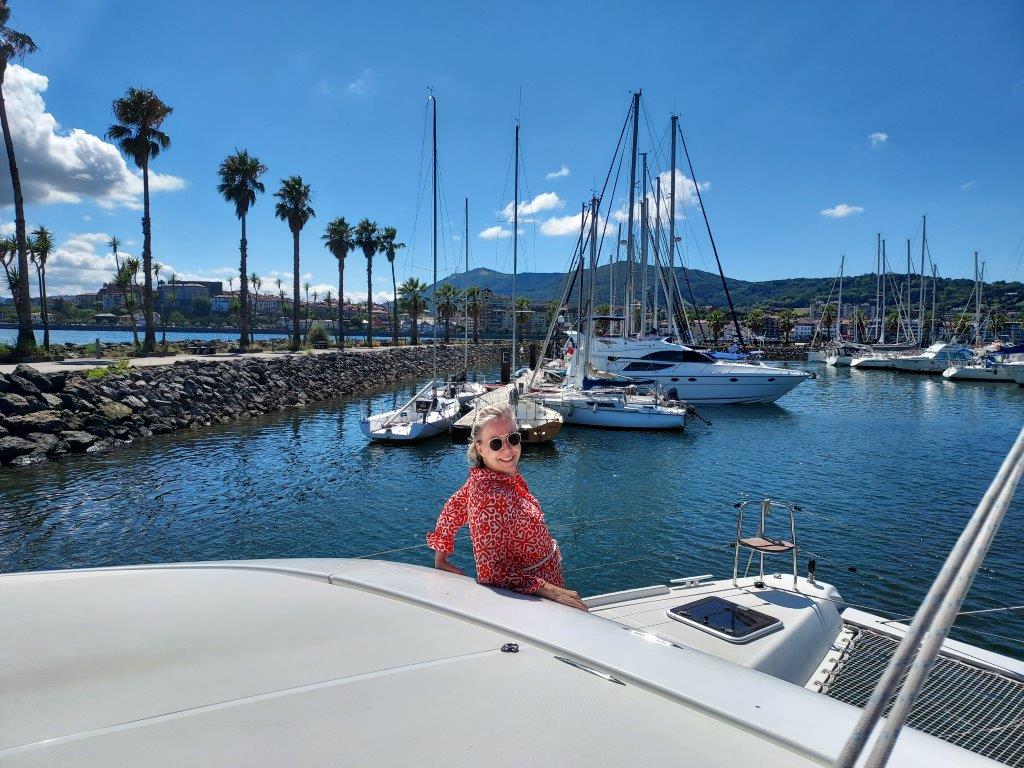 Birgid from Luxemburg (projectmanager): "We have had such a great time at the fantastic catamaran and we are looking forward to do so again next year! Gilles is a gifted sailor with a lot of experience in several situations. You always feel safe and comfortable with him. And on top of that, he is a wonderful chef: I really love his BBQ with satay and calamari. Laura takes excellent care of the guests and is always in a open and positive mood. When you have the chance to sail with them, you absolutely will have a nice time and a good experience on the water"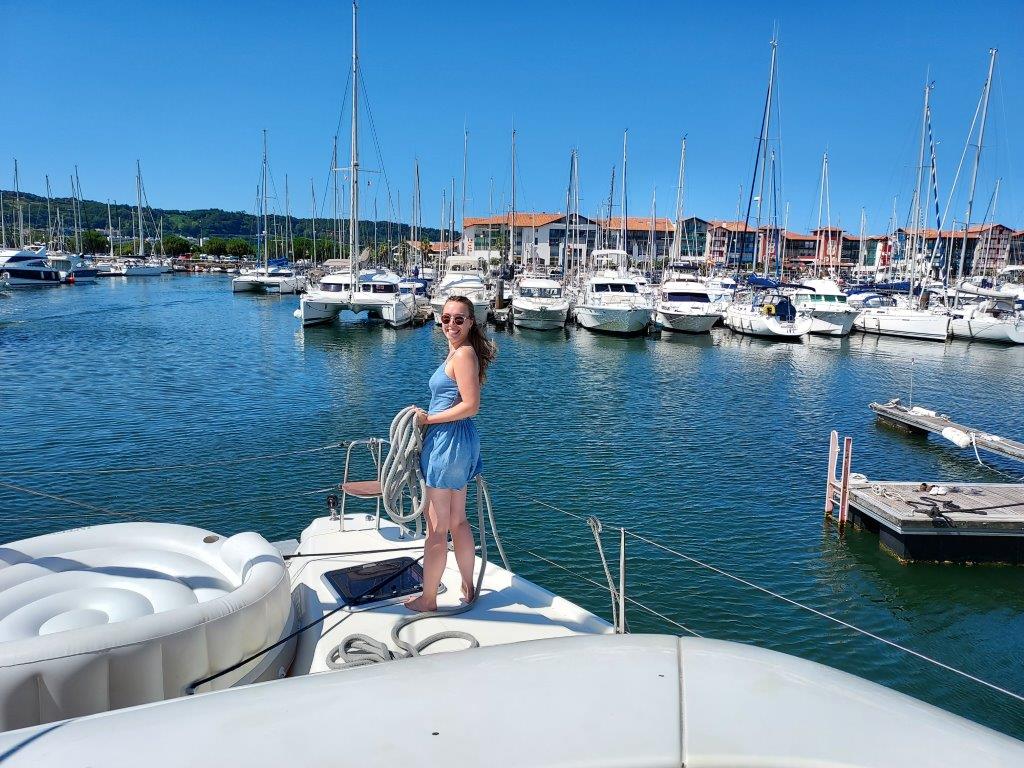 Anna from Tilburg (Student Education for Musical Theater): "Travelling with Laura and Gilles means you will always experience a lot and have great stories to tell! I have been on their catamaran 3 times now and 3 times it was a great experience. They take good care of you, they are enthusiastic, very flexible to your wishes and spontaneous. Whether you are at their catamaran for a weekend, a week or a day, it is worth it! You will return with a smile on your face, having enjoyed a relaxing time on the water and have great stories to tell. Actually….you start thinking about buying a catamaran yourself I noticed 😊!"
Joe from Germany (Director Global Investors company): "What to when expect when sailing with Gilles & Laura, the owners of catamaran Horizon? This is my experience:
H – Hospitality, humor and honesty
O – Organized perfectly, fitted to the wishes of everyone aboard
R – Rituals like docking at the pier, anchoring, hoisting the spinnaker, taking detailed care of the boat and interior, navigating the route: I learned so much about sailing a catamaran in 1 week!
I – Inspiring conversations and Interesting spots to visit together, like old villages, or a small restaurant at the top of a hill overlooking the bay while we enjoyed eating grilled sardines
Z– Zooming sailing experiences: we have visited magnificent bays, beautiful places to anchor and enjoyed the famous anchor beer, Gilles and Laura take so much effort to present how cruising life is
O – Octopus on the BBQ and Other great food like grilled paprikas, salads, shrimp curry. Extraordinary specialties and delicacies are waiting for you aboard
N – Natural experience in an easy going environment. You can choose whatever you want to do aboard. And there is so much comfort on the catamaran, you will have a wonderful time.
Fam. Harmen Kielstra (CEO Glass & Solar company and Trainer):"We enjoyed a great day of sailing with Laura and Gilles on their catamaran! Our family was thrilled to discover so many watertoys aboard: a 2-person paddleboard, snorkling gear, 6-person dingue, a floating island. Gilles and Laura also took us an a walking tour through San Sebastian showing us all the nice spots. We felt very welcome onboard and had a great experience in a beautiful environment. During our holiday it was a pleasure to experience this 1 day to feel how it is like to be sailors on a worldtrip and have all this freedom and enjoying time on the water. Highly recommended."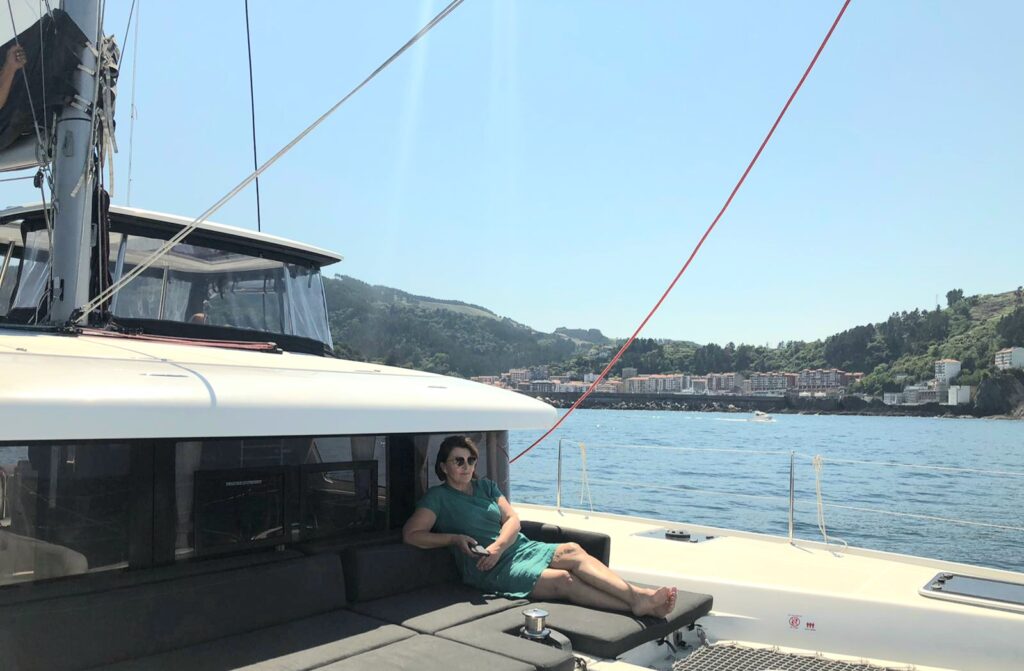 Alide and John (restaurant owners):"We have enjoyed the hospitality of Gilles and Laura on our stay at catamaran Horizon. It was a great start of our holiday in Spain and France. We enjoyed the relaxed time onboard, sitting on the lounge deck and looking at the beautiful bay area. Since we are restaurant owners, we noticed Gilles and Laura really made an effort to treat us with local delicacies. They served us a lovely Basque cake with our cappuccinos, marinated prawns at dinner, fresh salmon on the grill. We were taken excellent care of!"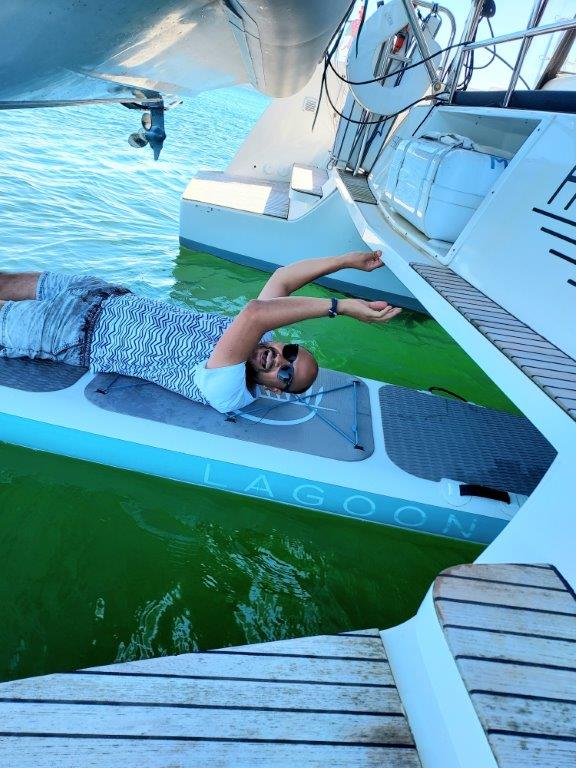 Edo (architect) and Angela (owner skill clinic) from Amsterdam: "We were quite inexperienced when it came to sailing. Gilles and Laura knew that too and they had mapped out a route especially for us. Short trips to get used to the boat on the Atlantic Ocean. In the end the course was adjusted because of the wind, which suited us well. In this way we experienced what they experienced during their world trip sailing. We found anticipating the elements of nature so special. The idea that you can also get from A to B via C gave so much freedom. Gilles and Laura were well prepared and that made us feel safe so we could enjoy the scenery we passed by. And that was breathtaking!"
Marjan (Manager Learning & Development) and Fieke (student) from Amsterdam: "Laura and Gilles have a beautiful catamaran: they talk enthusiastically about sailing and show you how to navigate along the coast. Before you know it, you'll be behind the wheel yourself! There are so many spots on the boat to enjoy the water and the view. You can relax on the net, the water rushes beneath you, music in your ears and in the meantime you stare at the sky or close your eyes for a moment. Lunch on board gives the ultimate holiday feeling. Especially when Gilles' homemade tuna salad is served there. The boat is spacious, clean, tidy, very well organized and cozy. There is so much space inside and out, you don't easily get in each other's way. We got on in the port. Together we looked at the map to find the best place for us to disembark later, close to our hotel near the airport. What a luxury to go from A to B by boat!"

*******************************************************************************************************

Are you interested in sailing with us as well? For holidays, learning to sail of have a business event on our boat? Discover all the possibilities on our website, you can find photo's and practical information, for example about your private cabin, the salon, facilities onboard, the prices etc. We hope to welcome you on a Sunsetcruise in the Mediterranean for example, or a weekendstay as part of your holiday!