We have had different groups of guests on board. We had a great time with them! The location was for example beautiful Basque Country in France, or swimming in the Bay of San Sebastian or visiting Porto or Lisbon in Portugal, or enjoying the Cote d'Azur for example Nice and Cannes.
This is how the guests experienced their stay at catamaran Horizon while sailing with us:
Lendert (Goverment employee) from Oude Tonge:
'Thank you for the very nice week I had with you two on board the Horizon! The warm welcome and the tip-top care during the stay was better than expected! Beforehand I was a bit worried how it would go with any seasickness that I am sensitive to, but this went smoothly. Partly thanks to the tips I received from you and because the sailing and anchoring were taken into account. You are really very experienced, this is the second time I have sailed, first in Danish waters, now on the Italian coast. Have fun and enjoy and I will definitely come by again!'
Lonica (Business Controller), Hilda (Caregiver) and Wim (Retired) from Dirksland:
"We sailed with Laura and Gilles for 5 days along the Côte d'Azur from Nice. And what surprising discoveries we made this summer during a holiday on catamaran Horizon!
The organization turned out to be top notch beforehand. After a warm welcome, a varied program was proposed to us. The disclaimer 'Plans are written in the sand at low tide' hardly applied to our week. The beautiful weather, the hospitality and the friendly interaction with each other created a relaxed atmosphere. We thoroughly enjoyed sailing and each other. Laura and Gilles are a good team and show a piece of craftsmanship that we respect.
A few highlights:
* Anchoring, which, with a collaboration between Wim, Laura and Gilles, was always a great moment to celebrate with an anchor drink!
* Swimming and supping at the islands of Cannes. How we laughed and enjoyed the swimming skills around and under the catamaran!
* The beautiful views, the trips ashore, the blue-green water and wonderful sailing, even once with a speed of 12 knots!"
William (MS Teams M365 Coach and Trainer) from Doetinchem:
"I had an absolutely incredible week on the catamaran with Gilles and Laura. Sailing from Cannes to Antibes, Nice, and Beaulieu-sur-Mer was truly amazing. The weather was perfect throughout, allowing us to fully enjoy the stunning landscapes and charming coastal towns. Exploring Île Saint-Honorat was a serene experience, while the old town of Antibes offered a glimpse into history. The highlight was undoubtedly the Jazzfestival in Juan-les-Pins, featuring the legendary Nile Rodgers of CHIC. The music, the atmosphere, and the enjoying the music together in the open air made it unforgettable. Overall, a week filled with beauty, culture, and adventure!"
Margo (Owner Skin clinic) and Robert (IT Senior Service Management Architect) from Leusden:
"A midweek with Laura and Gilles on Catamaran Horizon was fantastic! We had no expectations at all but it was exactly as we imagined 😀. You feel very much at home with Gilles and Laura and you feel never too much: safe and at ease. Laura and Gilles take you to the most beautiful points, such as the ice cream parlor in Saint-Tropez and the most idyllic island near Cannes, île Saint Honorat. The visit to the only restaurant on that island was also very special. Visualize your most beautiful day, then you only have to open your eyes when you are on the catamaran with Laura and Gilles in the beautiful area around Cannes"
Suzanne (Project manager) from Rotterdam: "In preparation of travelling to catamaran Horizon based at Marseille at that time, Laura was very helpful in finding the best way of getting to their boat. I felt very welcome. The cabin is comfortable and has all the necessary equipment, just as the kitchen. It was nice to be able to swim around the boat and underneath it (and take pictures of the swimmer from the insight of the boat ;). Since the Mediterranean Ocean has a nice temperature (23 degrees!), swimming can be your daily workout when travelling with the boat.
It was nice to commute along with Gilles and Laura for 5 days, and find out what it takes to travel this way. They are very conscious of the environment. Not only because of the sailing and where the wind brings them, but also since electricity is won by solar panels which drives a lot of processes like making fresh water. They can answer all your questions about what it takes to run a boat like this and travel.
When visiting Marseille, we walked up the hill to visit the famous Notre Dame the la Garde church, which was a wish that finally became true. We also did some hiking in the Calanques National Parc near Marseille, which is a great area to visit. Visiting the Calanques by boat after that was an over welling experience!
I easily get sea sick but Laura can help you to prevent that. Gilles performed all the cooking and did a great job. Both Gilles and Laure adjust easily to any diet. When leaving the boat, Gilles and Laura provided a lot of service again to get me back to the airport. Which was greatly appreciated by me. I would love to come back and travel some more with them!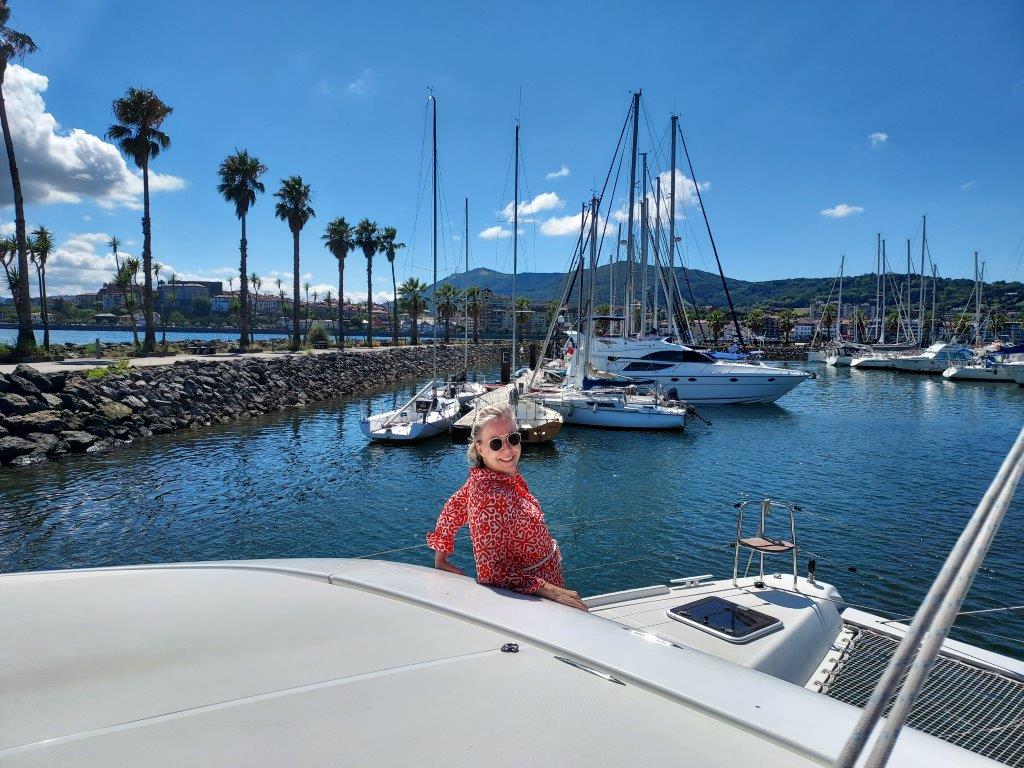 Birgid from Luxemburg (Projectmanager): "We have had such a great time at the fantastic catamaran and we are looking forward to do so again next year! Gilles is a gifted sailor with a lot of experience in several situations. You always feel safe and comfortable with him. And on top of that, he is a wonderful chef: I really love his BBQ with satay and calamari. Laura takes excellent care of the guests and is always in a open and positive mood. When you have the chance to sail with them, you absolutely will have a nice time and a good experience on the water"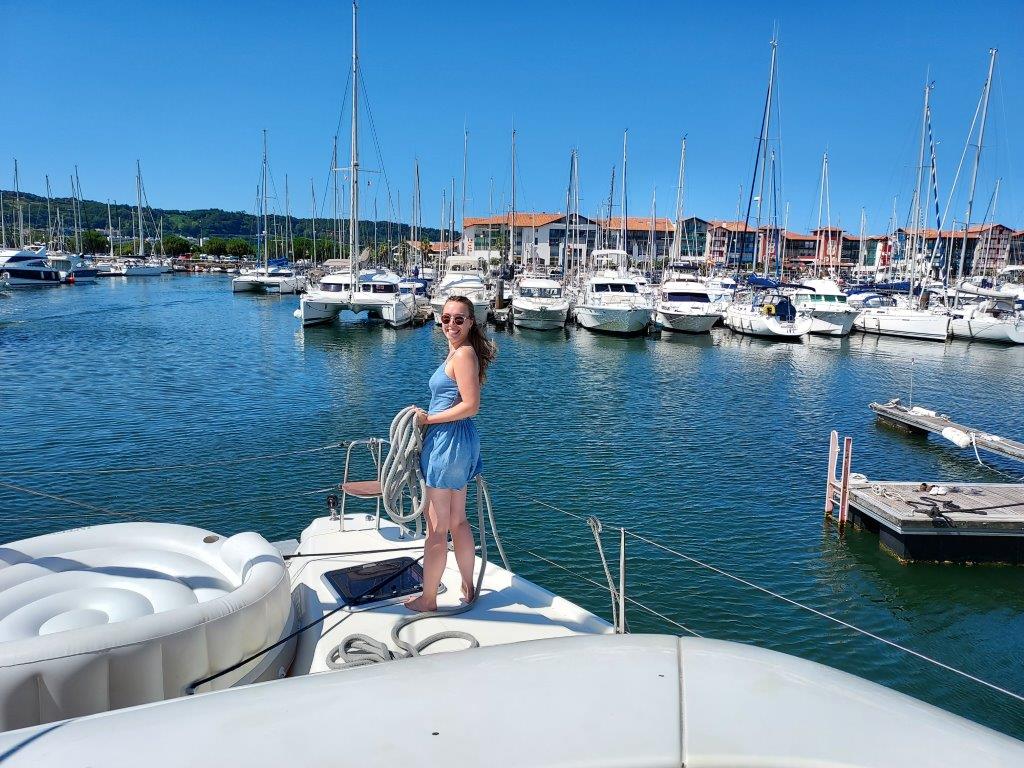 Anna from Tilburg (Student Education for Musical Theater): "Travelling with Laura and Gilles means you will always experience a lot and have great stories to tell! I have been on their catamaran 3 times now and 3 times it was a great experience. They take good care of you, they are enthusiastic, very flexible to your wishes and spontaneous. Whether you are at their catamaran for a weekend, a week or a day, it is worth it! You will return with a smile on your face, having enjoyed a relaxing time on the water and have great stories to tell. Actually….you start thinking about buying a catamaran yourself I noticed 😊!"
Joe from Germany (Director Global Investors company): "What to when expect when sailing with Gilles & Laura, the owners of catamaran Horizon? This is my experience:
H – Hospitality, humor and honesty
O – Organized perfectly, fitted to the wishes of everyone aboard
R – Rituals like docking at the pier, anchoring, hoisting the spinnaker, taking detailed care of the boat and interior, navigating the route: I learned so much about sailing a catamaran in 1 week!
I – Inspiring conversations and Interesting spots to visit together, like old villages, or a small restaurant at the top of a hill overlooking the bay while we enjoyed eating grilled sardines
Z– Zooming sailing experiences: we have visited magnificent bays, beautiful places to anchor and enjoyed the famous anchor beer, Gilles and Laura take so much effort to present how cruising life is
O – Octopus on the BBQ and Other great food like grilled paprikas, salads, shrimp curry. Extraordinary specialties and delicacies are waiting for you aboard
N – Natural experience in an easy going environment. You can choose whatever you want to do aboard. And there is so much comfort on the catamaran, you will have a wonderful time.
Fam. Harmen Kielstra (CEO Glass & Solar company and Trainer):"We enjoyed a great day of sailing with Laura and Gilles on their catamaran! Our family was thrilled to discover so many watertoys aboard: a 2-person paddleboard, snorkling gear, 6-person dingue, a floating island. Gilles and Laura also took us an a walking tour through San Sebastian showing us all the nice spots. We felt very welcome onboard and had a great experience in a beautiful environment. During our holiday it was a pleasure to experience this 1 day to feel how it is like to be sailors on a worldtrip and have all this freedom and enjoying time on the water. Highly recommended."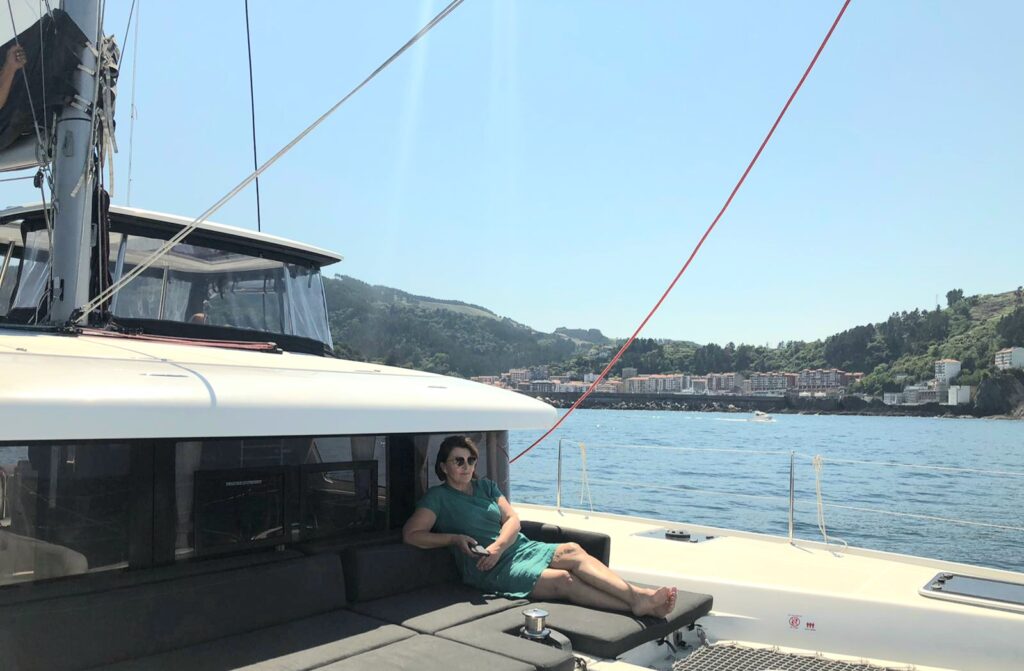 Alide and John (Restaurant owners):"We have enjoyed the hospitality of Gilles and Laura on our stay at catamaran Horizon. It was a great start of our holiday in Spain and France. We enjoyed the relaxed time onboard, sitting on the lounge deck and looking at the beautiful bay area. Since we are restaurant owners, we noticed Gilles and Laura really made an effort to treat us with local delicacies. They served us a lovely Basque cake with our cappuccinos, marinated prawns at dinner, fresh salmon on the grill. We were taken excellent care of!"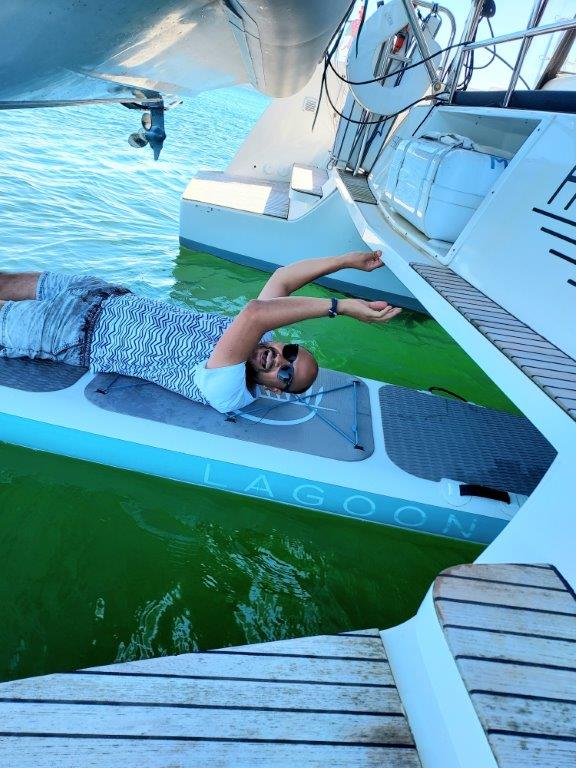 Edo (Architect) and Angela (owner Skin Clinic) from Amsterdam: "We were quite inexperienced when it came to sailing. Gilles and Laura knew that too and they had mapped out a route especially for us. Short trips to get used to the boat on the Atlantic Ocean. In the end the course was adjusted because of the wind, which suited us well. In this way we experienced what they experienced during their world trip sailing. We found anticipating the elements of nature so special. The idea that you can also get from A to B via C gave so much freedom. Gilles and Laura were well prepared and that made us feel safe so we could enjoy the scenery we passed by. And that was breathtaking!"
Marjan (Manager Learning & Development) and Fieke (Student) from Amsterdam: "Laura and Gilles have a beautiful catamaran: they talk enthusiastically about sailing and show you how to navigate along the coast. Before you know it, you'll be behind the wheel yourself! There are so many spots on the boat to enjoy the water and the view. You can relax on the net, the water rushes beneath you, music in your ears and in the meantime you stare at the sky or close your eyes for a moment. Lunch on board gives the ultimate holiday feeling. Especially when Gilles' homemade tuna salad is served there. The boat is spacious, clean, tidy, very well organized and cozy. There is so much space inside and out, you don't easily get in each other's way. We got on in the port. Together we looked at the map to find the best place for us to disembark later, close to our hotel near the airport. What a luxury to go from A to B by boat!"
**********************************************************************************************************

Are you interested in sailing with us as well? For holidays, learning to sail of have a business event on our boat? Discover all the possibilities on our website, you can find photo's and practical information, for example about your private cabin, the salon, facilities onboard, the prices etc. We hope to welcome you on a Sunsetcruise in the Mediterranean for example, or a weekendstay as part of your holiday!