We were invited by our catamarandealer in the Netherlands, Nautisch Kwartier, to come to the boatshow Hiswa te Water. It's a 5 day boat exposition in Lelystad where hundreds of boatsellers show their merchandise (motorboats, sailingboats, parts, sailclothting, etc). It's a famous show and the largest outside boatshow in Northern Europe. We were asked to share our catamaranexperiences with visitors who are interested in Lagoon. So we left our own catamaran in the harbor in Porto and flew to Amsterdam for 1 week, especially for this boatshow. We have been on boatshows like Hiswa and Grande Motte ourselves in 2018 and 2019 as orienting customers and now we would stand on a Lagoon42 as owners!
The Hiswa Boatshow
The boatshow was held from 31 August to 4 September, everyday from 10.00h-18.00h and on Friday 2. Sept from 10.00-20.00uh. People buy an entrance ticket (€ 12.50) to enjoy the exposition by walking on the jetties and passing over 300 boats at the Bataviahaven, talking to dealers and salesmen, watch demonstrations on the water, have a drink, etc. The last edition of the Hiswa attracted over 30.000 people during 5 days. Nautisch Kwartier showed 4 boats at the Hiswa in 2022: a Lagoon42, Lagoon46, Jeanneau Sun Odyssey 380 and Jeanneau Sun Odyssey 490.
It is quite rare that a boatdealer invites current owners of a boat to share their experience in sailing to visitors. So when visitors stepped on the brand-new Lagoon42 at this boatshow and met us, they were surprised to find out we were not salesmen or working at the office of Nautisch Kwartier, but we were current owners and happy customers!
Visitors we talked to
It was so inspiring to be at the Hiswa, standing on the Lagoon42, and talking to visitors! Because they were all boatlovers and interested to see the catamaran and having big sailingplans and travelingdreams like we had! With most of them we could have talked for hours, because we had so much in common and the energy was inspiring. Everyday we talked to about 200 people, sometimes a couple, sometimes a family, sometimes with/without a sailingboat, aged from 35 to 75 years, some were experienced sailors and others (like us till 2019) with no (catamaran) sailing experience!
They walked by on the jetty and the new Lagoon42 that we stood on, and asked it they could have a look inside. Some people had made an appointment with us to get a guided tour on the boat and talk about their plans. There were also couples that mentioned they follow us on LinkedIn and our website Catamaran Horizon.
We also met fellow sailors we know in the Netherlands: Bojan, Elvira, Robert, Geert, Ingrid, Hendrine, Nicole, Sander, Ernst and also friends and family came to Lelystad to meet us.
Most of the time at the boatshow we spend with visitors, sharing our catamaranexperiences, answering their questions and giving guided tours on the Lagoon42.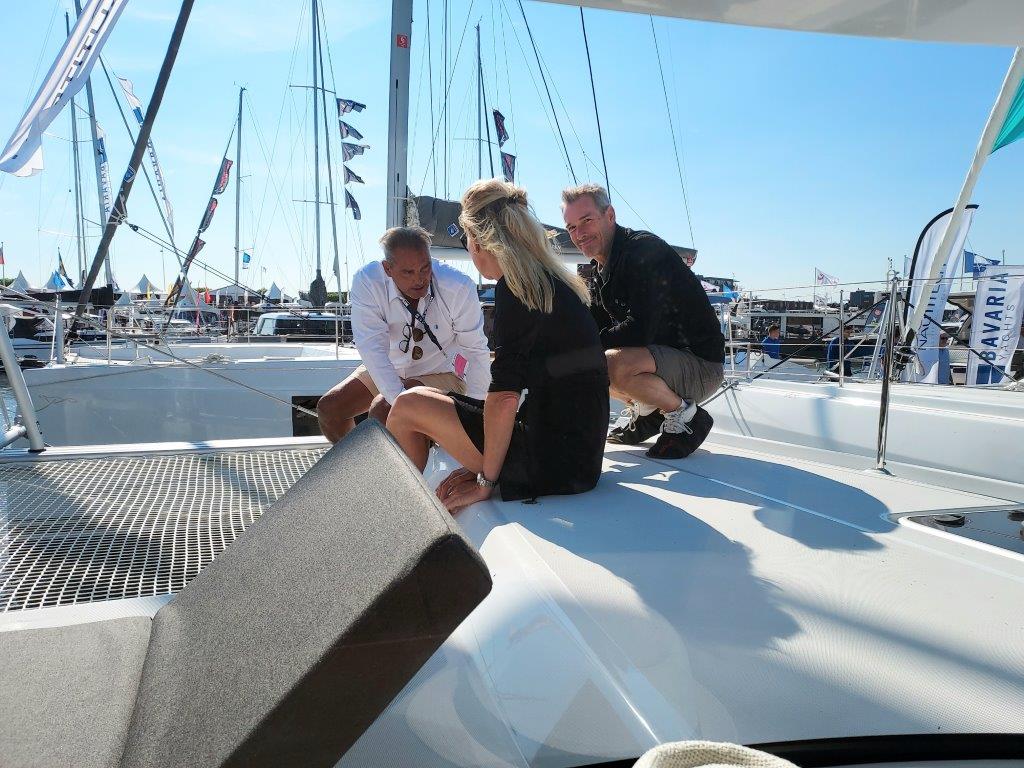 The 8 step plan
We have been through similar dreams, plans, emotions and steps as most visitors we talked to at the boatshow. Most people follow a path of 8 steps before they are owners of a catamaran:

1. Have a dream to sail the world for a longer period of time, mostly for enjoying travelling, the lifestyle on the water and feel more freedom
2. Following bloggers and vloggers who are sailing around the world like Sailing la Vagabonde
3. Visiting a boatshow like Hiswa to compare several catamaran brands
4. Chartering a catamaran for 1 week to have the sailing experience
5. Talking to dealers of catamarans
6. Making the decision to buy a catamaran
7. Organize their lives to realize their sailingplan (selling the house, quit or change work, homescholing for kids)
8. Set a date to leave for the big sailingadventure!
Most visitors at the Hiswa (80%) were at step 2 or 3: they had never been on a catamaran, had seen the boat on blogs and vlogs and wanted to see one in real live and walk through the inside. We talked with them about the features of a catamaran, gave them a tour around the ship and show the differences compared to monohull sailboats.
Some visitors had been on a catamaran before or had rented one in Croatia for example, for holidays. Mostly with a skipper because they had no experience sailing a catamaran and it's quite a big boat and different to manage compared to a monohull.
And a small group of visitors already talked to several dealers (step 5) and were thinking about buying in a catamaran in the next 2 years.
We gave some visitors our business card, so they could contact us if they had any questions about living on a Lagoon42 and sailing with a catamaran. And we pointed out to people that we could help with the next step after the boatshow, step 4: have a sailingexperience on a catamaran for a weekend or a week, because we offer chartering and invite people to sail with us! This was well received because most of the visitors we talked to were enthusiastic about the catamaran and now wanted to sail one.
We will be sailing the Algarve in October/November/December 2022 and the south of Spain in Jan/Feb/March 2023 before we sail through the Strait of Gibraltar and be in the Mediterranean in 2023 and 2024. People can visit us any time they want to sail with us, for instance at Ibiza, Corsica, Sicilia, the Greek islands. Where ever we are!
We have offered this since we are owners of our catamaran and for instance in July of this year, 3 couples that sailed with us when we were in the North of Spain.
Thank you, team Nautisch Kwartier!
We had a great time on the Hiswa together with the team of Nautisch Kwartier! We were a team of 7 people: the owner Arthur van der Werff, salesmen Hemmo and Maurice, marketeer Gretha and boatowner of a Jeanneau Sun Odyssey 380, Frits. Our 'hotel' during the Hiswa was a Lagoon40 where we stayed on in the neighboring harbor, Lelystad Haven. So every morning we started with breakfast on the Lagoon40, drove with a minivan to the boatshow, had dinner at 19.00h at a restaurant in Lelystad together and spend lovely evenings talking about our lives, work and the boatshow.
It was great to be back in Holland again, with fantastic weather and meeting so many wonderful people!