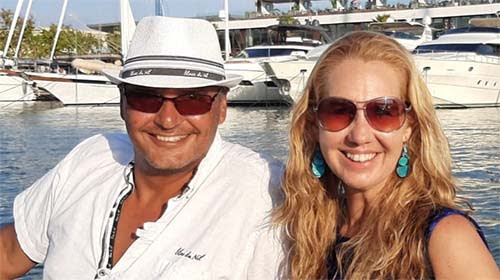 Please leave a message for Laura and Gilles, so they can stay in touch with you where ever they are. They love you read your thoughts!
36 entries.
Naar aanleiding van jullie stukje bij quotenet, wat ik vandaag las, ga ik jullie af en toe lekker volgen. Gaaf avontuur. Ruim 25 jr. geleden ook ruim jaar gereisd + jaar in buitenland gewerkt als duikinstructeur. Nu alweer jaren loonslaaf. Het kan anders en groot gelijk. Ik/wij hoop/hopen ooit nogmaals in jullie voetsporen te kunnen treden en reizen totdat je een ons weegt. Voor nu safe journeys en kom af en toe wel eens voorbij op jullie trip.
Beste Gilles en Laura,

Vorig jaar een dag op de Horizon mogen meemaken met ons team van Civo Zorgopleiders. Ik lees jullie verhalen en zie de films en foto's. Prachtig. Kan er wel beetje jaloers op worden. Ik wens jullie alle geluk van de wereld en hoop op nog veel mooie verhalen en foto's.
Wat een heerlijke avonturen beleven jullie! Nu met drone-beelden, op muziek! Prachtig!! En wat is er veel te zien onderweg.... je kunt de rest van je leven er mee vullen! Lijkt wel of het altijd mooi weer is in Europa!!
Hi G & L just watched your latest video, must say excellent flying. No gales and rain how you must miss your time in Scotland. Stay safe be happy love to you both from Johnny & Andrew .
Mooi om zo de geschiedenis van de omgeving te volgen. Veel plezier.
"Als je je eigen dromen niet bouwt, zullen anderen je inhuren om die van hen te bouwen".
Wat een prachtige zin uit één van je blogs en een waarheid als een koe. Veel plezier en geluk voor jullie aankomende reizen, Gilles en Laura.
💕
"Life is like sailing, you can use any wind to go in any direction"

Super awesome om jullie te hebben mogen leren kennen in Joinville Marina, Le Havre. Wij wensen jullie al het geluk en avontuur toe, pas goed op elkaar en safety first. Door de ontmoeting is weer een beetje inspiratie binnengekomen, "Haantje" ontmoet lot genoten die ook op avontuur zijn😉we keep in contact, bon voyage en stay safe samen. regards,
Crew "Libertas"
Andrejs & Johnny.
"A sailor is an artist whose medium is the wind"
💋
Wat ontzettend leuk en interessant om jullie laatste dozijn blogs te lezen en zo een beetje mee te kunnen leven met jullie mooie avonturen!! De variatie aan blogs vind ik ook erg geslaagd: soms iets toeristisch, dan iets praktisch, dan weer iets avontuurlijks of iets menselijks of technisch en soms gelukzalige momenten en dan weer de tegenslagen. Aandacht voor al die verschillende aspecten maakt dat ik echt een beeld krijg van hoe het leven aan boord verloopt! Top!
Hi Laura and Gilles,

It was lovely to meet you both at Hartlepool Marina.
Thanks for showing me around your beautiful Horizon!
Hope you have some awesome sailing adventures.
I'm looking forward to seeing some stand up Paddleboarding photos on your blog. 😉

Kind regards

Jordan 🤙🏻
# Happy birthday to you
Happy birthday to you
Happy birthday Dear Laura
Happy birthday to you #
I hope the BIG present was outstanding ! Merry Xmas to you both all the best
for 2022. Johnny B and Andrew xx
Well today was a great training exercise for the rescue helicopter of Bond 1 based out of Aberdeen. We got to conduct some boat transfer's and high line training thanks to Gilles and Laura. Thank you so much.
Hi nice people while you are at Ness give my regards to Eric and David a couple of good guys where boats are concerned. Hope the Y T blogs were of some inspiration to you take care and be happy ! The Forth Bridges are a nice backdrop by the way if you fancy a slight detour. Port Edgar is a well stocked marina chandler wise 12 miles from Edinburgh.
Hoi Gilles en Laura,
even een tijdje niet gevolgd maar we zijn weer helemaal bij gelezen en genoten van de prachtige foto's. Wat een bijzonder mooi land dat Noorwegen met z'n fjorden. Keep on enjoying!💕
Hallo Laura en Gilles,
Wat leuk om jullie in onze bakkerij in Stranda te ontvangen en hebben kunnen voorzien van koffie en vers brood.
Geniet van de Noorse fjorden.
We wensen jullie verder een geweldig mooie reis toe die voorlopig nog niet ten einde is.

Groetjes Vincent en Esther.
Hoi Laura en Gilles,
We zijn weer bij, hebben blog 16 & 17 weer met veel plezier gelezen. Wij zijn bijna ook dronken geworden van de gin. 😄😍👍Ga zo door.
Even vraagje: Het wordt herfst in Noorwegen. Wanneer zak je af naar warmere oorden?
Veel plezier en hopelijk nog meer mooie ervaringen.
Behouden vaart.💕
Hoi Laura en Gilles,
Ik heb blog 14 & 15 met veel plezier gelezen. Leuk om jullie te volgen. Je hebt een leuke term gevonden voor dat soort mensen zoals jullie 'Digital Sea Nomads'. 😄😍👍Ga zo door. Tot horens. Veel plezier en hopelijk nog meer mooie ervaringen.
Behouden vaart.💕
Ha Laura en Gilles,
Heel veel vaarplezier en mooie, bijzondere en vooral nieuwe ervaringen. De blogs zijn super om te lezen en op de hoogte te blijven.
Liefs Robert en Margo
Hallo Laura en Gilles,

Ik zit op deze vrijdagochtend op een stille kamer op kantoor onwijs te genieten van jullie verhalen. Wat heerlijk om de verhalen te lezen. Dank daarvoor en nog heel veel vaarplezier!

Groetjes Laura von Ende.
Love to read your stories! Especially the top 10 fun facts from Sweden! Norway must be one of the prettiest countries in the world. Enjoy!!
Hoi Laura en Gilles,
Ik heb weer met veel plezier je laatste 2 blogs(12 & 13) gelezen. Heel mooi geschreven. Op deze manier neem je de lezer mee in jullie avonturen. Ga zo door. Tot horens. Veel plezier en hopelijk mooie ervaringen.
Behouden vaart 😃👍