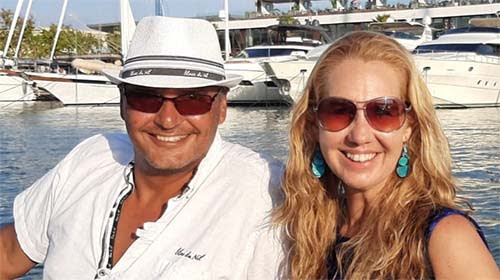 Please leave a message for Laura and Gilles, so they can stay in touch with you where ever they are. They love you read your thoughts!
26 entries.
Well today was a great training exercise for the rescue helicopter of Bond 1 based out of Aberdeen. We got to conduct some boat transfer's and high line training thanks to Gilles and Laura. Thank you so much.
Hi nice people while you are at Ness give my regards to Eric and David a couple of good guys where boats are concerned. Hope the Y T blogs were of some inspiration to you take care and be happy ! The Forth Bridges are a nice backdrop by the way if you fancy a slight detour. Port Edgar is a well stocked marina chandler wise 12 miles from Edinburgh.
Hoi Gilles en Laura,
even een tijdje niet gevolgd maar we zijn weer helemaal bij gelezen en genoten van de prachtige foto's. Wat een bijzonder mooi land dat Noorwegen met z'n fjorden. Keep on enjoying!💕
Hallo Laura en Gilles,
Wat leuk om jullie in onze bakkerij in Stranda te ontvangen en hebben kunnen voorzien van koffie en vers brood.
Geniet van de Noorse fjorden.
We wensen jullie verder een geweldig mooie reis toe die voorlopig nog niet ten einde is.

Groetjes Vincent en Esther.
Hoi Laura en Gilles,
We zijn weer bij, hebben blog 16 & 17 weer met veel plezier gelezen. Wij zijn bijna ook dronken geworden van de gin. 😄😍👍Ga zo door.
Even vraagje: Het wordt herfst in Noorwegen. Wanneer zak je af naar warmere oorden?
Veel plezier en hopelijk nog meer mooie ervaringen.
Behouden vaart.💕
Hoi Laura en Gilles,
Ik heb blog 14 & 15 met veel plezier gelezen. Leuk om jullie te volgen. Je hebt een leuke term gevonden voor dat soort mensen zoals jullie 'Digital Sea Nomads'. 😄😍👍Ga zo door. Tot horens. Veel plezier en hopelijk nog meer mooie ervaringen.
Behouden vaart.💕
Ha Laura en Gilles,
Heel veel vaarplezier en mooie, bijzondere en vooral nieuwe ervaringen. De blogs zijn super om te lezen en op de hoogte te blijven.
Liefs Robert en Margo
Hallo Laura en Gilles,

Ik zit op deze vrijdagochtend op een stille kamer op kantoor onwijs te genieten van jullie verhalen. Wat heerlijk om de verhalen te lezen. Dank daarvoor en nog heel veel vaarplezier!

Groetjes Laura von Ende.
Love to read your stories! Especially the top 10 fun facts from Sweden! Norway must be one of the prettiest countries in the world. Enjoy!!
Hoi Laura en Gilles,
Ik heb weer met veel plezier je laatste 2 blogs(12 & 13) gelezen. Heel mooi geschreven. Op deze manier neem je de lezer mee in jullie avonturen. Ga zo door. Tot horens. Veel plezier en hopelijk mooie ervaringen.
Behouden vaart 😃👍
Hi Laura and Gilles
This is the Norwegians that ik kann meine teine stande. The ones you mer in Havstensund, and then we grepets you When we left North Koster. We are now headed home, to Vollen. Please contact us If you want to showes around and in the Oslo area.👍🥰
Love Marianne and Lars
Hey hey Laura en Gilles,

Het was voor ons een onverwachte en verrassende gebeurtenis om, na meer dan een jaar Covid isolatie en afwezigheid van Nederlandse jachten in Zweden, op de avond van 14 juni, 2021 de Horizon uit Meerkerk te zien binnenlopen in het haventje van Noord Koster.

De dagen daarna hebben we met veel plezier met jullie opgetrokken, verhalen uitgewisseld, gehoord over jullie ervaringen en toekomstplannen en jullie spectaculaire schip bewonderd. Een kennismaking met een voor ons onbekende wereld. Voor jullie een prachtige basis om onbekende werelden te ontdekken.

Wij wensen jullie de komende ??? jaren onvergetelijke reizen, (niet al te) spannende avonturen, adembenemende locaties, spetterende zonsonder(en -op)gangen en bijzondere ontmoetingen. Vooral wensen we jullie kalme zeeën en gunstige wind. En ook als het eens een keer tegen zit hopen we dat jullie, net als wij, zullen ervaren: Life is better on a boat!

Behouden vaart!

Gerda en Tony
m.v. Ottoland II
Hello,
very nice to meet you this morning in Mollösund and interesting to listen to your views on the boat and the weather. I am of course glad that you visit Bohuslän almost first during a trip around the world- a great pick ;-). We look forward to follow your adventures!
All the best
Gunnar
Hoi Laura en Gilles,
Wat is de wereld toch mooi. Zoals jij dat beschrijft en meemaakt. En als je er de tijd voor neemt om er van te genieten zoals jullie doen. In mijn voorstelling beleven wij het net zo als jullie. De manier waarop je het beschrijft lijkt het net of de lezer er ook in werkelijkheid is.
Bedankt voor de mooie verhalen door Denemarken en langs de Zweedse kust.
Tot de volgende blog. Veel plezier en behouden vaart👍🍺.
Groetjes,
Elcris en Jan
Geweldig om de eerste blogs te lezen! Wat een heerlijk avontuur! Plaatjes zijn super! Liefs en sterkte!
Hoi Laura en Gilles,
Mooi verhaal over Jesper en Benji in blog nr. 6. Daar gaat het allemaal om als je aan het reizen bent: mensen ontmoeten, luisteren naar hun verhalen en avontuur beleven. Wij genieten van je blogs. Ga zo door en veel plezier en behouden vaart👍🍺.
Hi sailors! Net het verslag van jullie trip langs/door Denemarken gelezen; het klinkt heerlijk! We dachten dat jullie misschien richting Göteborg zouden varen, maar jullie gaan direct door naar Noorwegen lezen we net.
Heel veel plezier nog en geniet ervan😎
Groetjes van Marco en Bianca
Hoi Laura en Gilles, wij volgen jullie vanaf vertrek uit Stavoren. Zoals het nu laat aanzien gaat het gelukkig voorspoedig. Geniet ervan samen en veel plezier aan de Noorse kusten. Schrijf maar maar veel blogs daar genieten wij weer van😍. Behouden vaart👍🍺.
Groetjes Jan & Elcris
Ha Laura & Gilles, wat superleuk om jullie op allerlei manieren te kunnen volgen. Dat MarineTraffic is toch serieus bijna verslavend....heb steeds de neiging om te kijken waar jullie zitten 😂. Ik benijd jullie wel hoor!! Maar op deze manier is het net alsof ik er toch een beetje bij ben 😍😁😎. Greetz, Jolanda
Hallo Laura en Gilles,

Het is, denk ik, een fantastische en spannende levensinvulling, de wereld zeilend ontdekken. Zelf varen we ook, dus we kunnen het ons enigzins voorstellen. Ik volg jullie wel via Marine Traffic. Even voor jou Gilles, ik ken Laura van het samen werken bij ICM. Veel plezier op Silt.
Groeten,
Vic