It was time to sail into Monaco, officially called 'Principality of Monaco' which is a sovereign microstate on the French Riviera. It's quite a special place. I made a picture of the whole country of Monaco, never before I got an entire country in 1 picture 😊.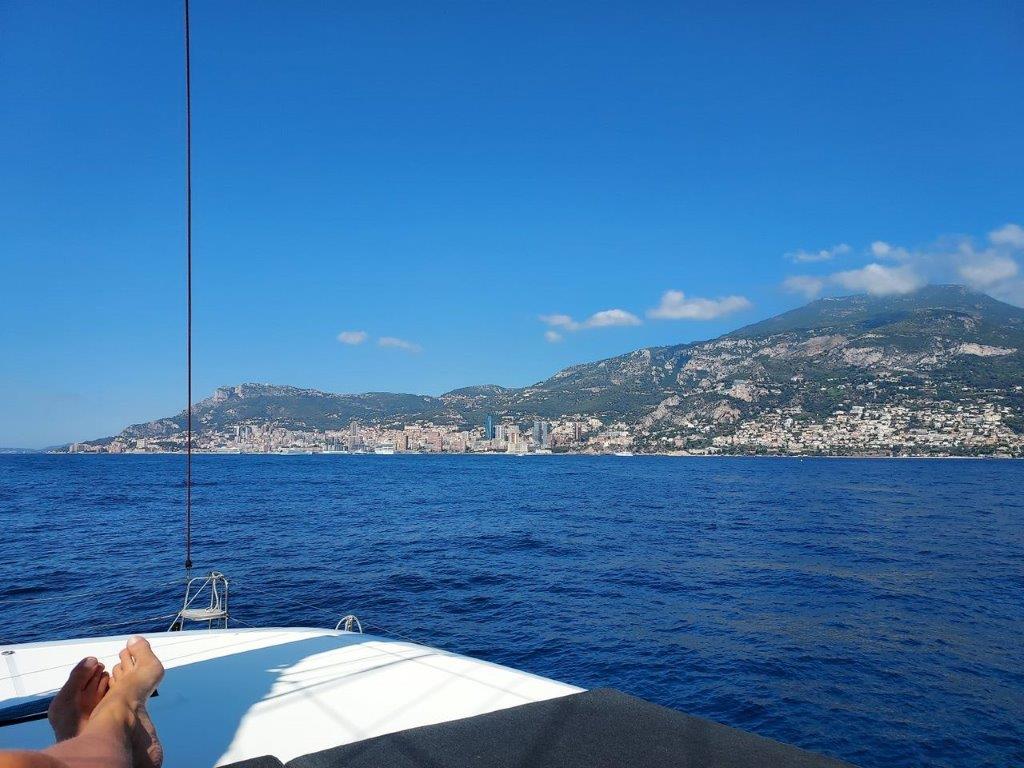 The more I read about Monaco, the more curious I became! Here are 10 facts:
Surface is 2 km² and is the smallest country in the world after Vatican City. It has almost 40,000 inhabitants, making it the most populous independent state in the world

Monaco is smaller than New York's Central Park (3,5 km²)

Monaco was founded in 1297 and although it borders France, which is a member of the European Union, Monaco is not a member of the European Union, but does have the Euro as its currency

3 famous keywords for Monaco: tax haven, Grand Prix Formula 1, Monte Carlo Casino. The casino is forbidden to be visited by inhabitants, to prevent gambling addiction in the country, you can only enter as a Monegasque if you work there!

2 out of 3 inhabitants are a millionaire

17% of the inhabitants are Monegasque; 28% have French nationality and of the remaining 55% an important part is Italian. So both French and Italian are the main languages spoken in Monaco

At first, Monaco remained neutral during World War II. In November 1942 the country was occupied by Italian troops. In September 1943, after the fall of Mussolini, the Wehrmacht took over and the deportation of the Jewish population began.

In 1949 Prince Rainier III (deceased in 2005) ascended the throne. He married American actress Grace Kelly in 1956. This gave the state international fame.

The flag of Monaco is very similar to that of Indonesia (white/red). However, there is a slight difference in the aspect ratio and color tone.

Monaco has its own land army – about a hundred people. The national orchestra of this country has more people than the army….

The first thing you notice when you get close to Monaco is the number of helicopters flying to and from Monaco over your sailboat. A helicopter owner in Monaco has the right to fly for a maximum of 20 minutes per day.
Another thing is the number of fast moving expensive boats speeding by, close to your boat. Which makes your boat shake back and forth a lot. It really is not necessary to do that, with 4 x 350 horsepower behind the boat speeding by (why this amount of horsepower in the Med: you want to be in South Africa in 2 hours??)
Then you notice all the apartment buildings, in the seventies and eighties building in Monaco was at a peak point. Every millionaire wanted a house in Monaco. So they also did land reclamation in front of the coast to build more houses and apartments. So no guarantee on sea view in the future, if you just bought your expensive house at the coastline of Monaco 😉.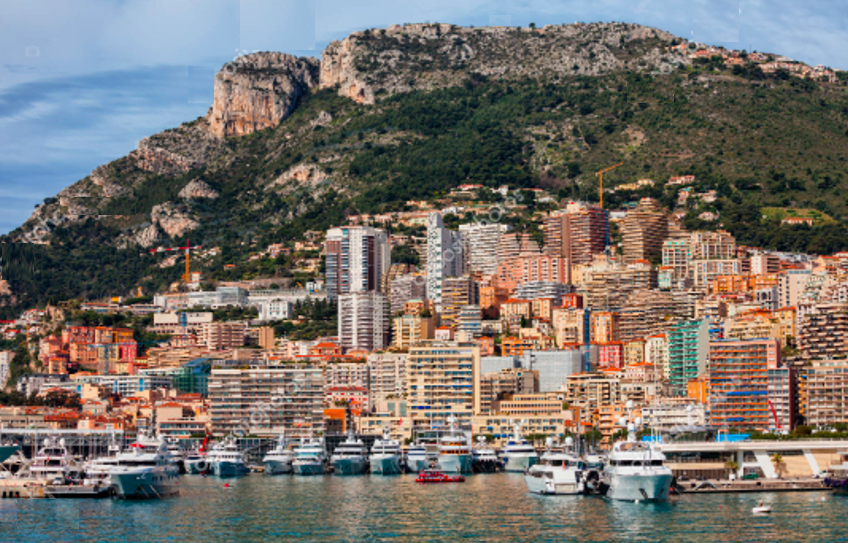 On a positive note, the people that we spoke in the shops or at the marina (to leave our dinghy there for the afternoon to visit the country) were very polite and friendly. With their high demanding clientele living here, you notice that they are very service orientated. So we enjoyed an ice cream walking along the superyachts, sat on a nice terrace.

We visited the beautiful Monte Carlo Casino (1863) which has a public entrance that you can visit in your T-shirt and shorts 😉.
Prince Rainier was born in 1923, he reigned for nearly 56 years. Everywhere there were flags in the country to celebrate his 100th birthday in 2023. He died in 2005, a few days after popular pope John Paul II, the death of Rainier was a bit forgotten in the news in 2005.
It was interesting to visit Monaco, not particularly nice or beautiful, because of all the high rises, many cars and helicopters, which give you an enclosed and hunted feeling.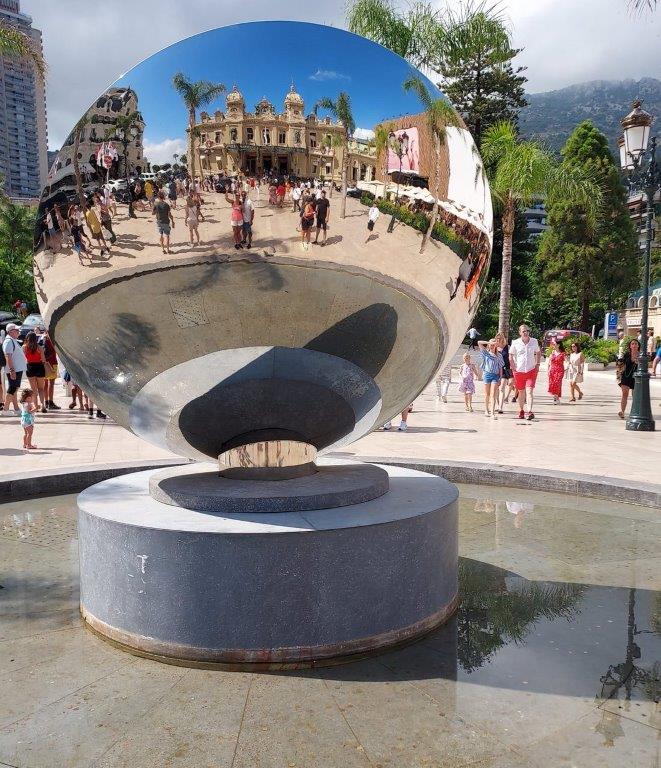 Menton
How different the city of Menton was, compared to Monaco! It is one of the last cities on the South coast of France, east of Monaco and west of Italy.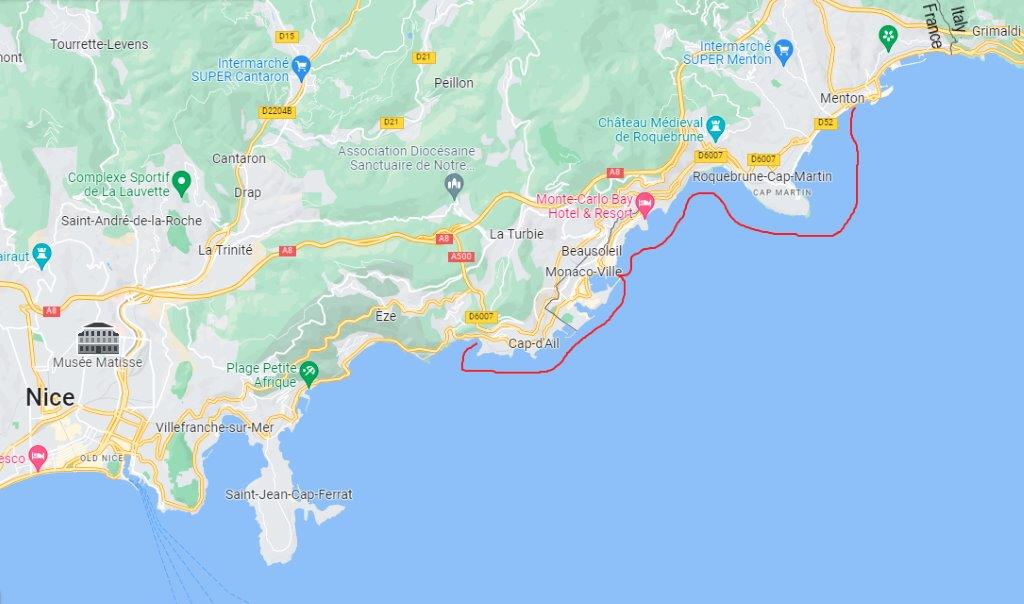 We didn't do much research on Menton, we just sailed to it after Monaco, so we were surprised to find out it's a beautiful town!
Spacious, lots of great beaches and an old towncenter with all authentic colored houses.
We really enjoyed staying here for a few days at anchor and jumping from the boat into the crystal clear azure water!
We made of video of Menton from our ship at anchor:
A tip came via Whatsapp from the sister of William who follows us online where we are now with the catamaran, after having visited her in Saint-Jean-Cap-Ferrat. She advised us to eat at restaurant 'Leone' (which is Italian for Lion, the last name of the chef), because it would be great food for a great price. And it was! Authentic Italian cuisine from Puglia, the south of Italy. Gilles ordered the Big Dish: lobster and fish and this came with a special piece of clothing: a bib in the shape of a shirt with a bow tie. Very funny 😉.
With this great Italian restaurant, we got a little preview of Italy, which was around the corner and we were planning to sail into. But a sailors saying is: 'Plans are written in the sand at low tide', in other words: they can change any minute. And also in this case!
I got a telephone call from my brother who didn't like the rainy weather in the Netherlands, saw all the sunny pictures and guests who stayed with us this summer at the catamaran. He wanted to join us and sail with us to Italy to enjoy the beautiful weather and coastline. He booked a ticket and we welcomed him in the harbor of Menton!
The two of us went to Monaco for a day, I could show him all the highlights because I had just been there and we also enjoyed swimming in the bay of Menton. It was really nice to see him again and to start sailing the three of us.
We lifted the anchor in Menton to go the Italy and leaving the coast of the South of France, which we entered the 5th of May, sailing from the North of Spain into the South of France.
So we say 'Au revoir France', and 'Ciao Italia'!