Slow traveling is very applicable to sailing: you sail about 10 km per hour, about 50 km per day and then you are in a beautiful place for a few days to look around or you are in a beautiful bay. And slow traveling it certainly is on the Cote d'Azur this summer, because there is so much to see that we often only sail for 2 hours to drop anchor in the next beautiful bay where there is a lot to see!
We had a lot of fun in the Golfe Juan, where Juan-les-Pins and Cap d'Antibes, among others, could be seen. A bay further, around the corner, we enjoyed Saint-Jean-Cap-Ferrat, Villefranche-sur-Mer and Beaulieu-sur-Mer.
Saint-Jean-Cap-Ferrat
Our good friend William sailed with us for a week in the Golfe Juan, including for the Jazz Festival.
He got off in Saint-Jean-Cap-Ferrat to spend the 2nd week with his sister who has a house there. She is married to an Italian and cordially invited us that day and also to have a nice dinner in the evening! Very friendly, it was very nice to get to know her family further and very hospitable that we were also allowed to use the swimming pool, with the bright sun and 32 degrees very welcome! And swimming in fresh water, that was a long time ago! We enjoyed their cordiality and the delicious food.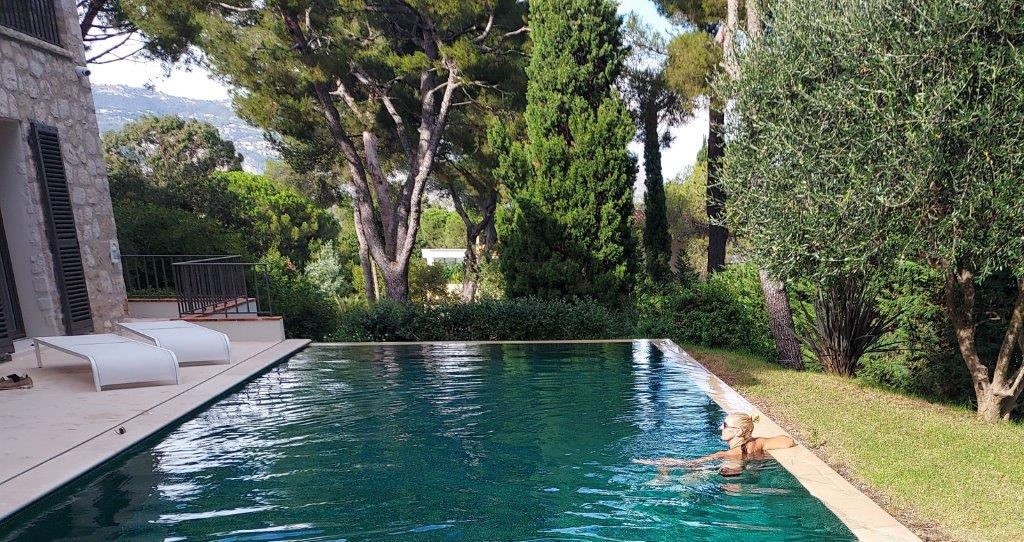 We anchored these days in the bay of Saint-Jean-Cap-Ferrat and were also amazed here. Because there were large luxury ships, just like in Saint-Tropez. Also sometimes cruise ships. It is also called 'Peninsula of Billionaires' because so many luxury villas have been built for famous families and business owners. The town itself is quite small and friendly. We also had dinner there one evening in a small restaurant.
William's sister tipped us off that there would be a special evening: 'La Grande Nuit Vénitienne', so an evening with a Venice theme, with a parade through the streets with music and dancers in traditional Venetian costumes and fireworks. Then we'd like to stay here a little longer 😉.
We watched the fireworks at 22.30h on the roof of our catamaran, which was spectacular. The boats in the bay honked afterwards to show their appreciation!
And before that, when it was just light, we were in town to watch the Parade with lanterns along the street. We had no idea what to expect. We did get a sneak preview of a number of costumed French people who were talking on the quay.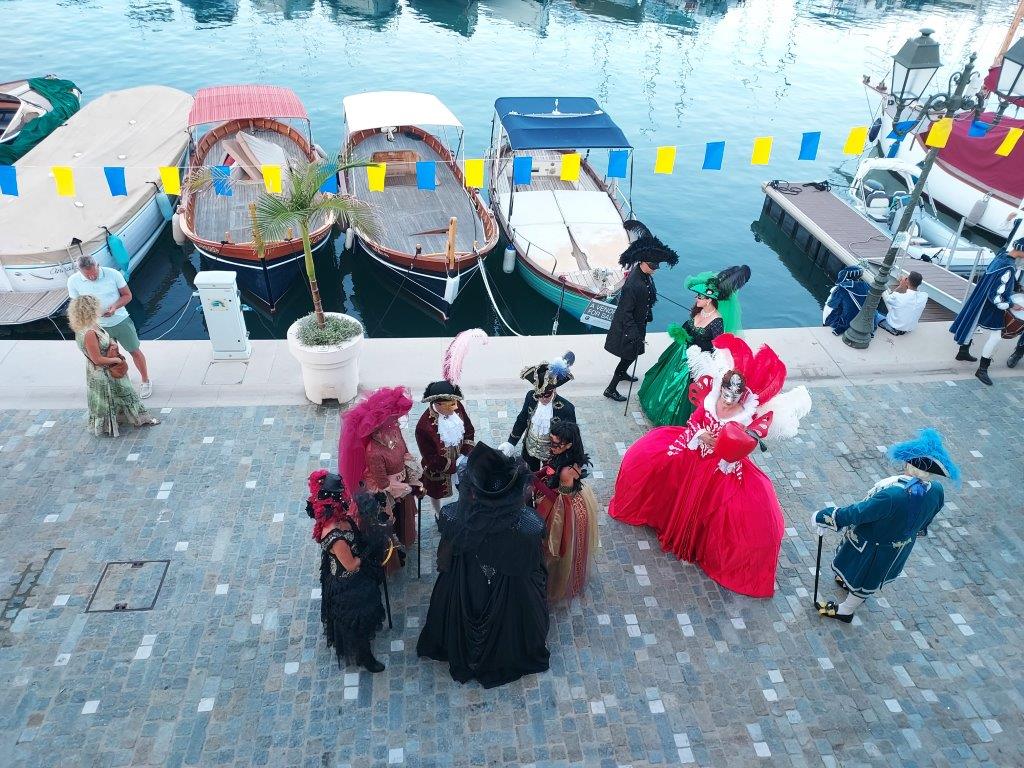 It turned out to be all kinds of dance groups passing by for an hour: from modern dance to classical, from Caribbean carnival to the Italian old costumes from Venice. Lots of music and lights too. A lot of time was spent studying everything and making it beautiful. We enjoyed it very much, here's a summary of some of the dancegroups we saw:
In the morning we woke up in the bay, with a beautiful sunrise, quite a difference with the party earlier: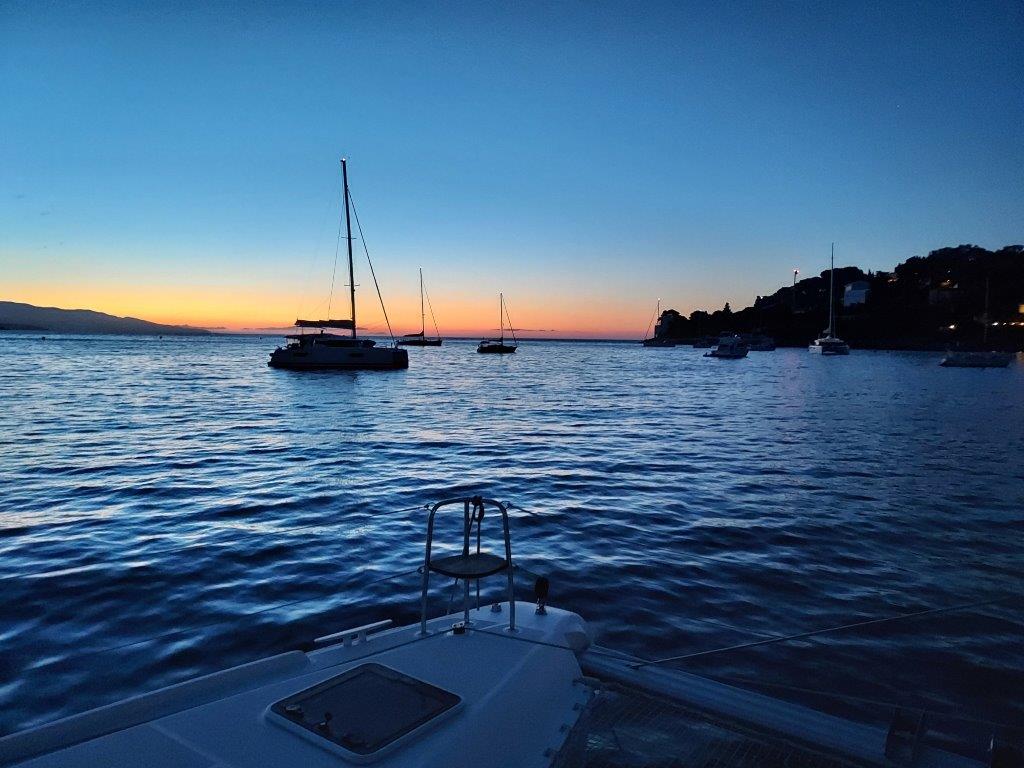 Beaulieu-sur-Mer
In the same bay, north of Saint-Jean-Cap-Ferrat, lies the pretty town of Beaulieu-sur-Mer. My uncle, aunt and niece would come on board to sail for 5 days. I inquired at the port if they had room for us in this high season, because I was expecting 3 guests who I wanted to let them board relaxed in a port. They did their best and I received a call that they had a place for us at the superyacht jetty for 1 night and the price was very good. So very happy we entered the port, and I think it's a beautiful port: you can see the high green mountain walls of de Alpes-Maritimes very well here, which are very close to the coast in this part. That gives a nice contrast with the bright blue water and the white boats. And around the corner from this large port is also a charming fishing port.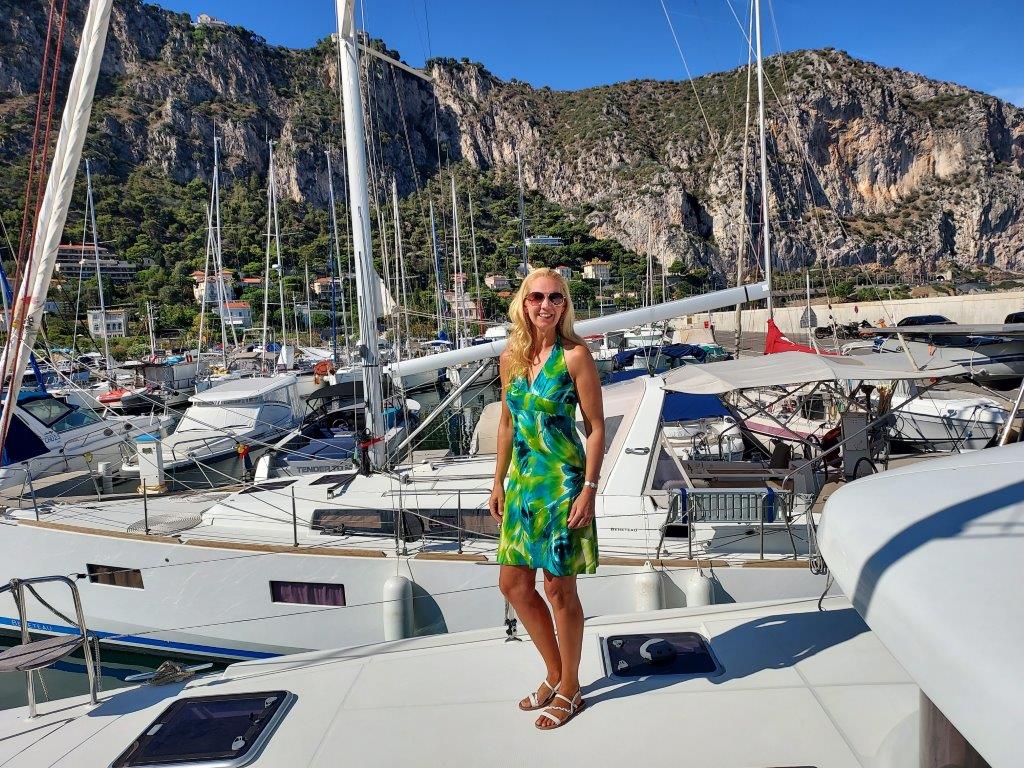 We were indeed given a place at the beginning of the super yacht jetty, our catamaran completely disappeared next to these big boys, which made us laugh ourselves 😉. One of these boats had ordered a tanker to fill up his ship with diesel, so you know what quantities are involved! Here you can see the images of this beautiful harbor that we made with our drone, with our boat at the end:
It was really nice to see my uncle, aunt and niece again! They have previously sailed on the catamaran a few times in the Netherlands (in Stavoren and Stellendam) and had said enthusiastically: if you are in the Mediterranean, we will come by for a longer period of time and they did!
The day after their arrival we went sailing, of course first instructions how to walk around safely on the boat and if there is danger, how to put on your life jacket quickly.
All three of them were ready, looking forward to it and sat down on the lounge cushions on the front of the deck. There was a happy atmosphere!
We went swimming and paddle boarding those 5 days, even passing under the catamaran 😉. With a water temperature of 27.2 degrees (!) That is of course easy to do.
We rented bicycles, visited old towns in the area, cooking and having drinks on board.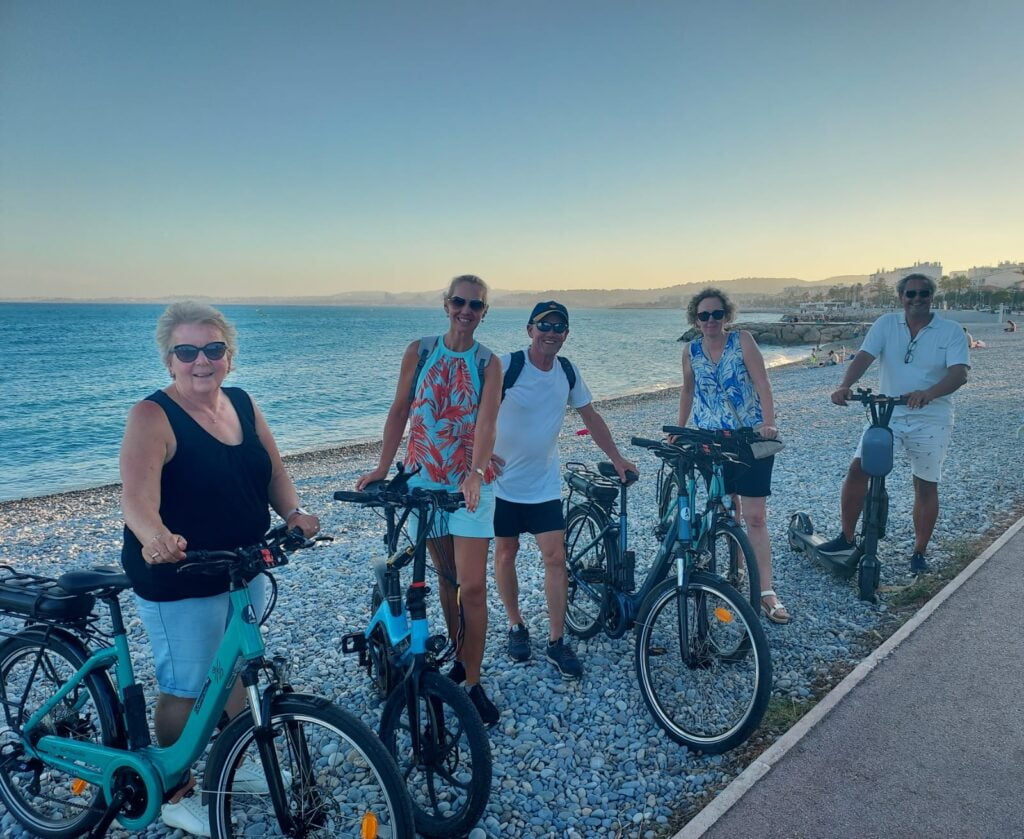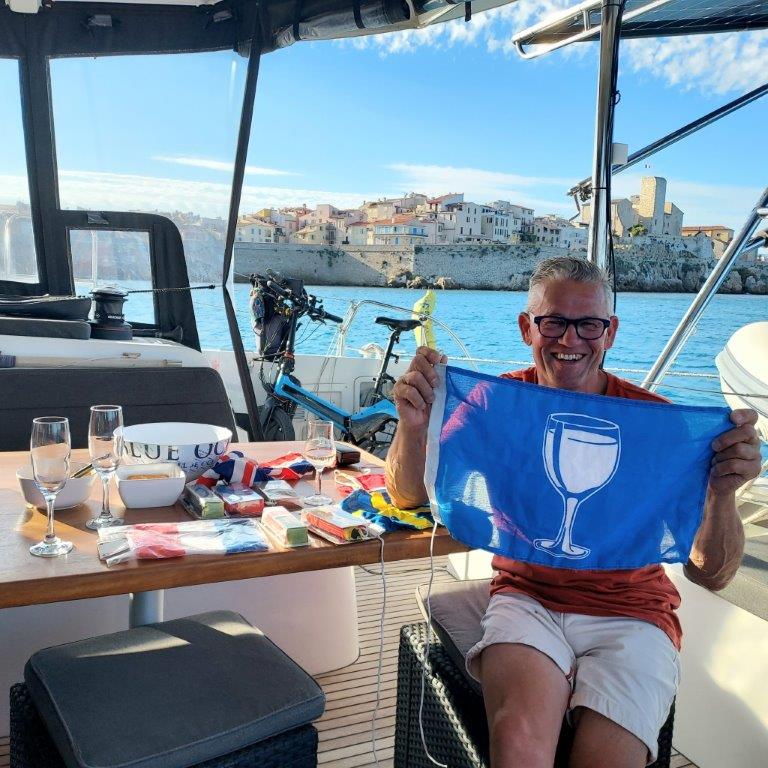 The nice thing is that they look at sailing with the catamaran and our lifestyle with fresh eyes. We no longer noticed the many cicadas (family of crickets) that you hear here when you are anchored near a forest in the Mediterranean Sea, but they pointed it out to us again.
Or usual 'naval activities' on board, such as calling a port with a VHF radio, mooring, lowering anchor, standing behind the helm, which we never photographed, because we are then in action, they have captured. Very nice! And they also helped a lot and wanted to learn sailing too. I was very happy with that!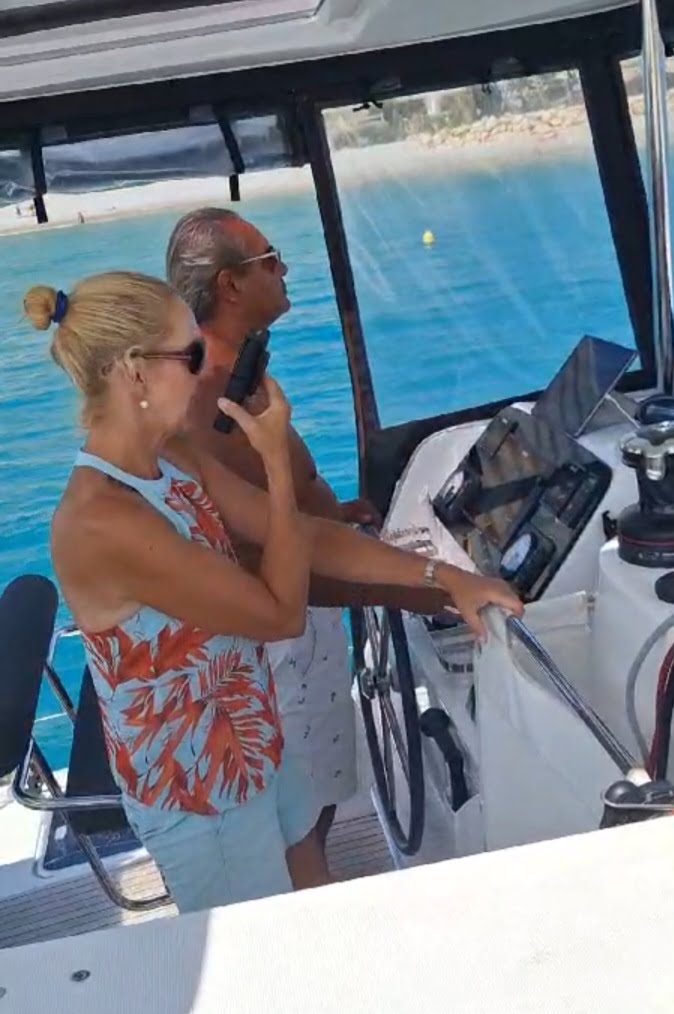 Villefranche-sur-Mer
We also visited the town of Villefranche-sur-Mer, the colored houses against the green mountain wall already appealed to the imagination. But as we got closer, we saw that narrow medieval streets ran through it, for example from the 14th century. We spent a nice afternoon wandering through the streets, no plan, just seeing where we ended up. And that happened to be at a delicious ice cream stall 😉.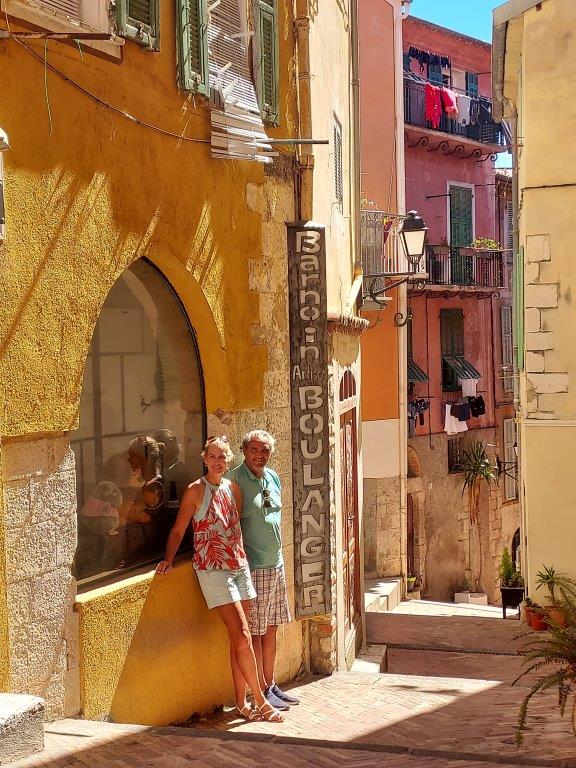 We made a video with the drone from our catamaran in the bay in front of Villefranche, with which you can also see very beautiful narrow streets above the town.
Here my uncle, aunt and cousin got off the boat again.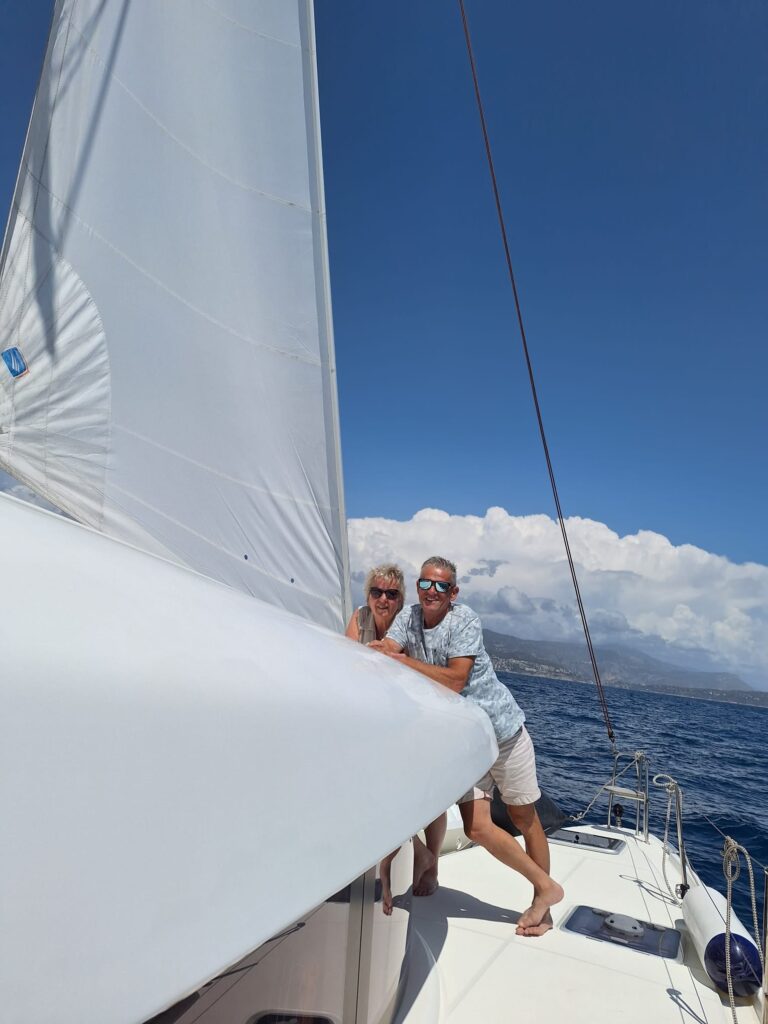 We waved goodbye to them while they are on the quay and we go back to the anchored catamaran.
I hope they come back next holiday, because it was very nice! Here you can read in their own words how they experienced their summer holiday sailing.
We sailed further east, we visited the beautiful mountain town of Èze.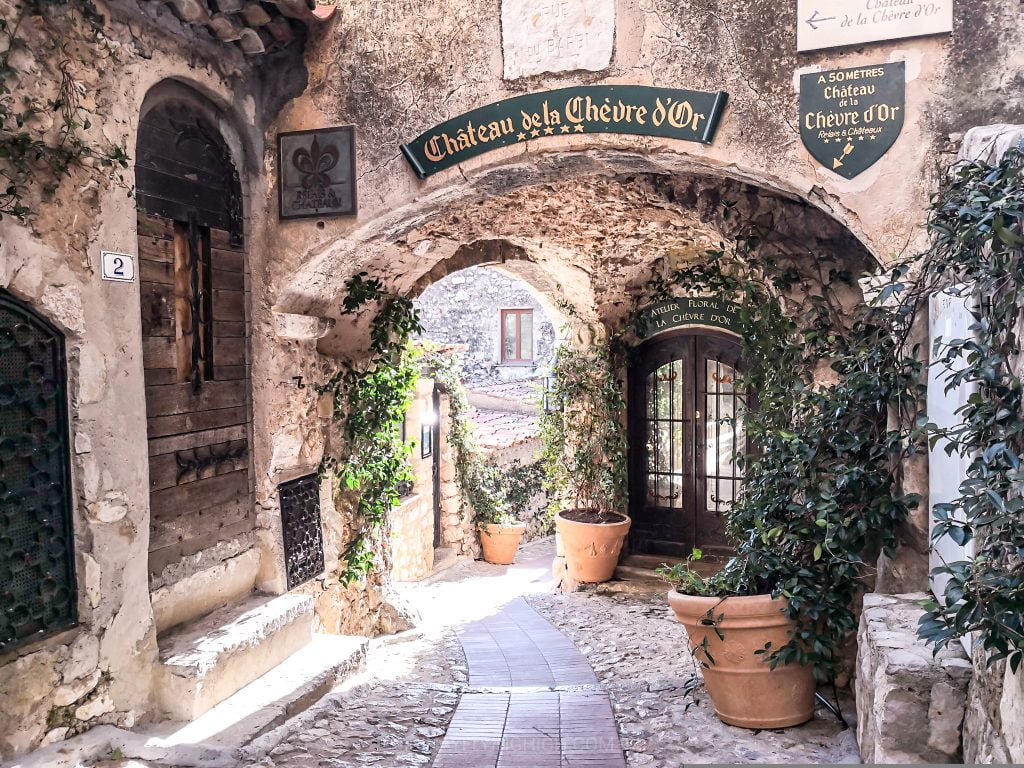 We have filled up with diesel in the port of Cap d'Ail, because that has to be done a few times a year, to be able to cope with the moments with little wind. We had been looking for a port with cheaper diesel for a month, but it was difficult to get below 2 euros. So take some time if you need 600 liters. When we left the Netherlands on May 1, 2021, we paid € 1.40 per litre.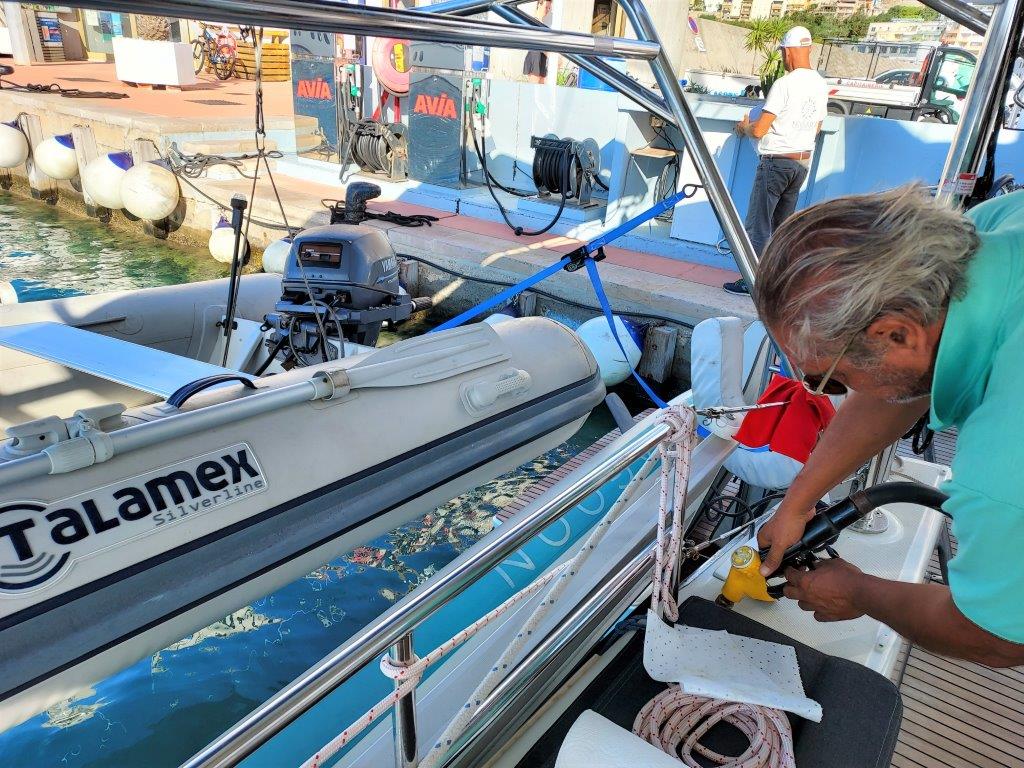 We are now sailing into a new country and you can sail there in 2 hours and then you are already out of that country 😉. I'm talking about Monaco. Next time more about this special area on the Mediterranean Sea!