East to the Bay of Cannes, is the Golfe Juan. It is another great bay at the French Riviera where there are lots of nice villages and beautiful coastlines. We have visited Juan-les-Pins and Antibes.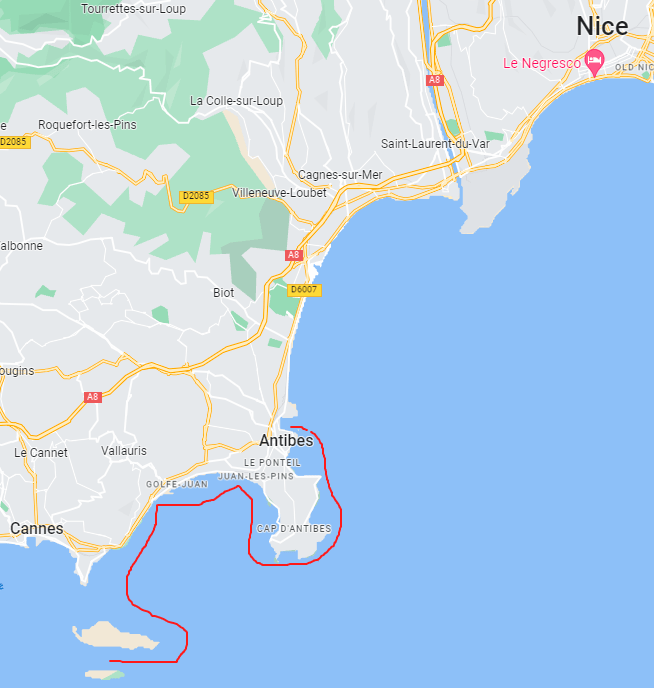 Water activities
It is great to be at the Cote d'Azur during this summertime! A lot of water activities are to be seen when you are at anchor. I took a few pictures of water sporters we have seen while sailing. For instance people hanging below a big parasail behind a motorboat, on hydro foil boards, in kayaks, jetski's, etc.
Summer activities
The municipalities along the Cote d'Azur know that there are many tourists in the summer and also that there is a wide choice of places to visit. So they organize summer activities to attract tourists to their seaside resorts. For example, we were present at the fireworks in Cannes, which you could watch from land, but even better from the water on your boat, because the fireworks were lit from pontoons in the water.
I saw this summer guide in one of the harbor offices and I took it with me to see what was organized on the Cote d'Azur. In addition to many markets and stalls along the beach, I also saw a number of music festivals that caught my attention.
Jazzfestival with Nile Rodgers & CHIC
A Jazz festival was organized in July in Juan-les-Pins. Already for the 62nd time. During 2 weeks, many artists came to perform in a park on the beach in the afternoons and evenings. Sheltered under the trees (it is 30 degrees) you could enjoy performances during open air concerts. It was quite small-scale, with a number of stages and a main stage with about 3500 places for the public around it. I saw Nile Rodgers & CHIC on the program. I was looking forward to that! I also know disco hits like 'Le Freak', 'I want your love', 'Everybody dance', 'Dance, dance, dance', even though I was born in 1974.
On the French website I checked if there were still tickets for this performance, but it seemed like it was sold out. Which I also didn't find so strange, because it was already over 5 days and the festival was very small. Nevertheless, I called the Tourist Office of Juan-les-Pins, because you never know! The lady I spoke to indicated that there were certainly still pitches available in the park, for € 20, which were somewhat hidden on the website. Together we navigated the website as we called and I had tickets!
Gilles's best friend was coming over that week and I knew he really appreciated musician Nile Rodgers, so when I called him next to ask if he wanted to come along, he didn't really have to think twice! The 3 of us walked to the park where it was indeed wonderful to relax under the trees with all the jazz performances in the background. We bought a kebab at one of the small tents around the site, because fast food is part of music festivals!
Nile Rodgers & CHIC's 1.5 hour performance was amazing! All hits came by and Nile regularly told how songs were created or for which artists he had made more songs. He also had anecdotes about that. He wrote 'Like a virgin' and 'Material Girl' for Madonna, songs for Daft Punk, David Bowie, Duran Duran. He also played those for the public with his band, just like songs he produced for Sister Sledge and Diana Ross. It was difficult for us to stand still, it was crazy and there was nice interaction between the audience and the musicians on stage.
The Weeknd
Visiting a The Weeknd concert has been on my wish list for a long time. I like a lot of his songs and this singer's voice is very beautiful. I saw The Weeknd perform in Nice at the football stadium Allianz Riviera and was still able to get tickets. Nice is a bit further along the coast east of Golfe Juan, but 40 minutes with our scooter and bicycle brought us there quickly! Fun ride along the beach to do!
There was a support act, but artists unknown to us and, as said, fast food is part of it. So we went to a Chinese restaurant in Nice 2 hours before the start of the concert at 9 pm. Nice snack from the buffet to have a good 'floor' for the concert! Because the reviews (in Amsterdam in June) said The Weeknd would play many of his dance hits, he would stitch 35 songs together for 2 hours!
And that's how it went! The 34,000 fans and we were very excited to hear the artist sing so well. We enjoyed many of his songs such as Starboy, I feel it coming, Take my breathe, The Hills, Sacrifice, Die for you, With the big hit 'Blinding Lights' the stadium really exploded, everyone was jumping and singing.
The Weeknd had a somewhat futuristic setting for his concert: it featured a replica of the moon and an iron backdrop full of high towers reminiscent of the metropolis and New York. On the long catwalk running the entire length of the field (the 'pit'), 28 dancers could occasionally be seen completely dressed in white robes.
The singer himself wore an iron mask for the first half of his concert. In the 2nd half of the concert he took it off and you also saw that he visibly enjoyed the enthusiastic audience. He regularly walked past rows of fans and also complimented them for singing and dancing along.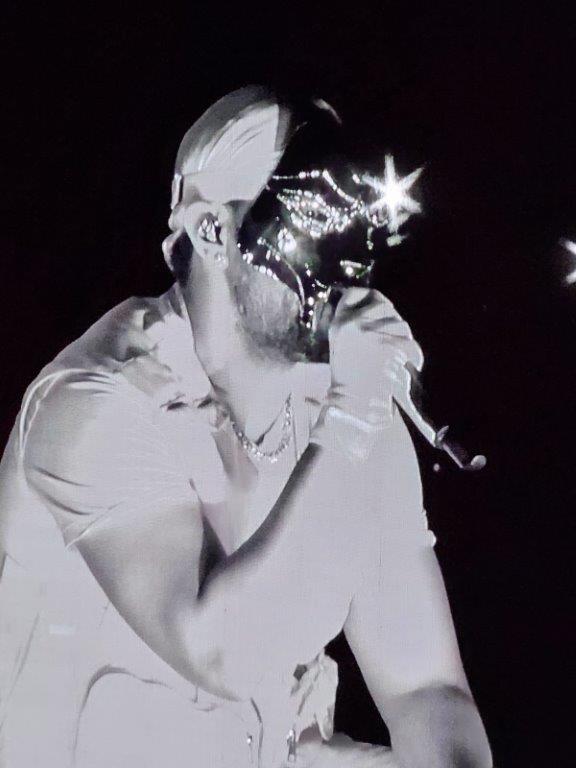 A nice surprise was that spectators were given bracelets with light effects at the entrance. With certain songs, these bracelets suddenly all turned on. So there were 34,000 flashing red lights throughout the stadium or warm green colors that could also be seen on the stage. Very cool!
At the end of the concert we were able to get away with our bicycle and scooter and enjoy the fresh air (26 degrees at 11.30 pm!) Back to the boat. Still enjoying the good music and the beautiful voice of The Weeknd who sang so effortlessly well.
I really didn't want to miss this! The next day there was also a positive review in the Nice Matin newspaper calling The Weeknd the new King of Pop!
I filmed songs with my mobile phone and here are 3 short clips of the songs I liked best: Moth to a Flaw (with Swedish House Mafia), In Your Eyes and Blinding Lights:
Antibes
We also went to the other side of Golfe Juan and cycled to Antibes. This town has an old center with ramparts and a covered market in the center. There are many small narrow streets with nice terraces and special shops.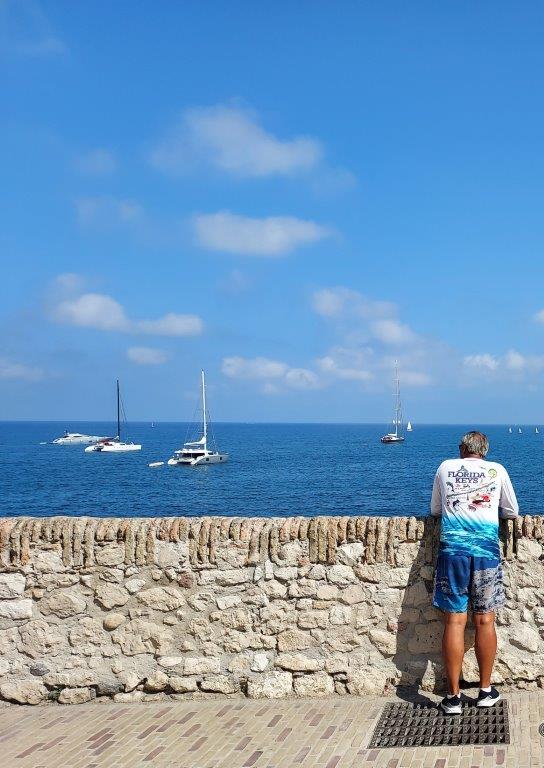 We also received a former colleague of mine for a day on the boat! Jeroen Persoons saw on LinkedIn that we had been to Saint-Tropez and he was there with his family these weeks, so he sent me a Whatsapp to see if we could meet up. When we were in the harbor in Antibes with the boat, it worked out well and we also sailed with him for an afternoon, very nice!
The large port of Antibes is Port Vauban and that is also an attraction! Huge private yachts that are sometimes also anchored because they do not fit in the harbor. And entrepreneurs adapt to this, for example, we regularly saw this boat passing by where you could order wine and champagne!
After a week of sailing, we said goodbye to William. See here how he experienced this sailing holiday!
Golfe Juan
We really enjoyed staying in this bustling bay on our catamaran! You really start to recognize the atmosphere here along the French Riviera: fragrant pines, white sand, rocky formations, the sea in all shades of blue, cricket singing. And despite the great density of seaside resorts and activities, there are sometimes surprisingly quiet stretches of coast with small fishing ports or beaches.
We had mostly anchored in recent weeks, because ports such as Saint-Tropez in this area are not affordable, but in this bay we were able to find a friendly priced port (Vieux Port Golfe Juan) and it is therefore nice to quickly to be able to step ashore, to rinse your boat with fresh water, to be able to do your shopping easily. You also notice that this part of the Mediterranean Sea attracts many foreigners who are here for a shorter or longer period of time. Many Americans and English, but we also saw boats from Gdansk, London, Riga, Jersey, Valletta (Malta), Ajaccio (Corsica).
We are already looking forward to our next adventure, because after Golfe Juan the next bay is just around the corner, including the famous peninsula of Saint-Jean-Cap-Ferrat!