We have been happy sailing now for 2 years on this day 1. Mai 2023! Since we left on 1.Mai 2021, we sailed over 8.000 miles on the West-European coast. This has been our route so far:
During the 2 years, we kept family, friends and business relations updated via these 2 channels:
Catamaranhorizon.com: our website where I have been writing a blog every week, so 106 blogs in 2 years. And we have had close to 15.000 visitors on our website during those 2 years!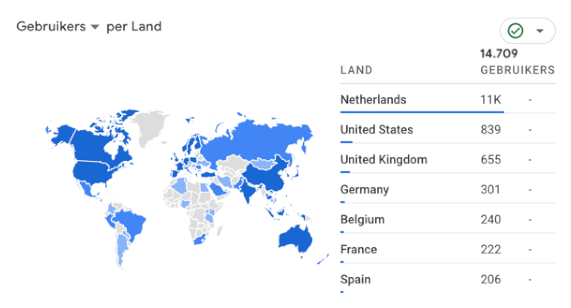 2. YouTube Catamaranhorizon: we have posted 55 video's, often filmed with our drone while sailing, seeing dolphins on the way, showing the villages we visited, filming adventures like the helicopter practice while sailing Scotland and showing the beautiful surroundings we have seen.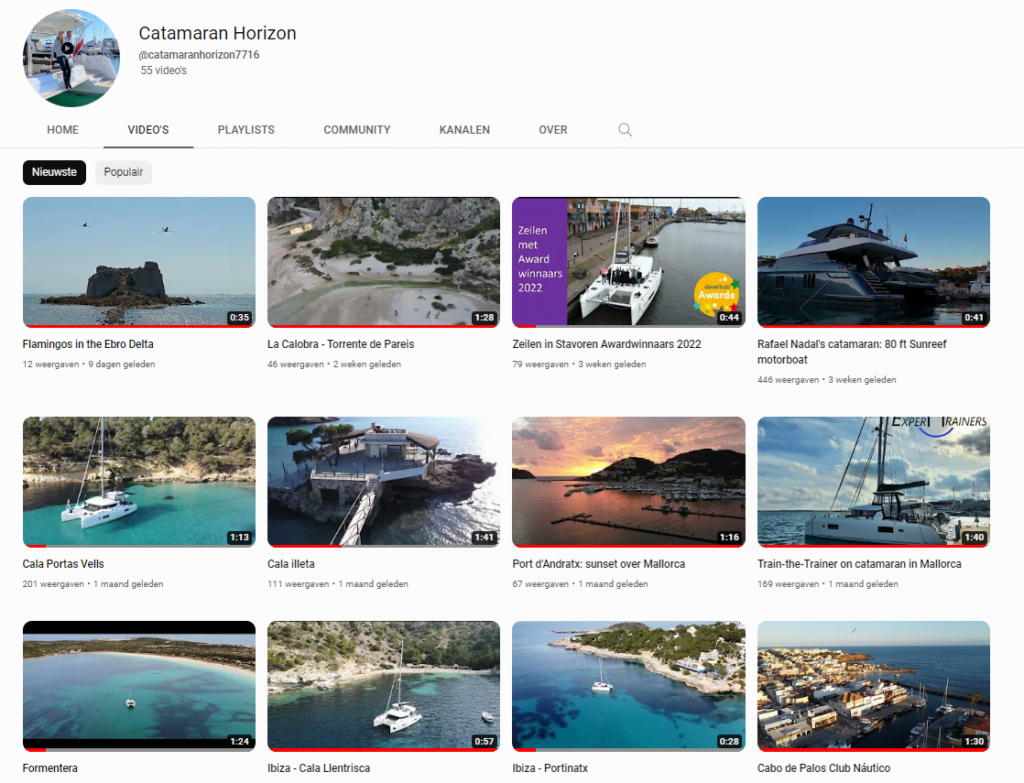 Via these 2 channels we share our experiences with living and working during our worldtour sailing.
We also got noticed by others and they contact us to write about our worldtour, or send us a request to make podcasts or ask for an interview for a magazine. Mostly by Dutch parties, but also English, French, Norwegian and Belgians found us. They can be divided in 3 categories:
A. Sailing related organisations
B. Trainers and Advisors in Learning & Development
C. Digital Nomads (working and travelling)
We have collected all their contributions about us in the media for the last 2 years in this blog, in order of the categories A, B or C (see above). It turned out that on average every month during the last 2 years, we were contacted to do an interview or podcast.
So with these 24 contributions below, we hope you enjoy this overview on how we have experienced our live on catamaran Horizon so far, seen by others!
In the Media: Sailing related organisations (A)
Interview by magazine Zeilwereld, Riemer Witteveen – March 2023: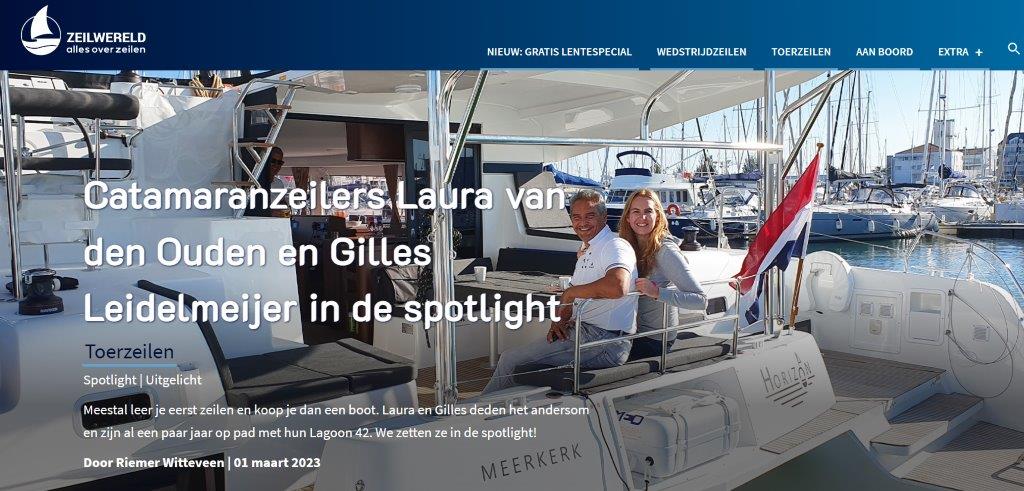 Article from the City of New Castle (UK) on our blog about visiting New Castle Marina – Feb 2022:
Facebook post by Jondal Båthamn (Norway) about us visiting their harbor – Aug 2021:
Interview by Lagoon catamarans (France) during our visit at the International Multihull boatshow in La Grande-Motte – April 2023: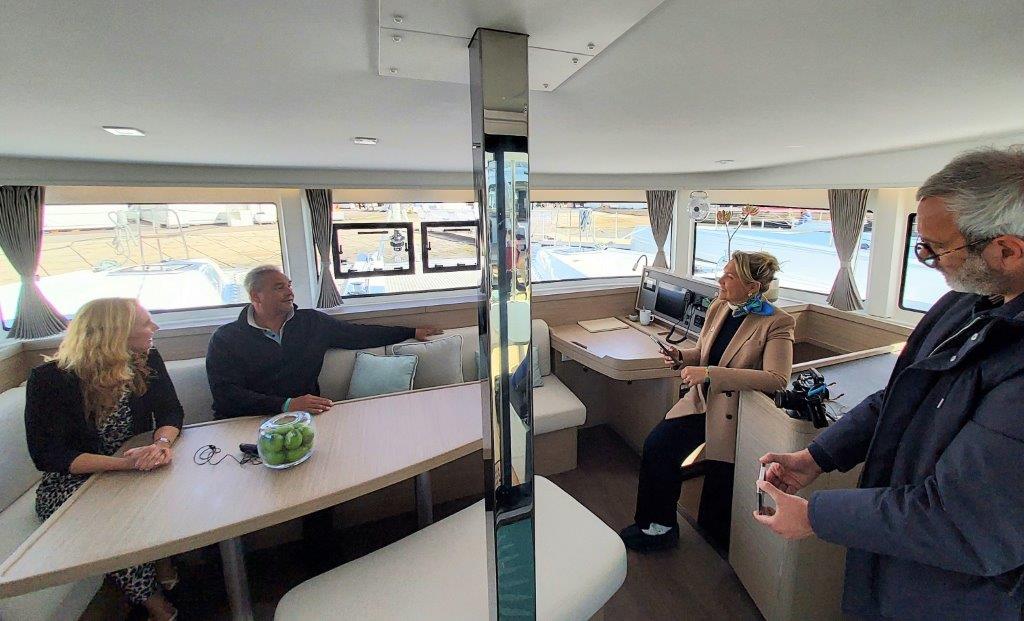 In the Media: Trainers and Advisors in Learning & Development (B)
Interview by NOBTRA Training association about our worldtrip – Mai 2021:
Podcast about 10 Lessons learned on online learning by Listen to Learn Skillstown – Oct 2022:
Article Top 20 Influencers in HRD magazine TVOO – Sept 2021: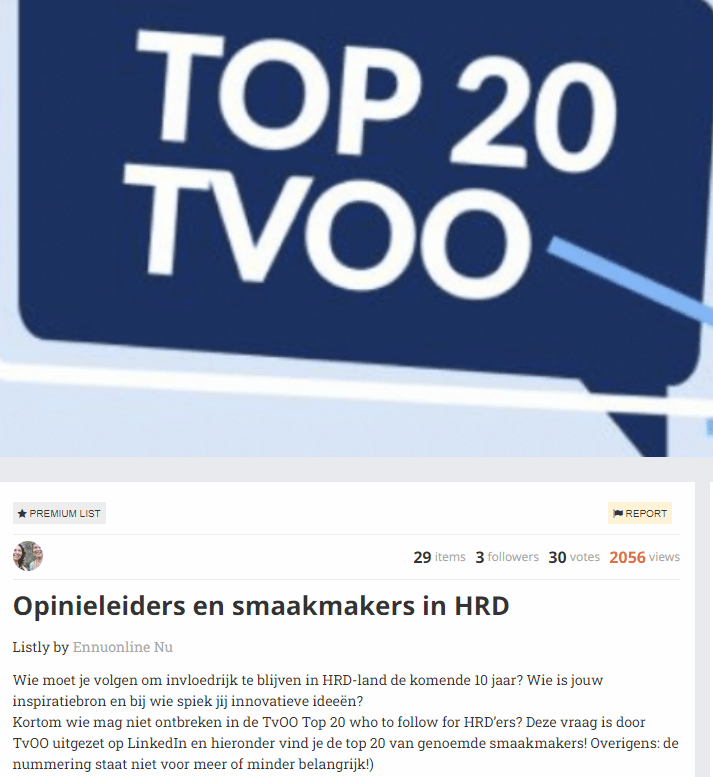 Podcast about Hybrid facilitating by trainer Niels Seresia (Belgium) – Feb 2023:

Newsflash 3 years partnership with Develhub on their website – Sept 2022:
Interview Zigzaggend Vertragen by TVOO magazine and Sofie Willox – Sept 2022: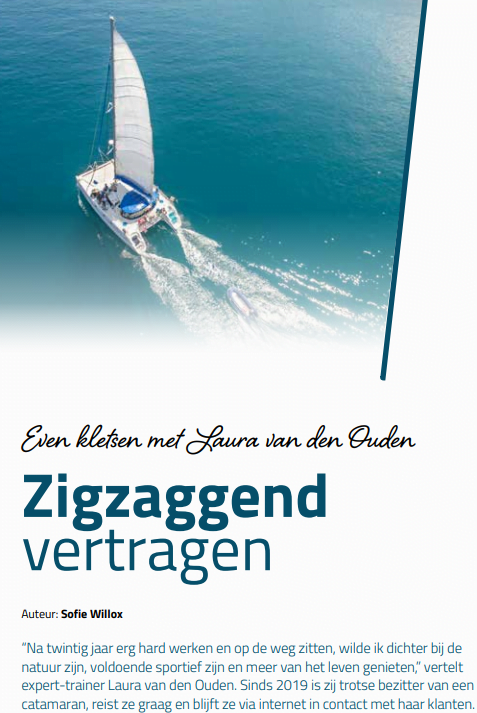 Podcast about Ondernemend Trainen by Essentie van leren – Arco Kats – Oct 2022:
Interview by Belgian VOV (Vereniging voor Opleidings- en Vormingsverantwoordelijken) – July 2022:
Podcast on E-book Hybrid learning by HRD Café – June 2022:
Video by Develhub about Sailing with the Develhub Award winners 2021 – March 2022:
Podcast on Hybrid Learning by Derek van der Pol – June 2022:
Blog about Blended Learning by Let's Learn – Helma van den Berg – Dec 2021:
Blog 5 Tips on Successful Online Training by TijdschriftLes – July 2021:
In the Media: Digital Nomads (working and travelling) (C)
Interview by Quote Magazine – Aug 2022: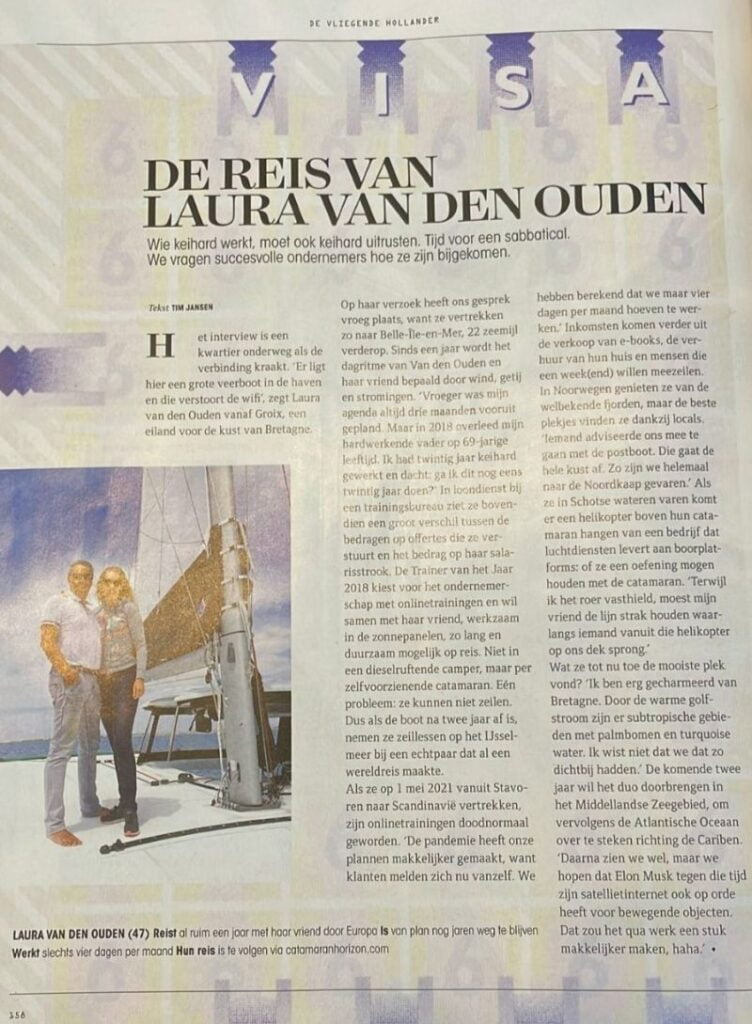 Interview by Accountancy magazine Deel! – April 2022: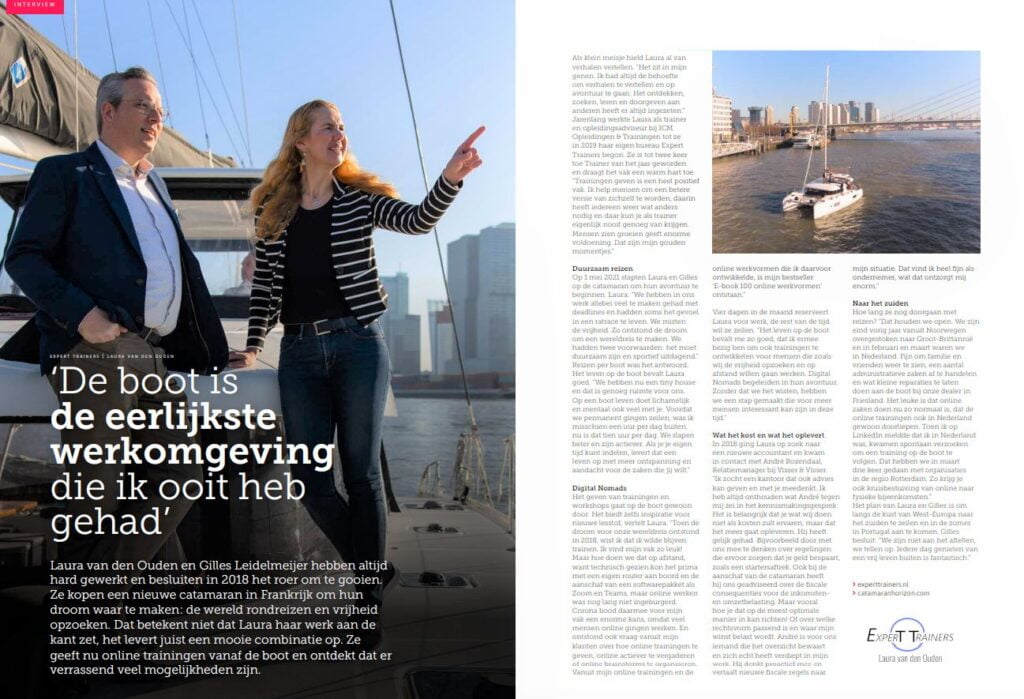 Column Living like a Digital Sea Nomad in Tijdschrift O&O – Jan 2022:
Podcast Remote working from a catamaran by De Gelukkige Thuiswerker – Aug 2022:
Interview by Ms Independent about Online business – May 2022:

Podcast Vrije ondernemers by Jeanet Bathoorn about travelling and working – Jan 2023:

Interview by Visser & Visser about Living on the boat – Nov 2021: