We are now at the Northeast coast of Spain. Last time I wrote about the nice city of Cambrils, and from there we made plans to sail further north. Because Barcelona was a highlight that was coming up!
This is the route we have sailed:
Sitges
About 40 km before we arrived in Barcelona, we passed by Sitges, a charming town close to Barcelona. It was worth visiting this town. Sant Bartomeu is the symbol of Sitges, this 18th century baroque church is also called "La Punta" because of its location with beautiful views of the city, the old city walls and sea.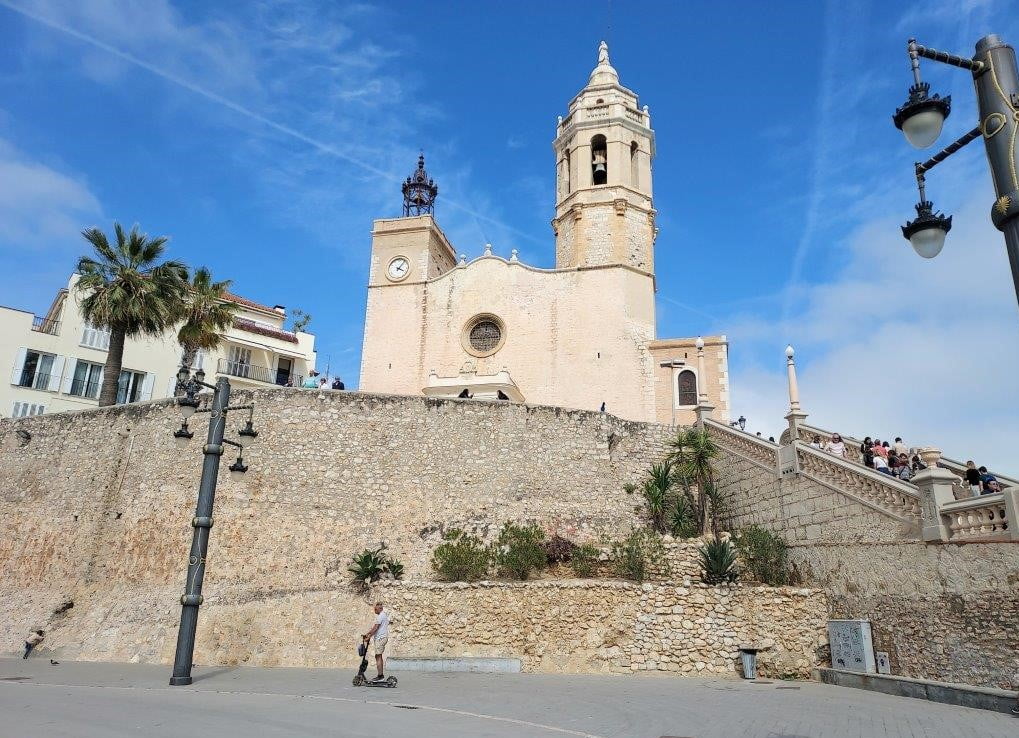 You can see the historic buildings behind the church:
We especially liked the street with palm trees, that led to the famous beach of Sitges:
Barcelona
Often when you approach a big city from the water, you first meet the industrial port 😉. We saw big ships laying there, also in front of the coast, the oil tankers at anchor waiting for permission to load or unload their cargo.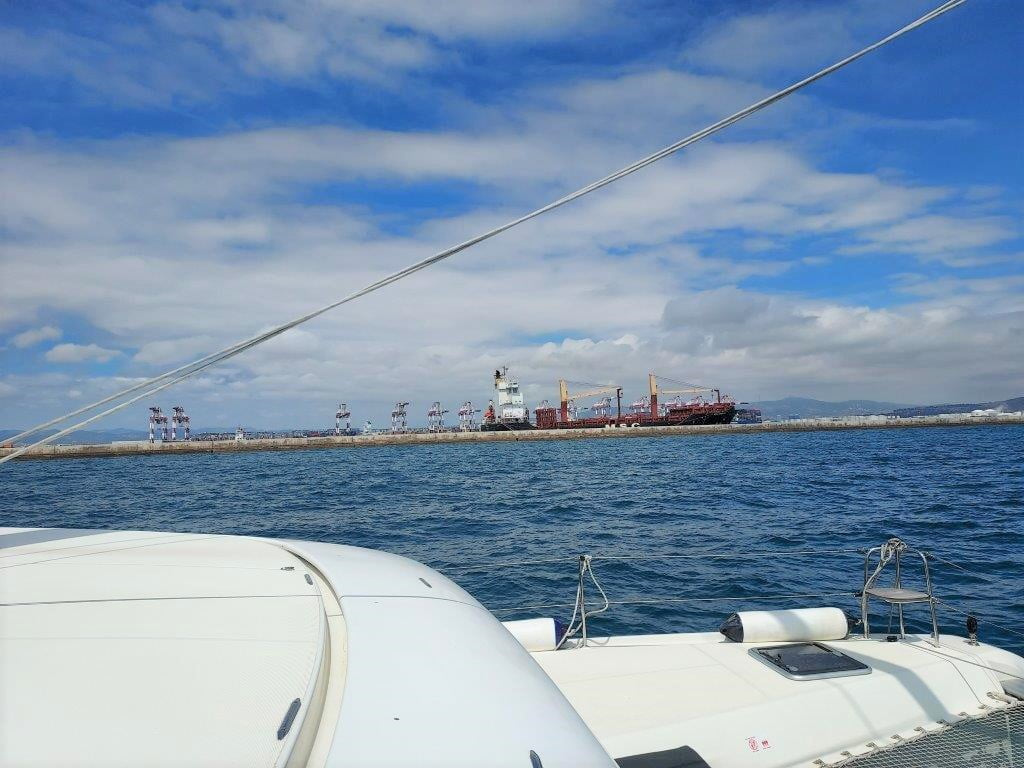 Then we came into the harbors of Barcelona city for cruising yachts like ours! We entered Marina Vela and from here we could take our bicycles into the city!
First we cycled along the beach, because Barcelona has great beaches where there are always activities like sports or festivals.
Of course we wanted to see the main attraction of the city: the Sagrada Familia, the famous basilica designed by architect Gaudí. Since the foundation stone was laid in 1882, the church has been built almost continuously for more than 140 years. The last time I was in Barcelona was in 2008, it was clearly developed now. There were more details visible, more colors and more statues. We walked around the church, sat in the park below and read about the story of the cathedral.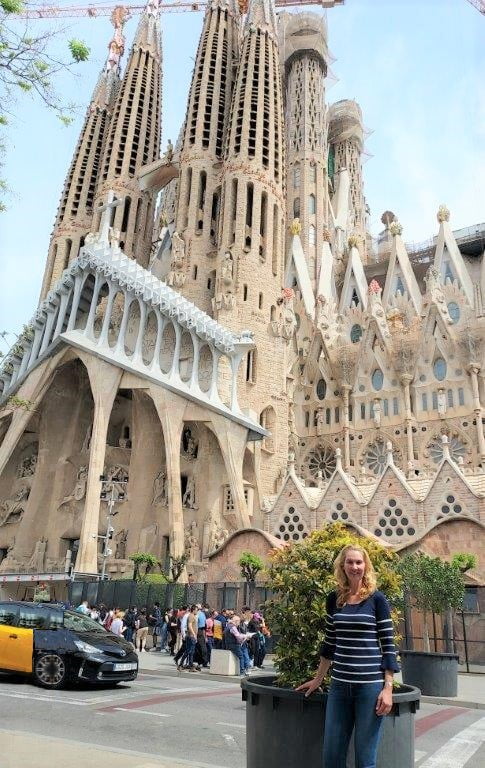 These were 5 facts it did not know about the Sagrade Familia:
The idea for a church came not from Gaudi, but from the bookseller Josep María Bocabella i Verdaguer in 1866. With the help of many donations he bought a piece of land of 12,800 square meters and an architect Francisco de Paula del Villar then offered to design the church for free to make. He drew a church building in the neo-Gothic style that was common at the time. Del Villar started building the crypt in 1882, but after a year he fell out with his client and resigned. Then Gaudi was commissioned.
Gaudí summarized all his views on architecture in it, he kept changing his basic design until the style could no longer be called Gothic. He was so preoccupied with the work that after 1914 he took no further orders. The church is his last work. The church will have three facades, each representing a stage in the life of Jesus (the facade of the birth and the facade of the passion are already completed and the facade of the glory will be placed in front), with four bell towers each. These twelve towers symbolize the twelve apostles.
Gaudi even lived on the construction site for some time towards the end of his life. In 1926, Gaudí was run over by a tram and died a few days later. He was buried in the crypt of "his" church.
In a fire in 1936 during the Spanish Civil War, most of Gaudi's designs and models were lost. When construction continued after the fire, it was necessary to try to recreate the design from the remains of the fire and from what was remembered, because of all Gaudi's original ideas and directions, little has survived.
The entire church is expected to be finished around 2030. Because la Sagrada Família is an "Atonement Church", it should only be paid for by donations. Partly because of this, construction takes so extremely long. Since the 1980s, however, construction has also been paid for by levying an entrance fee. Since the Sagrada Família is a much-visited tourist attraction, construction is now moving much faster. While in the beginning only two people worked on the Sagrada Família, today more than a hundred people are working on it.
We also visited other buildings in Barcelona, designed by Gaudi, like Casa Milà and Casa Battló below:
Also the famous Park Güell, which is upon a hill in Barcelona, was visited by us on bikes. This Catalan Modernism way of building (Art Nouveau or Art Deco the Spanish way), with all the happy shapes and colors, looks a bit like the Efteling :). But the Park has good vibe and beautiful views over de city of Barcelona from up here! Features curly lines, stylized plant motifs and animal shapes that were primarily intended for decoration. Modernists also used new building materials that played an increasingly important role in architecture. In the Parque Guell, for example, cups and saucers were used for the many mosaics.
Like any other big city in the world, for instance, London, New York or Paris, there are many tourists in Barcelona. And not all Barcelona people like all these people coming and what all this tourism does to the city in terms of crowds, pollution, original buildings that become restaurants. We saw this form of protest close to Park Güell, which was painted on a garage door:
A new achor
We have wanted a new anchor for a long time and in Barcelona it was delivered! The reason for a new anchor is that the anchor that comes with the boat is a DELTA 20kg, which is quite light for a 13 ton catamaran. We have experienced a couple of times that the anchor starts to scratch when the wind is getting stronger. And especially during the night, this is not pleasant. We have an anchor alarm which alarms us when the anchor starts to move, but we want to be able to go of your boat for grocery shopping or sightseeing and not have to rush back (which has happened a few times!)
The reason why it became more urgent to have a new anchor, are the prices of harbors in the Mediterranean. Already at Ibiza (February) and Mallorca (March) we noticed the average prices for a catamaran of € 40 to € 60 euro's became 2 to 4 times more expensive. And this is low season! In July and August harbors are many tim es full or very expensive (think € 400 per night). So if you have a reliable anchor, you can choose an anchor spot more easily even if the wind is strong or the soil is not solid (best is sand, but sometimes is mud).
A better anchor is a Rocna of 33 kg, but the best anchor is Ultra Marina 35 kg. We choose that one, here we tested how the anchor worked in their mini-versions (above our anchor DELTA 22 kg and below Ultra Marine 35 kg).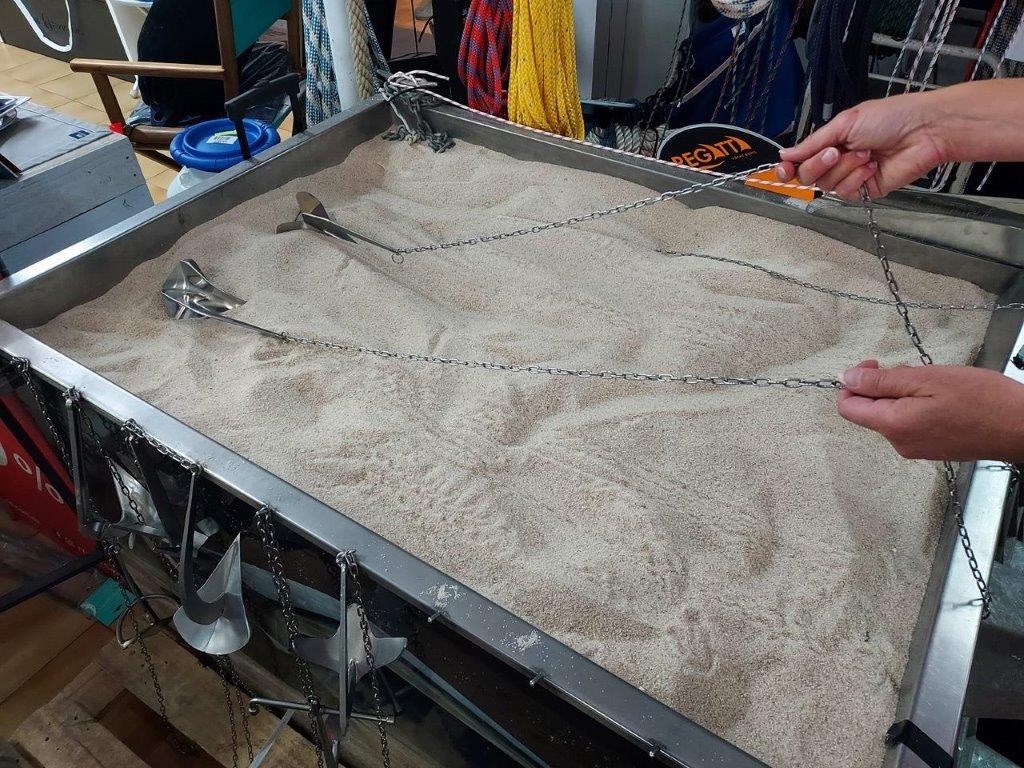 Ultra Marine is also the most expensive one, but we calculated that if we save the expensive harbor fees during the summer, it's well worth it, also for the years to come! At Mallorca end of March we ordered the anchor in collaboration with a Yacht Service in Barcelona, because we knew it takes 1 or 2 weeks to order and we were certain to visit Barcelona. The employees drove to the Marina where we were and unpacked this stainless steel anchor. The shackle of the anchor was full of rust (salt water) and had to be sharpened with a grinder from it's anchor chain! They also did this.
The employees then installed the new anchor Ultra Marine 35 kg. We have used it now 3 times and it's very reliable, it digs itself quite deep into the soil and stays there, even in strong wind. So we are very happy with this upgrade!