We stayed for 6 weeks in Mallorca, much longer than we anticipated, but it was so nice out there! Beautiful bays, a great variety of landscape (mountains, old villages, forests), good food and great weather. We looked 1 more time at the beautiful postcard a participant of the 4-day Train-the-Trainer in Palma da Mallorca bought for us as a thank you: it has been great!
But more nice things to discover after beautiful Mallorca, so we continued our world trip! That means, first sailing back to the main land of Spain, the east coast.
Preparing for the sail
With the windangle coming from Northeast, we would aim for arriving between Valencia and Barcelona to get most out of the wind and not having to use our engines during such a long trip. The distance would be 120 NM (nautical miles, which is 120 x 1,8 km = 216 km ). With an average speed of 5 knots, that means 24 hours of sailing (120 : 5), which also means sailing during the night.
We checked for a good weather window, when the Big Five would align. And 1 day before we left, we checked online the coastline between Valencia and Barcelona more closely. According to the wind, the town la Ràpita was most likely to sail to and it would be perfect, because there is a sheltered bay to stay after the sail (plan A) and a harbor (plan B). I called them, they had availability and a good price (Mallorca is one of the most expensive places for boats in the Mediterranean, we found out!).
The wind would be mild in the morning and getting stronger from 14.00h, up to 12 knots maximum during the day. So during the morning, we prepared our departure and put out our code 0, our biggest sail which can be used up to 18 knots. We left at 14.00h and it turned out most of the time the wind was 16 to 18 knots, so the expected average of 5 knots ended up most of the time 8 knots and even 10 knots was reached. We were going fast! And with the beautiful weather, sun on our faces, we enjoyed very much this sail.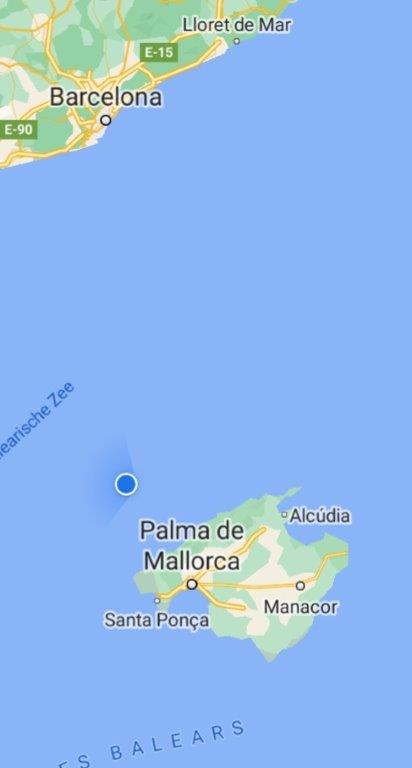 At 21.00h the sun went down and luckily there was a full moon, so we still could see the water a bit. It was not pitch dark like our 3 night sails before (Norway to Shetland islands, 44 hours, New Castle to Den Helder and Altea to Ibiza).
The shipping lane that we would cross during the night was very wide: 12 miles. In the middle is a 'central reservation', where you can wait after passing the first lane to check when you can pass the second lane where ships come from the other direction. It was busy, but not crowded, so with good anticipation it went quickly.
There is a big misunderstanding about the Med (Mediterranean Sea) when it comes to sailing. People thinks it's like 'bath water': shallow, no waves, no current, no tide differences and hardly any wind. But the opposite it true: we sailed over depths of a 1000 meters or more (see the seamap below with 1150 meters), there are waves, there is a strong current sometimes and yes, there is wind! I think the clear water (translucent and in beautiful turquoise colors) are mistaken for too relaxed sailing on a lake, but this is real and normal sailing on big waters!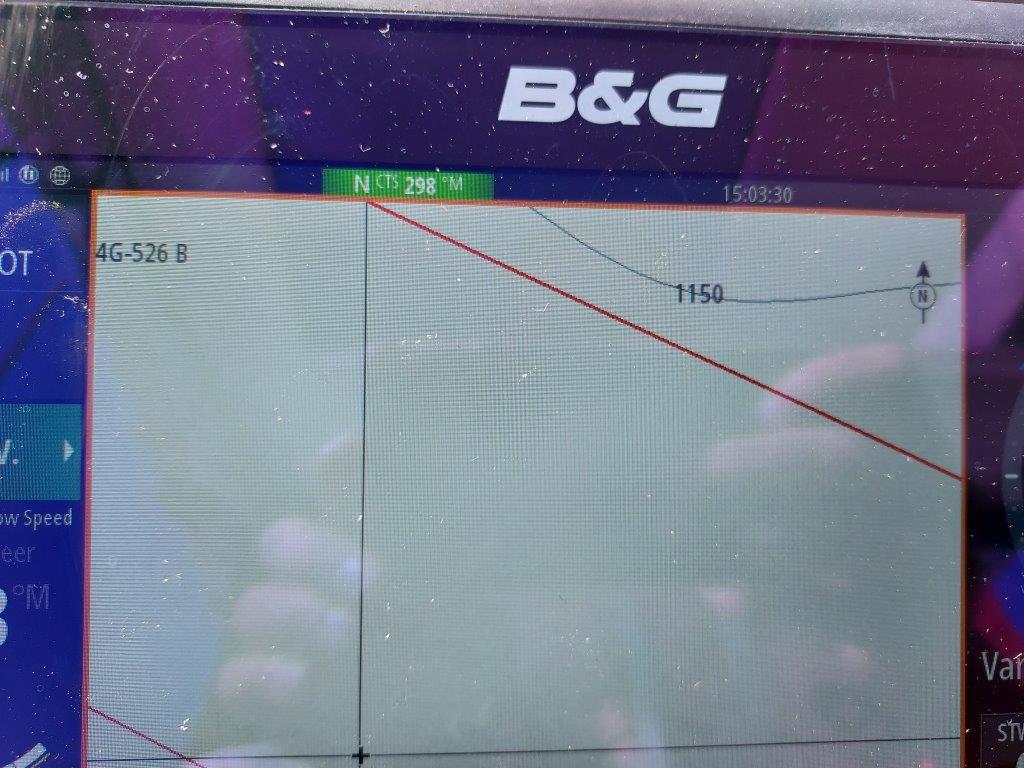 When the sun came up around 7.00h, we could see the mainland of Spain already. In stead of 24 hours, the sail ended up being 20 hours, we arrived at la Ràpita at 10.00h.
La Ràpita
Although the conditions during this crossing were great, you are still tired after being awake for 20 hours, keeping an eye on other boats, walking on a moving object, adjusting sails and navigating during the night. So we decided to go into the harbor in stead of anchoring. You want to have some comfort now and no unexpected adrenaline rushes of your anchor start scratching during the night….
With our boat safely moored in the marina, we did some shopping at our favorite supermarket Mercadona (big fan, they have everything!).
And we visited the boat of Marco and Bianca Clazing, the Dutch couple that we met last March in the Netherlands. For a surprise we came to Marco's goodbye party at his work! They are going to sail with their Lagoon42 as well in the Med and we knew their boat would be in the harbor of La Ràpita now. We send an app to Marco when we found their boat and he send us a picture back of Gilles and me standing on the jetty looking at their boat! He has camera's onboard and via Wi-Fi he can check the status of their boat real time from the Netherlands!
It gets even funnier: during the evening he asked us to check the new lights he installed on their boat last time he was there. He installed lights under the steps and underwater lights in the color blue. So we walked again to the pontoon their boat was and he turned on the lights live right there. We went back to our boat and send a picture of our lights we installed around the boat 2 years ago, color purple (an ode to our favorite musician: Prince). So this is what we as 'boatnerds' do 😊.
Flamingo's
The next day, we cycled to the Nature reserve, east of la Ràpita. It's called 'Parc Natural del Delta de l'Ebre' and is a broad area where the river Ebro ends and it leaves a saltwater delta area, where you cycle in between grasslands, rice fields (black paella rice!) and flamingo's.
Really nice area! To me, flamingo's are as magical as dolphins, beautiful special animals. I took a short movie of 2 flamingo's flying over an 13th century ruin castle that was in the delta.
We cycled for 1,5 hour and at the end of the delta, there was a beach and a bar called Flamingo Beach Bar (of course). We order nachos, 'croquetas' and Mojitos and had a relaxed afternoon at the beach.
Cambrils
Next stop would be Cambrils. We did the 6 hour sail to this cosy village at sea.
It has a great market in the old city center and wide beaches.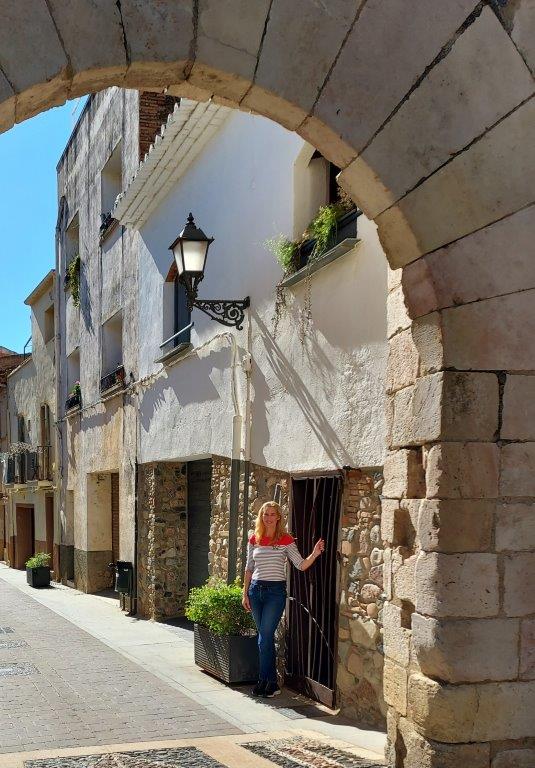 We booked a place in the marina for 1 week, not because we wanted to do sightseeing for 7 days here, but the 4 days of online training I do every month came up this April.
Visiting the international multihull boat show at La Grande-Motte (France)
And after those 4 days of online training on the boat in the Marina of Cambrils, we would go the France! Not with the boat, because it is still 400 km to get to the border of France by boat, but by car. We were invited by our Dutch Lagoon dealer Nautisch Kwartier (Stavoren) to visit the yearly biggest multihull boatshow in Europe in la Grande Motte (near Montpellier). We could see the new catamaran models of Lagoon there and could get a tour on the 42ft, 51ft and 65ft.And we were asked to do an interview with the Lagoon crew on camera to talk about our world trip as owners of the Lagoon42.
So we left our boat for 3 days in the Spanish harbor of Cambrils, rented a car and drove to 'la douce France' where we visited the boatshow (which the French call 'salon', which I find 'très chic'). Our next blog will be from France, à bientôt!