When we arrived in Port de Sóller, in the north side of Mallorca, we left our boat in the marina for 10 days and went to the Netherlands. Arriving in the Netherlands, the orange roofs of the houses stood out for us (in Spain it's mostly grey) and the neat patchwork of separated land and ditches.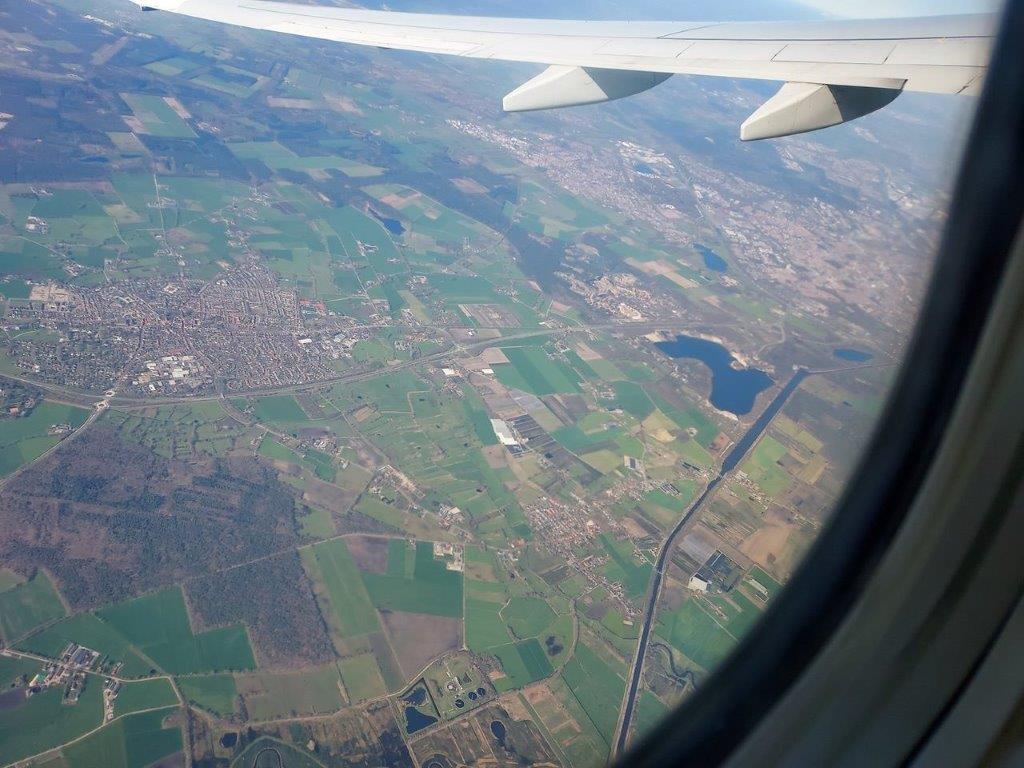 We flew to Holland to sail with the Award winners of Develhub, the industry association for learning professionals. I am partner of Develhub and it has been a tradition for 4 years now, that the 4 winners (Young Talent of the Year, Learning Professionals of the Year, Thoughtleader of the Year, Academy of the Year) are offered a day of sailing on our catamaran Horizon.
Of course we visited friends and family as well during our visit in the Netherlands. And since we would be in the Netherlands for 10 days, I contacted 10 of my clients in the Netherlands to ask if they would be interested if I would provide a training for their trainers or learning professionals (for instance Train-the-Trainer or a day about Organizing learning for colleagues). I hoped that 2 or maybe 4 companies would say yes (because they indicated to me before that they wanted an in-person training on location), it turned out to be 6 days of training in total, so it was a busy and fun time!
Training materials
Because I am a training company, I am also responsible for providing notepads, pens, sticky notes, etc. That was also the case in Mallorca, where I organized a 4-day training onboard: we also cooked, cleaned, had certificates printed for the participants and were location managers.
For the 6 days in the Netherlands, I needed 60 blocnotes at least, that would be too much to buy in Mallorca and put into a suitcase, so I ordered everything online and sent it to the first B&B that we would stay in the Netherlands. The owner of the B&B was very flexible and she received the box for us at her location.
B&B's
Because we rented out our house, we had to stay somewhere else during the 10 days. We could stay for 3 days on the catamaran in Stavoren, because you can only hire the boat for the entire weekend in stead of 1 day. And for the trainingdays, we drove through the Netherlands in our rental car, so I selected nice homely locations close to the traininglocation, which was usually the company that I would deliver the training. I really love B&B's, especially farms turned into a hotel, because it's spacious, quite and comfortable, with often great breakfasts. This was a B&B that we stayed at, also watch the typical sober statement in the kitchen (Dutch humour):
Trainingdays
The trainingdays would be for 2 days for the trainers of Arbo Unie (Nieuwegein), NRG the nuclear reactor (Petten), CelSian glass producer (Eindhoven), the city of Rotterdam and Inspection of Education (Utrecht). The topics were Train-the-Trainer or Corporate Learning (for instance: how to develop the Academy, how do people learn, what are the trends in learning, brain facts).
I really like to get to know the organizations, the topics the trainers have to train and how I can inspire them to do that with more effectiveness and more interaction/variation. They learn new training models, practice with groupdynamics, different teaching forms, leading a discussion between participants, etc.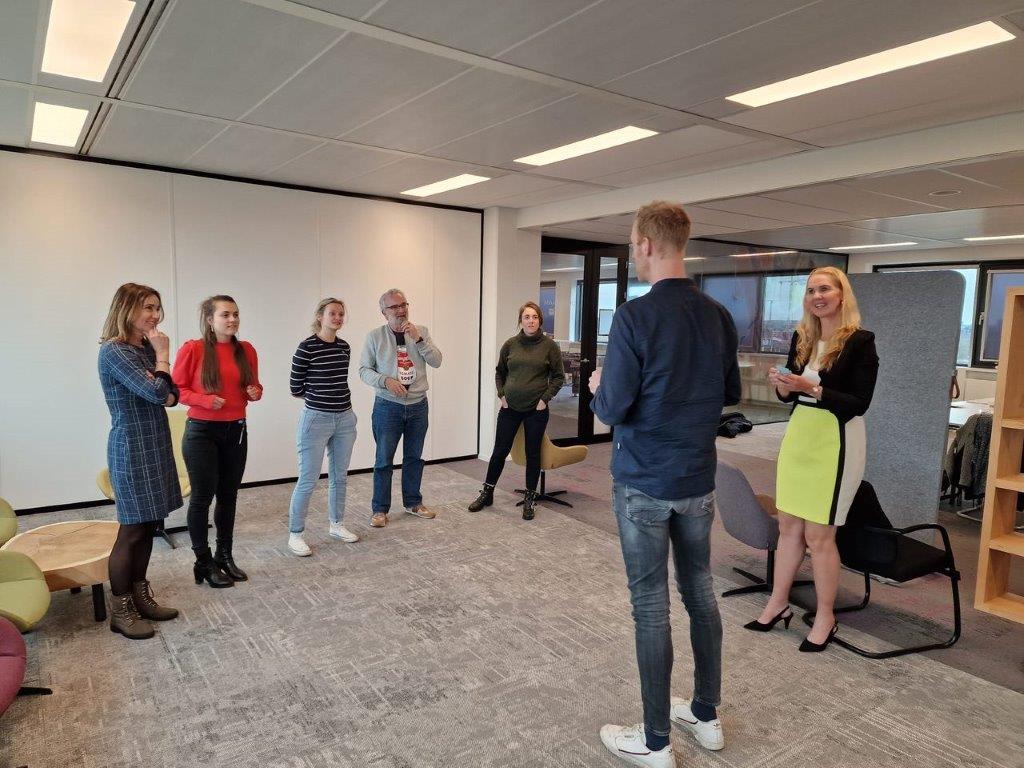 It was also fun driving through the Netherlands, each morning of a training day, Gilles dropped me off at the location at 8.00h, because of the cold weather in the Netherlands, we sometimes had to scrape the frosted windshield at 7.00h in front of the B&B!
Meeting friends and family
I also visited my mother and brother, and we went out for dinner with friends and sailors in the Netherlands. A special occasion was surprising Marco Clazing, a sailor who had his last day at work before he would sail of in April with his wife Bianca on their catamaran Lagoon42 that's in Spain right now. I knew that his goodbye party at his work in Amsterdam would be during the time we were in Holland, so together with his wife Bianca we organized a surprise visit at his party. It was really nice to see them again! Also meeting Yvonne and William on a terrace in Zeist for a great dinner was fun!
Sailing with the Award winners in Stavoren
This event on 1. April 2023, was the reason why we came back to Holland. For the winners of 2019 and 2020 it was on our catamaran Horizon in Stavoren, 2021 in Rotterdam because we crossed the North Sea in April 2022, sailing from New Castle to Den Helder. And now for the winners of 2022, we left our boat in Mallorca and flew to the Netherlands to hire a catamaran from our yacht broker Nautisch Kwartier in Stavoren.
It was a day of fun: in the morning we talked and got to know each other better, we treated them to a nice lunch and then we sailed in the afternoon on the IJsselmeer:
Last days in the Netherlands
We enjoyed being in the Netherlands, seeing family and friends again, eating and drinking so typical Dutch food (for instance 'erwtensoep met katenspek' or fresh mint tea. And I won a price: a book about working in the new hybrid time with online and staying at home!
We were also happy to get back to Mallorca again, with 22 degrees and being on the water and our catamaran. Especially this marina called 'Tramontana' (in between the mountains), is really picturesque!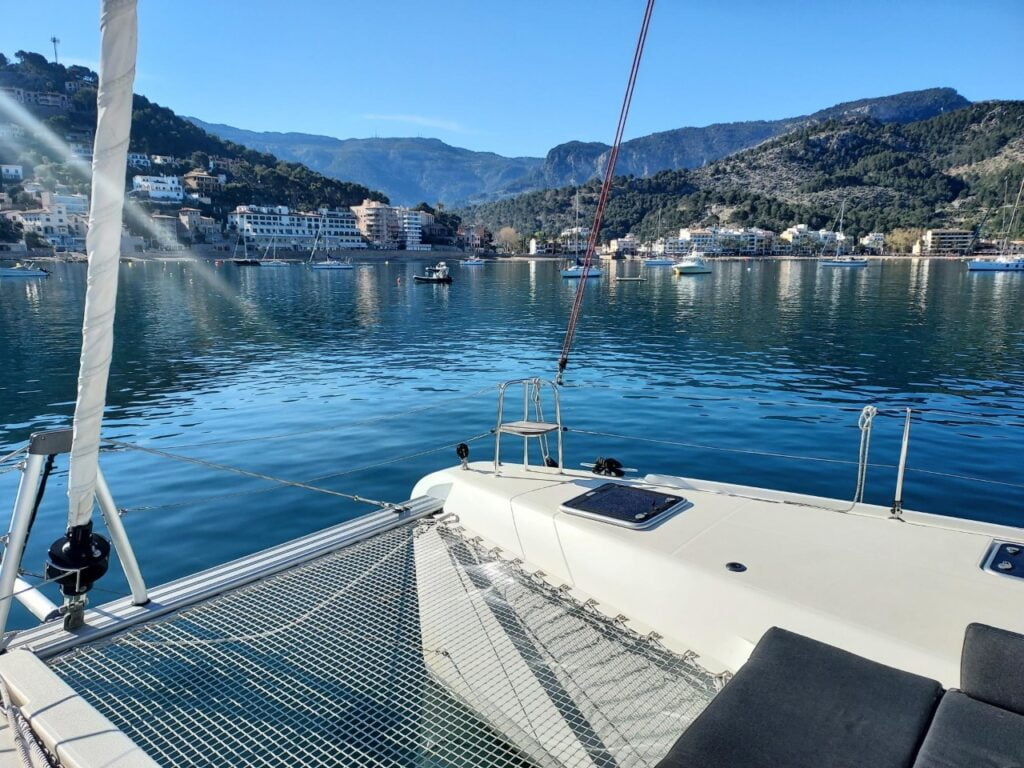 I noticed after almost 2 years of sailing in Europe now, that the catamaran more and more feels like home and our place to be. We had a funny slip of the tongue during the 10 days in the Netherlands when people asked: 'When did you get back again', I answered: 'We will go back again to the boat on 5. April'. Unconsciously we think of returning to the boat, when people ask 'going back', but they mean going back to the Netherlands and we mean: going back home to our catamaran!