We've sailed the west and south side of Mallorca and wrote about it in blog nr. 102.
Now we have finished sailing the east and north part of Mallorca, read our experiences below!
Cala's
The east coast of Mallorca is well know for it's beautiful small bays (cala's). Usually around 5-10 boats fit in a bay, which often has the shape of half a moon and is sheltered by the green hills around it with the view on the Mediterranean Sea.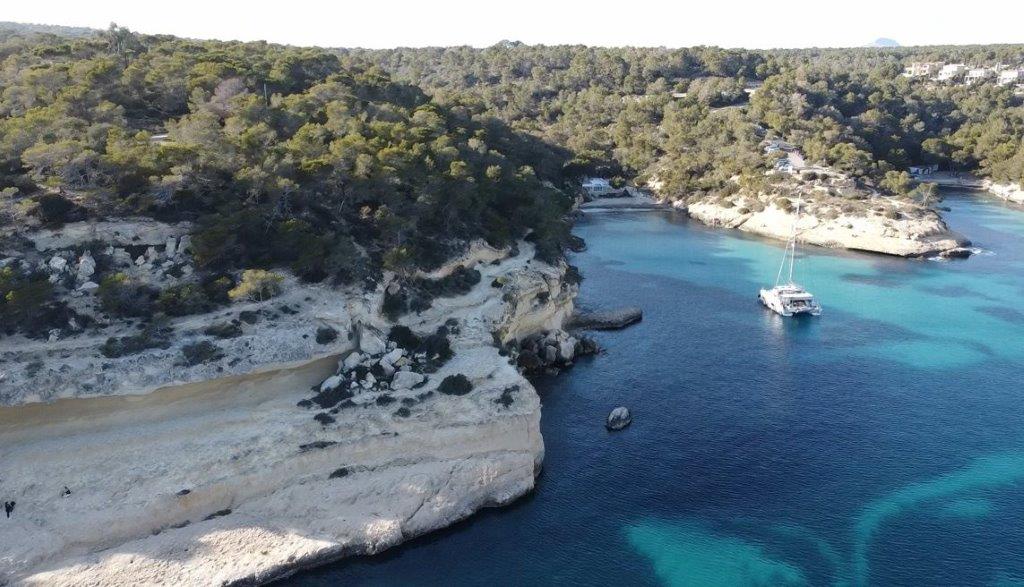 We spend time in Cala Gran and Cala sa Nau for instance.
In March, the hours of sunshine and daylight are becoming more and more and days are getting longer. So the sunset is often very beautiful and we are still sailing around those hours.
Porto Cristo
We arrived at Port Cristo, a charming little city which is famous for the Coves del Drach, a set of caves that have a lot of coloured stalagmites and stalactites. And the largest underground lakes that you also can sail with a little boat. They offer a classical music concert where a small boat floats by with 4 musicians on it who play live. Really nice experience.
Because the harbors are very expensive in Mallorca (not much harbors and lots of boats), we stayed at anchor a lot. Which was great, because we ended up in beautiful bays during sunny and calm weather. Also in Porto Cristo we were at anchor, but saw a large silver catamaran in the harbor. It was the catamaran of Rafael Nadal, it's a 80 foot Sunreef motor catamaran. It is twice the size our boat is and has a great interior. With our dinghy we took a look and filmed the boat called 'Great White'.
Port d'Alcúdia
Now we sailed to the northeast side of Mallorca, where 1 of the oldest cities of Mallorca is. Alcúdia has lots of Roman influences (laying almost in a straight horizontal line sailing from Rome) and also North African influences. The city tried to protect itself from all the conquerors and the build a wall around it in yellow sandstone. Today you can still walk on those walls around the city that was protected like a fortress.
During the time that we were there, it was the weekly market on Tuesday. Great local products were displayed with the old town in the background.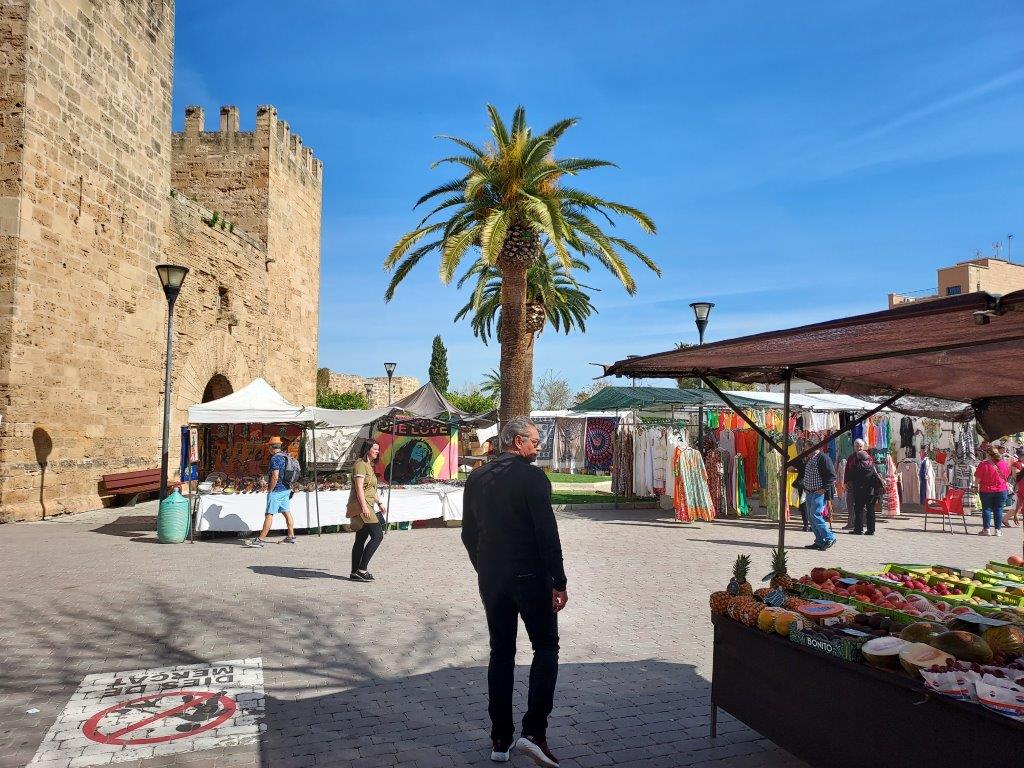 Port de Pollença
Also a charming city, more inland is Pollença. It has an old city center where we cycled to (15 km) and sat down to have lunch. The city is famous for having an old roman bridge.
In Pollença is also the 365 step stone staircase. At the top is an small church. We went to the top:
Formentor
After having explored the northeast side of Mallorca, it was time to make the turn around the easternmost tip of the island. It's called Formentor and it's a rough piece of Mallorca with steep mountains and no houses.
Even no telephone poles where build in this area, so also internet stopped. We looked up the whole time to look at the tops of the mountains. It was a ragged area and very beautiful to see. It showed us again how diverse Mallorca is!
La Calobra
We read that la Calobra was a special place. It has a pretty bay to start with!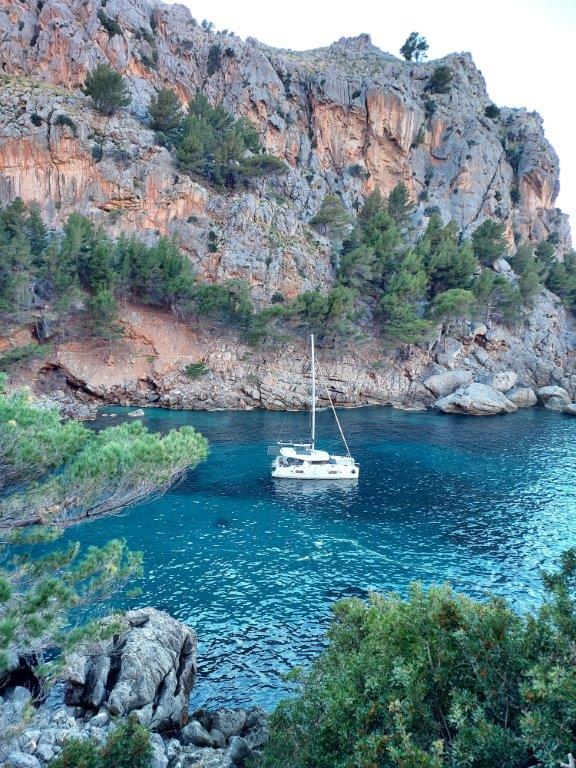 And Calobra also has a secret! When you walk to the beach and the little village, on the left side there is a hole in the mountainwall. There is a tunnel (Túnel Sa Calobra) which is about 200 meters long.
Walking through it, you end up on a beach called 'Torrente de Pareis' which is a dried up bay with pebble beach. It can only be reached by the tunnel and it beautifully surrounded by green hills.
Port de Sollér
After the beautiful area of the north of Mallorca, we came to our final destination: Port de Sollér. It has a great marina called 'Tramontana' which says it all: between the mountains. It's surrounded by rolling hills and has a very relaxed atmosphere. It has an active fisher community which we greeted a lot walking by.
We cycled to Sollér, the city is about 5 km inland from Port de Sollér. It has a great city center with on old church and many restaurants and terraces.
We also cycled an afternoon to the small villages around Sollér, with often no more than 100 houses. The villages are called Fornalutx and Biniaraix. The routes between the villages are very rural: filled with lemon trees, orange trees, pine trees and cypresses. At sea you don't have any smells so our olfactory organ was very stimulated here!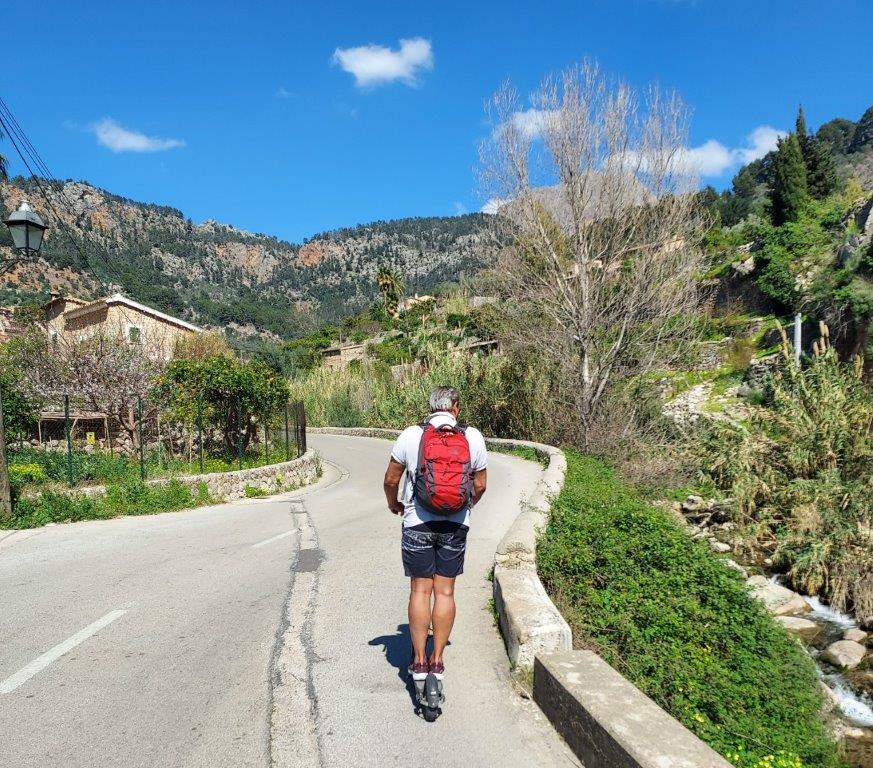 In Fornalutx we saw a lot of other cyclists. Mainly Germans and Brits who come here for sportive holidays. But they also, like us, like to combine it with a drink on a terrace.
We anchored at the bay of Sollér for 1 night and then sailed into the marina, because we would leave the boat for 10 days there to fly to Holland.
On a Sunday morning we waved our catamaran goodbye and boarded a small wooden train which drove us from the north of Mallorca the south, because our plane would leave from Palma de Mallorca.
The conductor of the train was very nice, he waved to us to walk with him to the front of the train and there was a special wagon, it was the fancy first class wagon in the 1912 state as it was designed in. With benches covered with silk. Really nice. We spend the 1 hour train ride in this wagon.
The train ride was great, it was 30 km, through the mountains and sometimes having a view on the Mediterrean Sea.
It was also with a bit of pain in our heart that we left sunny Mallorca, because we enjoyed our time here so much!
But we were also looking forward to go to the Netherlands for a while to meet nice friends and family there!