We were invited by our Dutch Lagoon dealer Nautisch Kwartier (Stavoren) to visit the yearly biggest multihull boatshow in the world which is held every year in April in la Grande Motte (near Montpellier). We could see the new catamaran models of Lagoon there and could get a tour on the 42ft, 51ft and 65ft. And we were asked to do an interview with the Lagoon crew on camera to talk about our world trip as owners of the Lagoon42.
So we left our boat for 3 days in the Spanish harbor on the Northeast coast (in Cambrils), rented a car and drove to 'la douce France' where we visited the boatshow.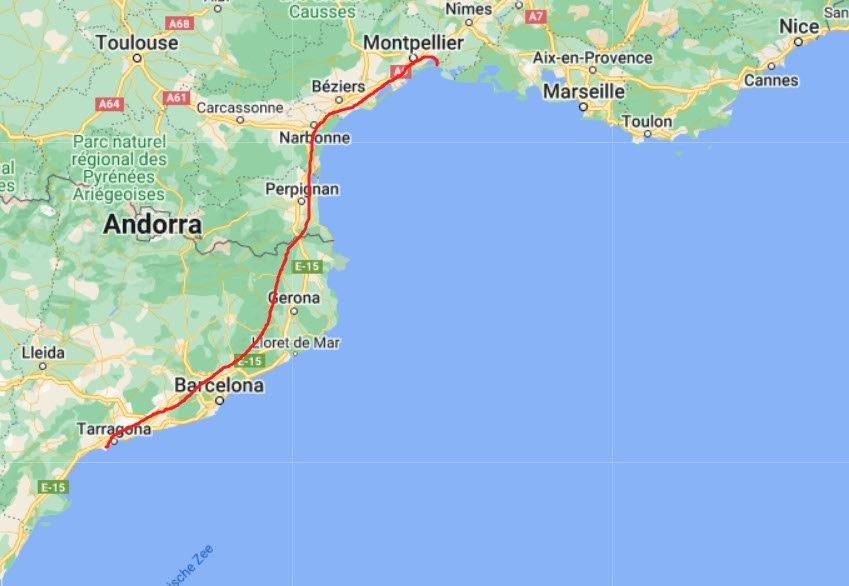 About the International Multihull Boatshow in La Grande-Motte
For 13 years now, this boatshow has been the most important meeting place for multihulls in the nautical calendar. With nearly 70 cruising catamarans and trimarans, this show is the only opportunity in the world to discover both new boats (with several making their World, European or French premieres) and the majority of the ranges of the main multihull manufacturers.
The 5-day event from 12-16 April with over 15.000 visitors has two area's, located directly at the beach of la Grande-Motte:
Outside: builders/manufacturers of multihulls show their (newest) models afloat in the water
Inside: equipment manufacturers and all service providers like for engines, sails, clothing will be inside in a marketplace with white booths.
This is a map of the complete show, which helps to navigate during the day. The entrance fee is € 20 per day or € 60 for 5 days.
We have been in La Grande-Motte boatshow 2 times: in April 2018 for the first time in the beginning of our market research to compare different catamaran brands (Lagoon, Fountaine Pajot, Bali, Leopard). And in 2019 we were there again, wiser and more focused and here we made the decision to buy our catamaran 42ft brand-new from the boatshow! It was delivered in Les Sables d'Olonne in Juni 2019, where we had to pick it up and sail it to Friesland in 2 weeks under the guidance of a Dutch couple who had a similar boat for a few years.
Our trip to La Grande-Motte
It took 5 hours to drive from Cambrils (Spain) to La Grande-Motte (France). We started driving on Fridaymorning, Saturday we visited the boatshow and we returned to Spain Sunday evening. We made the most of our roadtrip, because we only visit coastal sightseeings during our sailing trips, so when we have a car, we make sure to visit some interesting areas inland.
Monserrat
Montserrat Monastery is a Benedictine abbey located about 50 km above Barcelona. It is located in the Montserrat mountain range, at an altitude of 720 meters.
It is visited by many pilgrims and when we were there it was also busy with visitors. We also saw nuns walking in front of the convent.
Impressive to see the monastery built against the mountainside.
Besalú
This northeastern corner of Spain (Catalonia) has many medieval villages, including Besalú. When you arrive you will see a beautiful Romanesque bridge (12th century) and when you walk across it into the village, you feel like you are in the Middle Ages!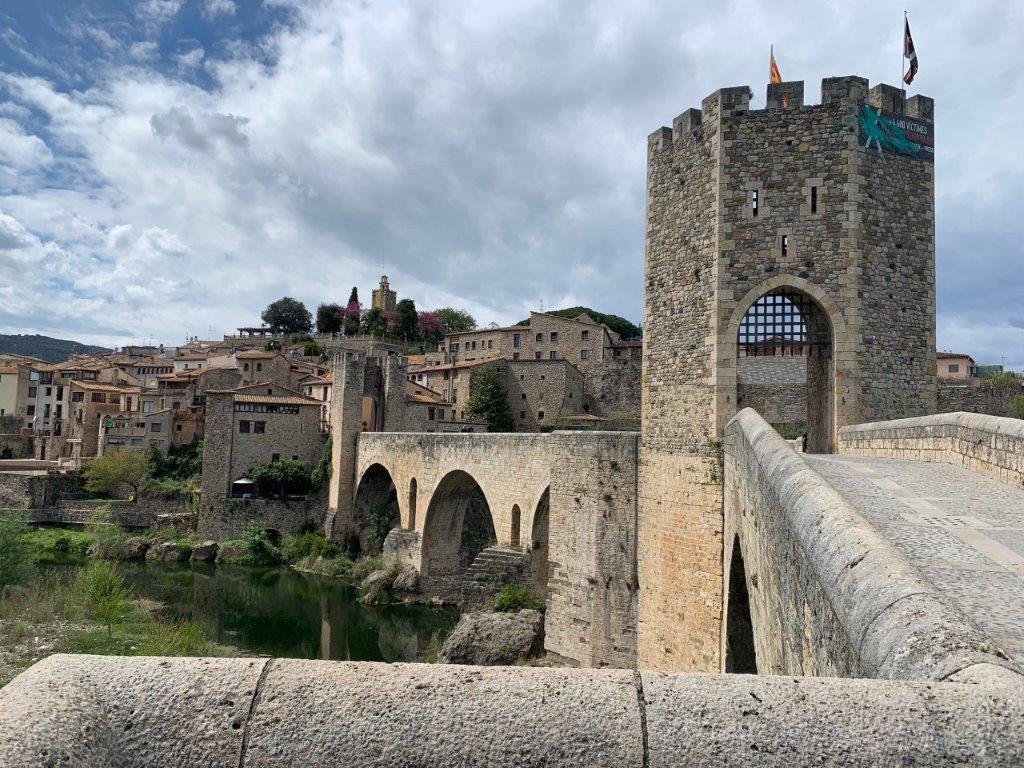 Many narrow streets of cobblestones and old houses and buildings. We had coffee in a square.
We drove further and around 19.00h we arrived at La Grande-Motte were we rented a small appartement for 2 days, close to the boatshow.
Visiting the boatshow
On Saturday we visited the boatshow. Arthur van der Werff (our dealer in the Netherlands) greeted us at 10.00h at the Lagoon stand. He gave us a tour on the 42ft, 51ft and 65ft. The 42ft is the same model as we have and it's interesting to see what the new upgrades on the boat are since 2019 when we bought our ship here. It's mainly small differences (different cabinet doors, color of the curtains for example), but still we get new ideas for our own ship to change! The 51ft is really a great ship as well for families and the 65ft is a luxurious charter boat to cater 8 to 12 people!
We spend the Saturday morning at the Lagoon stand and the rest of the day we looked at other brands on the boatshow (Leopard was really interesting, spacious catamarans!).
We also went along the market booths inside the boatshow (see below, the white tents on the right) and saw some novelties when it comes to sailing.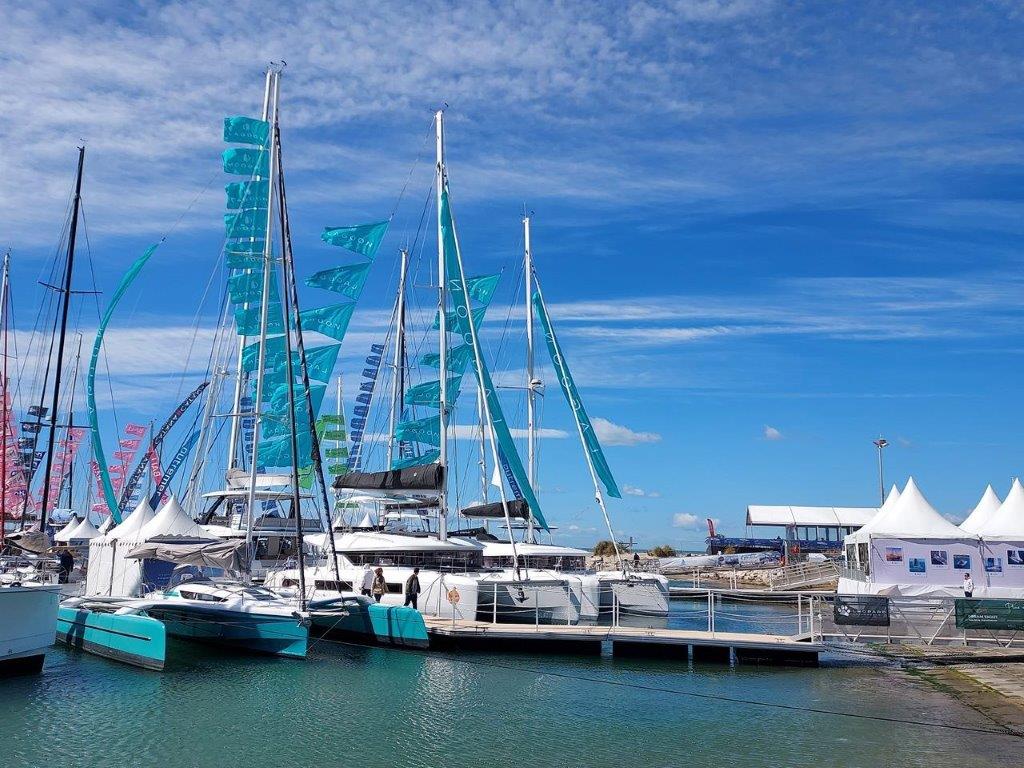 Interview with Lagoon
We were asked by the Lagoon sales team during that Saterdaymorning, if we could do an interview on video for their website. They were looking for happy owners to tell their story: the decision for Lagoon, our favorite place on the catamaran, the most beautiful places we have seen, adventures that we like to share about sailing with our ship. It was a 10 minute interview which will be uploaded on the Lagoon website.
Our interviewer Jessica, shared with us that they find it important to take care of the Lagoon family. Of course new clients on this boatshow are very interesting to them, but enthusiastic visitors like us who are happy owners of a Lagoon ship, are equally important. They know that they have an attractive product that sells itself by looking at it and when satisfied owners meet potential buyers during sailing, it is important that they share their satisfaction towards Lagoon.
Jessica also mentioned that about 7.000 catamarans have been sold since Lagoon started building catamarans in 1984. That also means that in 2024 it be their 40 year anniversary. They will celebrate that by inviting all Lagoon owners around the world (so 7.000!) to come to a Escapade (sailing event where lots of ship go out to sail together for fun) in the country they all sailing. So all the dealers of Lagoon worldwide will welcome Lagoon ships that weekend to join the big sail (with meet and greet and food and lots of good stories). We hope we can join the Escapade at that moment as well! It must be great fun to join this Escapade in the country where we are in 2024 with many other ships!
Fun after the boatshow
After we visited the boatshow on Saterday, Arthur joined us for dinner that evening, together with Stuart, his colleague in Kopenhagen who was the Lagoon dealer in Denmark. We had a very nice time together in restaurant Chez Coco. We choose this restaurant, because in 2019 when we bought the ship, Arthur and salesman Hemmo invited us to celebrate buying the ship by treating to a meal at Chez Coco. So good memories for us there. We never would expected then to be on a worldtrip for 2 years already this April 2023, when we bought the boat in April 2019!
We were very grateful to Arthur for inviting us to the boatshow, showing us around and arranging an interview with Lagoon, because that's also a way for us to show our activities to interested sailors! As a surprise we called a bakery in Stavoren, close to Nautisch Kwartier and asked them to bring 12 cakes to the staff at Nautisch Kwartier that Tuesday around 9.30h after the boatshow. To thank them for being such a great staff since we are a client! We know a lot of them (Gretha from Marketing, Hemmo from Sales, Hains from the Technical team, Peter from the cleaning team) and we have worked with them always in good harmony for the last 4 years!