After visiting Genua, one of the oldest cities in Europe, we picked up sailing again along the coast of Italy.
We are still sailing the Northern part of Italy, which is called The Italian Riviera, which is synonymous with Italy's Liguria region, the Mediterranean coastline starting at San Remo, alle the way to the border with Tuscany. And the part where we are sailing into now truly is Riviera style: Portofino!
Portofino
Portofino is a charming village, with high colorful houses and a small harbor. It's quite similar to Saint Tropez which is also quite small, but very elegant and also has refined restaurants and designer boutiques. It exudes the Dolce Vita lifestyle.
We anchored in the bay in front of Portofino and took our dinghy to visit the small town. We walked around and enjoyed all the colors and the charming harbor.
We had a great lunch on a floating pontoon in front of the restaurant. We took the Captain's lunch, was was 3 courses and took about 3 hours, but we enjoyed it so much! Everything was made fresh: the pasta, the homemade tiramisu. We enjoyed every bite!
We stayed here 2 days, enjoying Portofino in the morning when it was quite and we climbed the green hills around Portofino and busy in the afternoon with tourists.
In the evening we walked around eating an icecream and enjoying all the lights.
Sestri Levante
The next village we visited, was advised by the sister of William, who lives in Italy with her husband and followed our trip since we met her at the Cote d'Azur. She mentioned that Sestri Levante is one of the favorite places of Italians, because it has beautiful bays and is still very authentic Italian seaside resort, not run over by tourists.
We enjoyed Sestri Levante very much, we anchored in front of an old tower and there was a breeze, which was very nice, because the temperature is climbing up to 34 degrees, even the water temperature is high here.
There was a small channel and we saw a new way of lay down boats in the water: connected by a rope with was attached to a line from one embankment to the other. We had not seen this before.
Also another new phenomena: painted 3D relief painted on the walls of houses, to give a certain depth to 'columns' or windows. I am not sure what to think of it: it looks a bit fake, something the Italians with their houses don't need, but it's also beautifully done and from a distance hard to distinguish from real.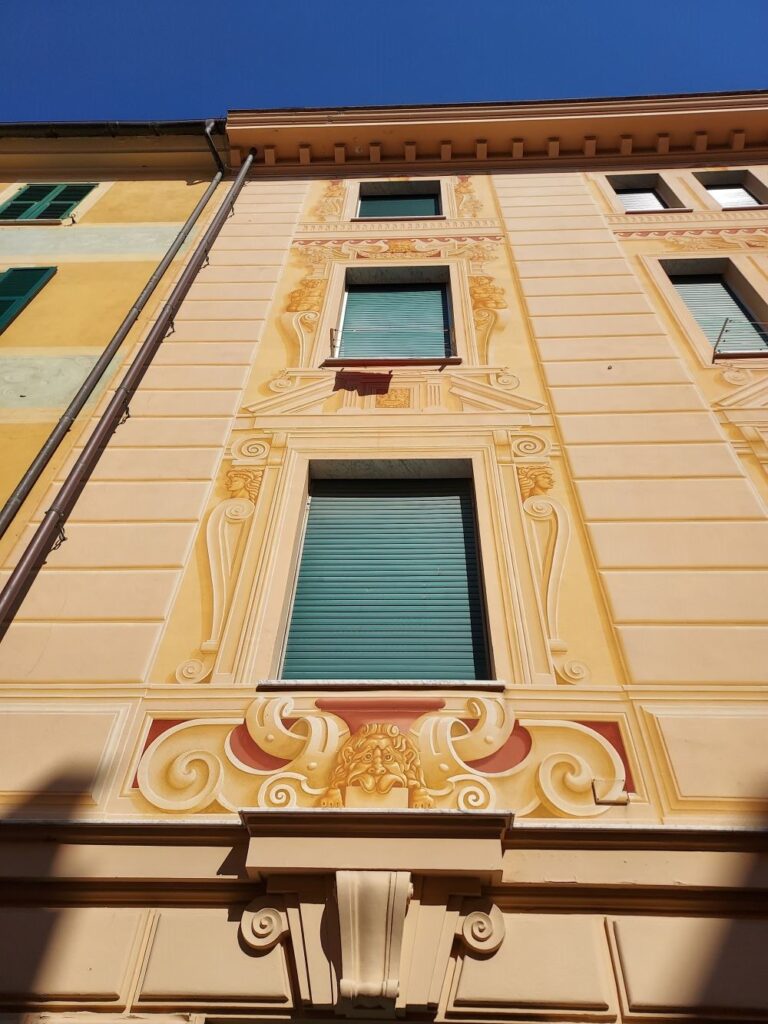 There was a market where we bought vegetables and meat and also a typical Italian product, called Arancia (after the fruit orange). It is filled with meat ragout, cheese and made in Sicily, we bought 2 (there are 2 shapes) and enjoyed it a lot.
Because Sestri Levante has such a relaxed and romantic atmosphere, novelists from all over the world regularly visited it. Danish fairy tale writer Hans Christian Anderson lived and worked in Sestri Levante. The Baia delle Favole, which means fairytale bay, is named after him. A literature competition is held every year in Sestri Levante and the winner receives the HC Andersen prize.
We anchored in the Baia delle Favola, and saw a beautiful sunset.
Cinque Terre
We continued our journey and entered the Parco Nazionale delle Cinque Terre. The 5 towns is a string of five old fishing villages perched high on the Italian Riviera in the region Liguria, which until recently were linked only by mule tracks and accessible only by rail or water.
Since it is a frequently visited National Parc, we were asked to attach our boat to a mooring ball, to protect the Posidonia on the ground. The price of a mooring ball was ony € 15, so we stayed here 2 nights. We had a great view on the Cinque terre and swam in the lovely water.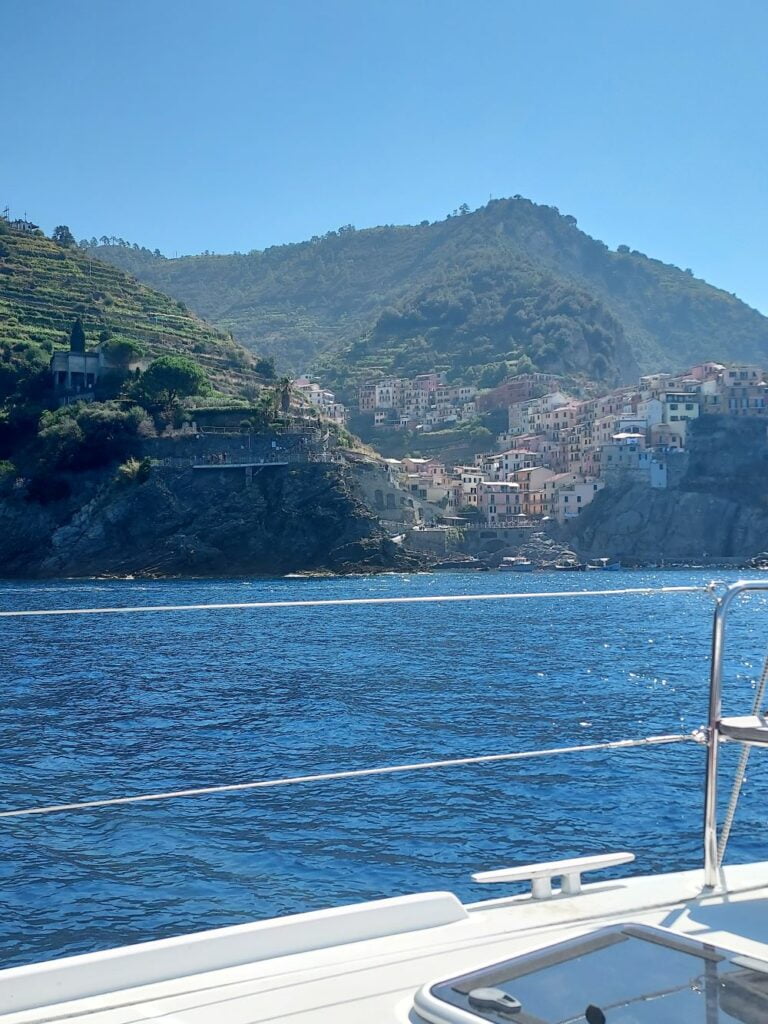 We visited the 5 towns, the easiest way to do that, because they are located on rock walls over an area of 20 km, is by train. You can buy a trainticket and get out in every of the 5 towns, about every 5 minutes. And every one of the villages were stunning.
Some of the towns had long sandy beaches below, a tiny port surrounded by typical colorful Ligurian houses, seafood restaurants and bars.
Every town had it's own charm, for instance Corniglia, is situated on a promontory overlooking the sea and surrounded by vineyards and olive groves.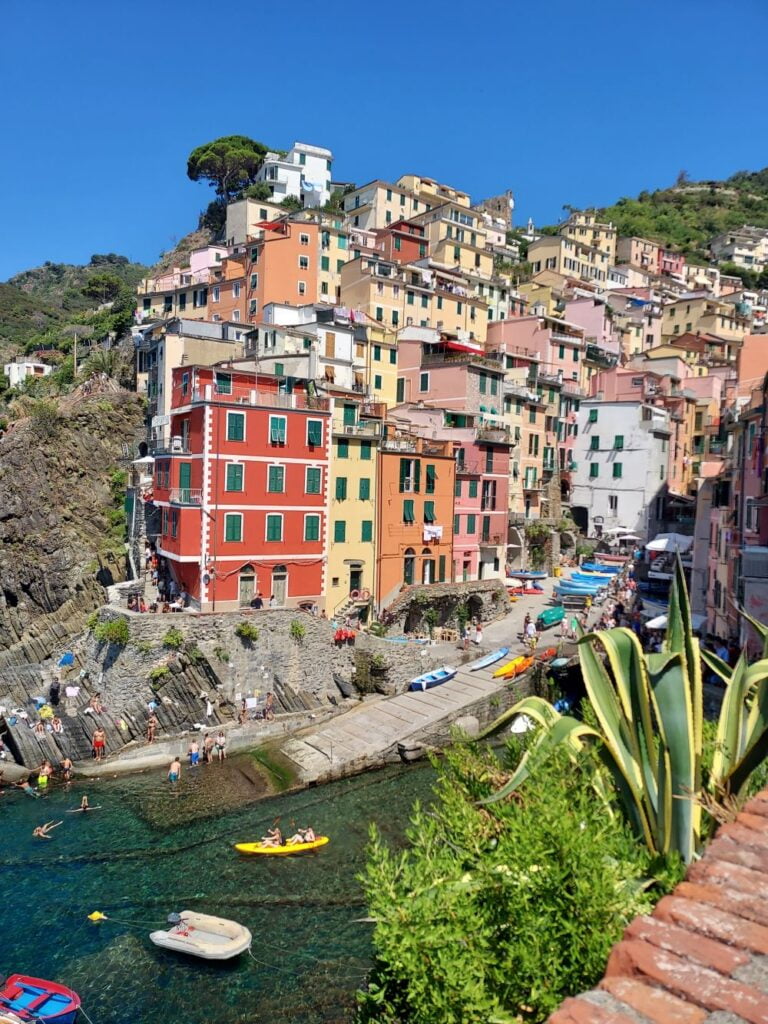 We saw terraces to cultivate grapes and olives on the rugged, steep landscape right up to the cliffs that overlook the Mediterranean Sea. Everywhere you looked it felt like a postcard!
It was warm those days, so a swim after visiting the 5 towns was very welcome!