Okay, that was unexpected. We sailed into the Wadden islands of Portugal! The eastcoast of the Algarve is very different from the westcoast, which is where we had sailed so far. We enjoyed the wide golden beaches at Sagres, the red cliffs and caves in Lagos and pretty towns like Portimão.
And sailing further, the skyline started to get more flat and we see green and white colors of dunes and sandbanks. We had entered Parque Natural da Ria Formosa (Nature Park of river Formosa). This area is very similar to the Wadden islands in the Netherlands. Here are even more uninhabited islands that can only be reached by boat. Even the islands that have habitats are without cars and mainly inhabited by fishing families.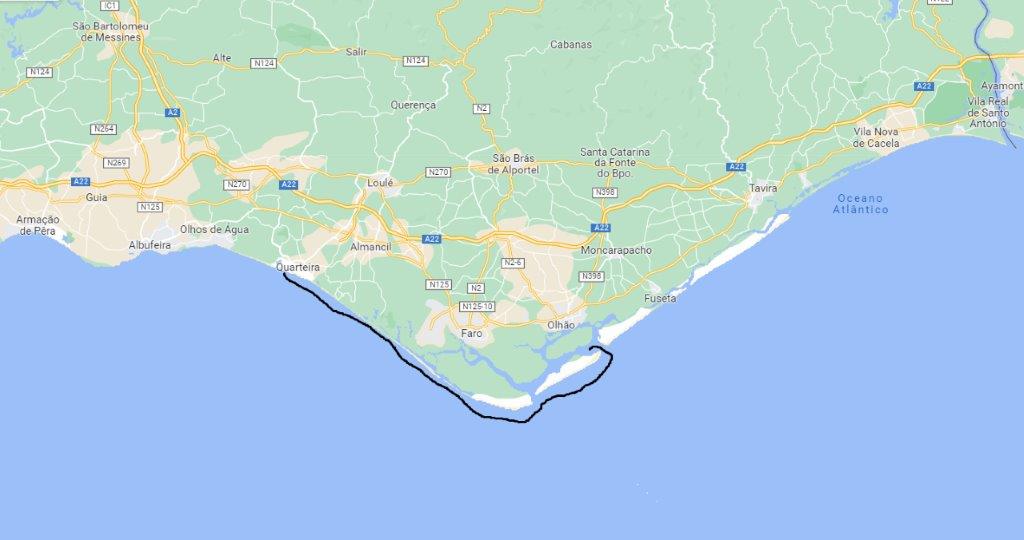 Ilha da Culatra
We dropped our anchor in between two islands, there were quite a lot of sailboats for this time of year (December). With a beautiful sunset we looked at the islands around us and we sent our drone in the air to have a complete overview of this amazing Nature Park with wetlands and swamps:
When you are in this Natural Parc, you are surrounded by birds. It is said that there are about 300 species that can be seen and over 30.000 birds visit this area every year. I sat on deck and watched the different birds: seagulls, cormorants, herrons, storks, spoonbill. It is so fascinating to watch how they live together. It seems there is a specific order in which they appear in the water and they all have their own rituals: cormorants wash their features early in the morning and then sit on the sandbanks to dry. Seagulls feet themselves in the morning by diving for fish, much closer to the shore than other birds, and use the afternoon to rest.
After a relaxing day, taking in the environment of this lagoon, we took our dinghy and visited the island of Culatra, which can only be reached by boat and still has a vivid and authentic fishing village. We walked over the island, sometimes over wooden boardwalks which are built to prevent visitors from getting wet feet, because the tide goes up and down 2 meters every 6 hours in this area.
The white houses of the village are cute and we were surprised by the large number of colorful fishingboats in the harbor and the many fisherman that were active this Saturday afternoon to untangle their nets and clean their boats. It all breathed a relaxed atmosphere.
There are 3 large islands of about 6 kilometers in this Natural Parc, they are called 'barrier islands', probably because they shield the larger town in this area, Olhão.
Olhão
This city is known for its 2 market halls (Mercado municipal) build in 1912: 1 for fruit and vegetables and 1 for fish. Every day it is open from 7.00-14.00h and hundreds of people are walking around there. We parked our boat in the harbor of Olhão in the front of the 2 red market halls, so we sat front row and see all the action happing around the halls.
We also went into the buildings from 1912 and especially the fish hall is impressive: it's the biggest in the Algarve and many different fish can be seen there (trout, sea bream, mackerel, salmon, tuna, carp, tongue, stingray, red snapper, sea devil).
We bought fresh tuna (Gilles: 'I have to try this one, I have never seen such deep red colored tuna) and it tasted great that night when we grilled in in the kitchen of our boat (the trick is not to bake it very long, otherwise all the juice and firmness goes away which changes the tuna into a dry shoe sole :).
At night suddenly the market halls they lit up: especially for Christmas, they were decorated with hundreds of lights and also the fishing boat parked in front of the hall looked like it was sprinkled with tiny diamonds.