We are pretty impressed by the atmosphere here in the Algarve: it's relaxed, sunny, comfortable, golden beaches with cosy white restaurants and red cliffs in the background. Holiday feelings easily kicks in here!
After Lagos and the estuary of Alvor, we sailed further eastwards along the coast of Algarve with our catamaran and visited these 4 spots: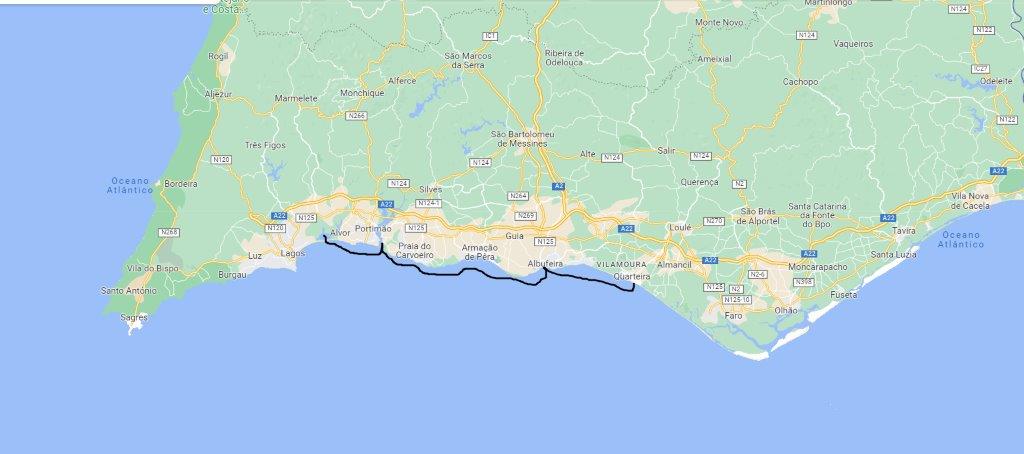 Portimão
We knew that the entrance of the harbor area of Portimão would be tight and of course just as we wanted to enter, there was a Marine vessel coming in as well as an enthusiastic surfer who wanted to exit the harbor. So the three of us were involved in an interesting interaction of looking and waiting for each other. But we all manage to finish this 'dance' well and continue our way safely!
We found a beautiful anchor spot outside of the fancy (read: expensive) harbor, close to a beach. We stayed here for 3 days and it was lovely to hear the waves roll in our 'backyard' and greet the friendly fishermen on the beach each morning.
We spent 2 evenings with our sailingfriends Jose-Anne and David, who were in Portimão as well with their Lagoon39 Zilt. We had a great time catching up with them, chatting in the sun on deck and also visiting restaurant 'Cozinha de Sonia', a vegan Indian restaurant where chef Sonia made a delicious meal for us!
Portimão means 'bad harbor' in Portuguese and we also noticed a lot of swell in several areas in the bay. We were lucky that Jose-Anne and David warned us about that, so we took the time to find a sheltered spot nearby the beach, which was protected from almost all wind directions making sure rocky waters would be limited.
The harbor of Portimão is fancy and we loved to bike and walk in that area, watching beautiful beachhouses, shops and trendy restaurants. Praia da Rocha is the famous beach in Portimão which is very broad and in this late season there are still some visitors enjoying the sun and water.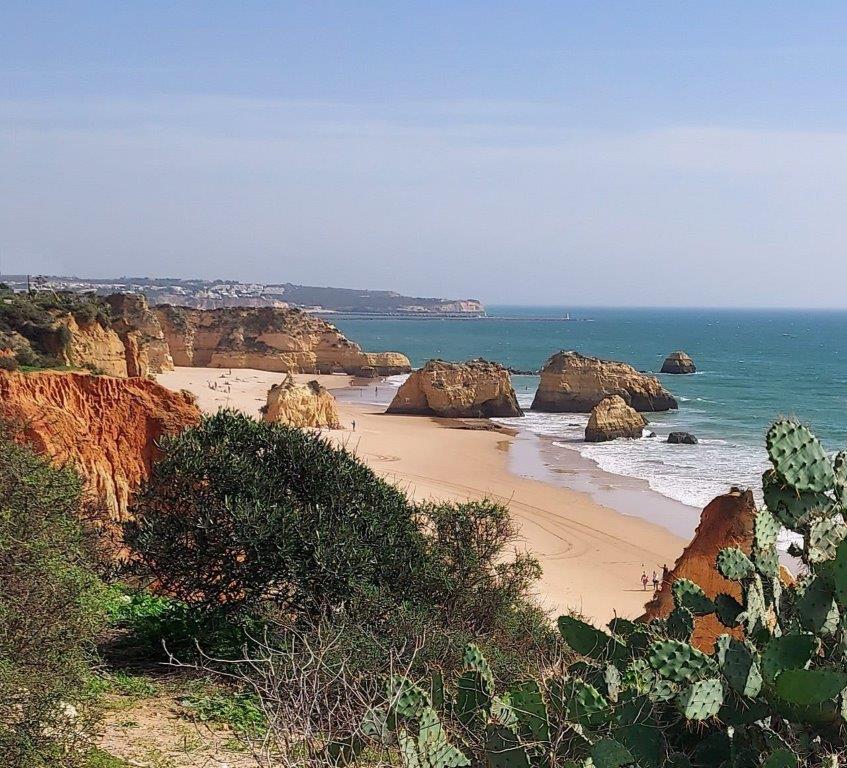 Silves
In the outback of the Algarve, is the village of Silves. It is situated in the mountains with an impressive redrock castle rising above it all. We cycled from Portimão to Silves and along the way we passed the 'fruit garden of the Algarve': we saw a lot of trees with oranges, lemons, lime, tangerines and also some vineyards. It was a pleasure to cycle in between all these orchards.
Albufeira
This city has a reputation of being taken over by English tourists and pubs during summertime. And surely, there are busy streets full of neon lights with kebab restaurants and souvenir shops, there's even a street in Albufeira called 'The Strip' after the Las Vegas Strip. But we found the old town of Albufeira pleasant with cosy squares with the famous Portuguese white/black tiles on the floor and many local shops. The harbor with a lot of colored houses was even charming.
Vilamoura
After 2 days in the harbor of Albufeira we sailed to Vilamoura. It was a short sail and we were curious to find out if this most posh seaside resort would have a matching harbor full of beautiful boats. And hopefully acceptable prices to stay 😊. We were welcomed by the harbor master at the reception pontoon, they helped us to moor our boat and we were invited to walk to the office.
The prices were very reasonable in this late season and we happily stayed here for 4 days in a box in the harbor, next to 2 other Lagoon catamarans (1 from France and 1 from Jersey, England).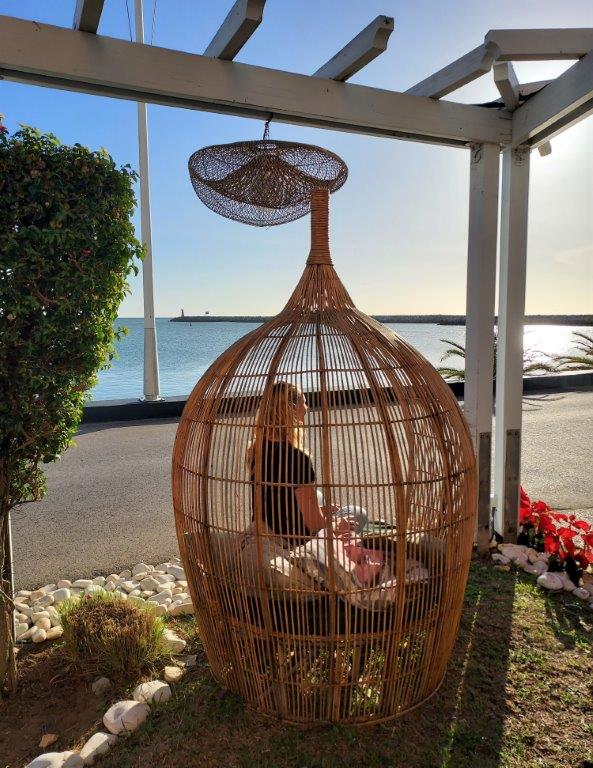 We had great dinner in 1 of the restaurants on the quay side called 'Haven'. And like in Spain, in Portugal there is a TV in almost every restaurant. And especially that night with Portugal playing a match in the World Cup football, even the waiters took some time to watch their hero Cristiano Ronaldo in action. Portugal defeated Uruguay that evening, and the staff were so happy, that we were offered a free glass of Port at the end of our meal 😊. We have good memories of Vilamoura and let our drone in the air to film our spot in the harbor one late afternoon: