Since we started our worldtrip by catamaran, we get a lot of questions. About sailing, the lifestyle onboard, visiting countries, meeting other sailors, etc. Some questions are answered in our FAQ and some are answered in interviews.
But especially for those who follow our adventures by reading our blogs and watching the video's, I asked: is there a topic you like to know more about?
I got a lot of good questions send in by e-mail, WhatsApp or LinkedIn. These are the top 10 questions:

1. What did your "journey" to departure look like? What should not be missing from my to-do list in terms of preparations for departure?
We started in 2017 to develop a dream for the future and a the lifestyle we wanted to have, so it takes time to prepare. Most people overestimate what they can accomplish in a year and underestimate what they can achieve in 5 years!
We wanted to make a world trip together and do it as durable as possible, so that's why we explored travelling by boat instead of by camper or caravan. And we wanted to do it as cost-effective as possible, because we didn't want to wait until we were retired, we wanted to be fit for sailing. That's also a reason why we choose sailing and living of wind, sunshine (solar panels) and water (by water maker). For us essential was visiting boat shows, talking to sailors and doing holidays by boat (1 week in Greece, 1 week in Mallorca).
We kept a list of things to do and finding out: working online, type of boat to buy, renting out our house, technical and practical things onboard we needed once we bought a boat.
We learned a lot from sailors and their tips to us, so go find like-minded people who are already doing what you like to do! We learned for instance from sailors to have certain spare parts on board. Sailors have this motto: 'Redundancy, have everything double onboard, you need to have a backup for all essentials'. For us an oven turned out to be important to make meals when we would be on achor and didn't want to use power/electricity. And practical things you need every day, for instance having enough charging points on board, for laptops, computers, drone, camera, etc.
Also, always when you arrive at a new destination talk to locals to get the best information! For us, it was crucial at certain times, unknow of weather conditions changing rapidly in an area, a dangerous current at a headland, fall winds around a corner of a certain coastal area, submerged rocks at the entrance of a harbor, or places if you would put your dinghy there, it will get stolen or float away. Locals will give you the best tips for restaurants or 'hidden' things to see and fun things to do.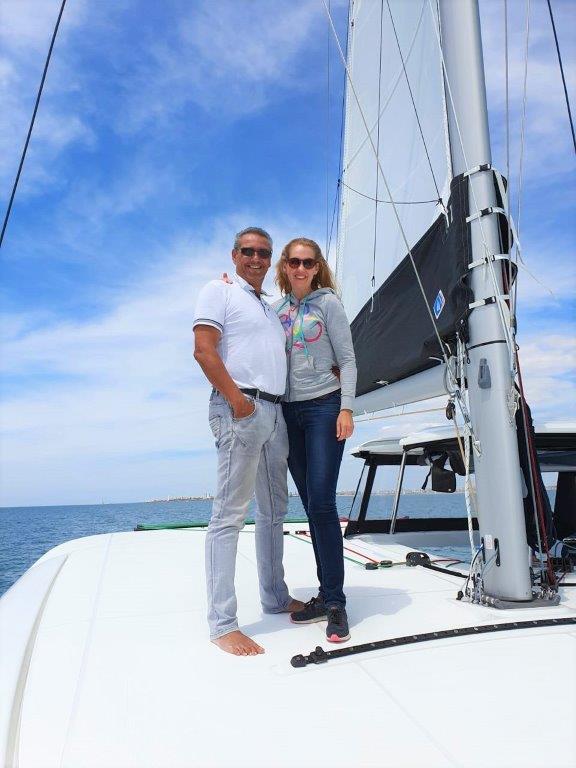 2. How do you create time and space for yourself?
We now live in a tiny house and are together 24 hours, so I understand this question! I also get a lot of people who tell me: 'I could not do this with my wife or husband, being together all the time'. So far, it has been a pleasure for us to do this adventure together, we grew closer. And I think, because we have different skills (Gilles does all technical works and I do organizing and online working), we still have a lot to tell each other during the day.
So you need to have your own 'tasks' and hobbies, and not doing 100% of the same things together.
We also agreed on the fact that when we feel annoyed, we have to share that with each other to not let it grow into something big! I noticed if one of us is annoyed, it is usually about something that happened outside of us or one of us is tired. It rarely has to do with the personality of the other person. The other persons happens to be the only person around, so he or she is the person where you can blow off steam. It's hardly personal.
In our small living room, we have our regular seats. I like to read and Gilles likes to watch online documentaries, so our I-pads are also helpful into creating our own time once in a while.
3. What do you miss about life on the mainland?
To be honest, not that much! I always have loved travelling, exploring new countries, being outdoors. Living in Holland, I did just that when I had spare time or a weekend off. And now I have a live I don't need to take a vacation from 😊!
Of course, you miss family and friends. We stay in touch by WhatsApp or calling and we go to Holland a few times a year, but spontaneously having dinner or visiting people is not possible.
Also, if you live on a boat, you have to watch closely the energy management of the boat. Having electricity, gas and water is not self-evident. You have to generate it from solar panels or the water maker. Or 'refuel' in the harbor. You are more aware how much energy devices take, which I have found very 'healthy', living in this world of scarcity and greater shortages of fossil fuels.
Buying stuff like tools, food, spare parts, maintenance, always needs research, because you are new in the villages or cities that you visit. So that takes time, but the good news is: we have a lot of free time now 😉.
Gilles says in response to this question: sometimes having a car. Having a car at your disposal is very handy. We have rented a car a couple of times, when we were in a beautiful land area and wanted to do sightseeing. I sometimes miss inline skating. I brought my skeelers onboard, but I don't use them as often as I want.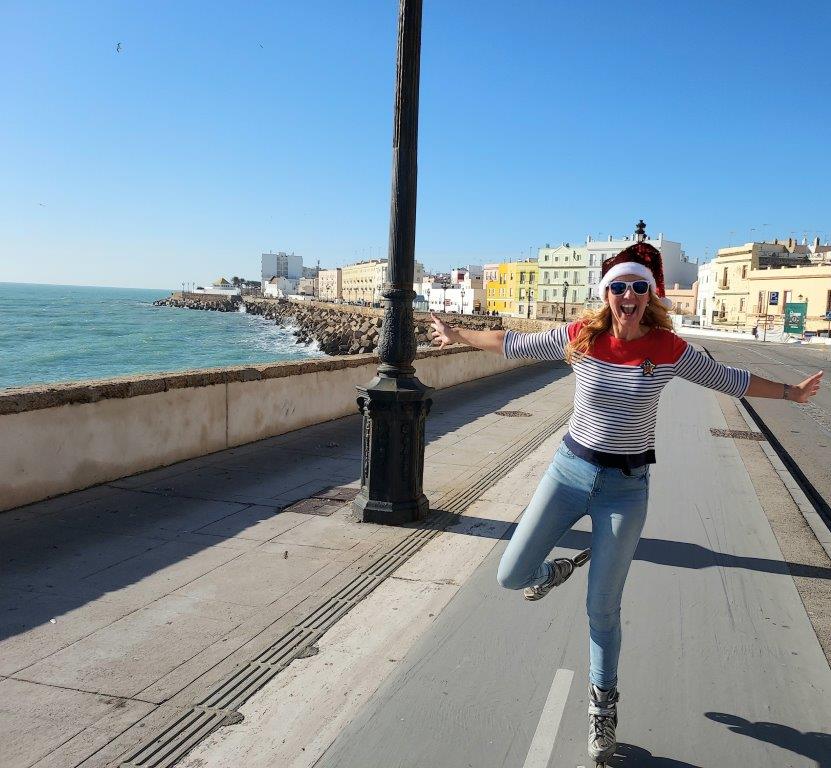 In the beginning I missed some typical Dutch products like old cheese, gingerbread by Peijnenburg or Earl Grey tea which is not always available in other countries. I noticed that I started to appreciate also the 'replacement products' we find in every country. So now we have this moment of saying goodbye to these new fine products we discovered when we leave a country again ('Bye bye, lovely Pastel the Nata (Portugal) or Pimientos de Padrón (Spain)!')
At sea I also learned how little a person needs, not how much. When we left the Netherlands 1,5 year ago, we gave away so much of our possessions, like equipment, vases, paintings, etc. Or we sold stuff of threw it away. Still we took with us at least 30 moving boxes from our house to the catamaran. Things we thought we might still need on the boat. After 1,5 year we have unpacked 15 of these boxes. The other 15 boxes have not been opened yet….At sea you live from the wind and the sun. Those are the 2 circumstances you are the most happy with. Not expensive stuff, going shopping, buying things. Walking around in the harbor or on the beach and buying a € 2 sandwich with fish are the most happy moments.
4. I am a caravanner and curious to know: how do you get (drinking) water and how do you empty the toilet?
Our catamaran has 2 fresh water tanks which have a capacity of 300 liters each, so 600 liters in total. The two of us usually get by with that for about 4 days (showering, flushing toilets, making coffee/thee, washing, etc). If we anchor for 5 or 6 days in a row, that will not be enough. So then go to a harbor and stay there for 1 or 2 nights and refuel. Or especially go to a harbor and just 'buy' just water. Usually it takes about 30 to 45 minutes to fill up the watertanks and a harbor charges around 10 euro's for that.
Another option is, using our water maker. We imported a water maker in 2020 from Seawater Pro, a specialized company in Fort Lauderdale, Florida and installed it in one of the engine rooms in our catamaran. The water maker pumps sea water through a membrane at high pressure of about 800 Psi. For each liter of salt water, one can generate 100 ml of fresh drinking water. Our system can pump 1200 liters of sea water per hour through the membrane, so it generates then 120 liters of fresh water. So far, we have used the water maker about 5 times, so it's not that necessary now. But during high season in the Mediterranean (1 Mai – 1 November), the prices to stay at a harbor can get very high, so I expect to use the water maker a lot more this year.
Emptying the toilets is done in the harbor by the black water service they offer there. They then pump our toilets empty. When we are sailing and are more than 12 kilometers from the coast line, it's also allowed to empty your toilets at open sea.
5. Suppose you are enjoying cycling in Valencia and suddenly the anchor alarm goes off on your phone, then you will never be on time at your boat again?
Very good question, that is absolutely a risk! When we first anchored, we didn't dare to get off the boat, because if the anchor becomes loose or starts to scratch the bottom, your ship can float off and hit rocks or other boats.
When we noticed that didn't happen, we got more confidence in the anchor and start to make short walks at the coast line, still keeping an eye on the boat 😉.
Later we cycled into the village to do shopping, not being away for more that 30 minutes. We use an anchor alarm app on our mobile phones, which indicates a circle around the anchor, and when the ship starts floating off, the alarm goes off.
When we gained more confidence, we started to do sightseeing trusting the anchor alarm. Of course, the first times we checked our phone 5 times an hour to see if the app was still active and working 😊. Usually we don't go far away and at a great distance, most of the times maximum 10 kilometers by bicycle or 1 hour away.
The longest we've been gone of the ship at anchor, was to go sightseeing in Portugal in a Natural Parc. We left 12.00h o'clock on our bicycles and returned 20.00h. Our ship had been at anchor at a sheltered bay (Cascais) already for 2 days then, without any problems, so then we felt ok to leave to ship for a longer period.
So we use our minds, always install the anchor alarm and don't go away for too long or too far! Because we have seen boats floating off, or stranded on a beach and that would be a nightmare to us.
6. Don't get seasick while writing your blog? 😉
I do all the writing (also e-mailing, etc) when we are in the harbor, not during sailing, because in emergency situations we might need to be working together immediately.
So writing I do safely, when the ship is lying quietly on a jetty. In the Mediterranean, you have a lot of tranquil bays, with hardly any swell when you are at anchor. So more and more, I start writing behind my computer aboard being in a bay.
Usually it goes well, but a few times, there was more swell than expected and staring at my computer, not watching outside at the horizon, made me a little seasick, so then I stopped writing. Also video calling on my phone or even worse, having a MS Teams meeting, I never do while sailing, because then you know for sure that you will get seasick!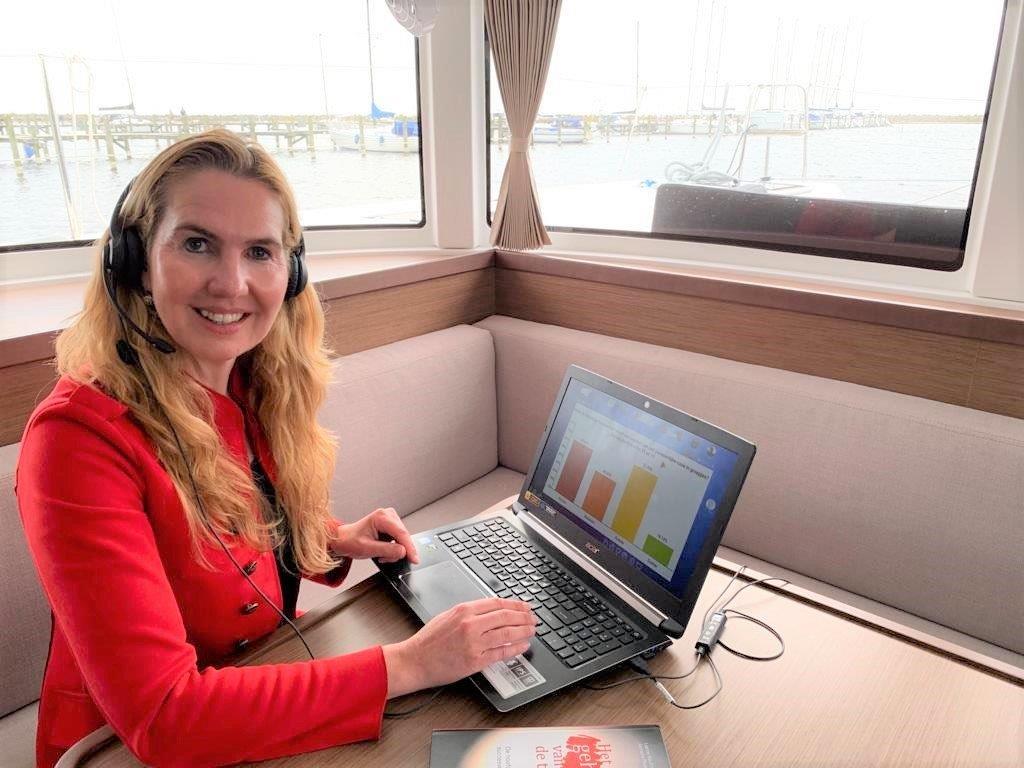 7. When there is something you can't buy in a country or need to ship in from the Netherlands, how can you receive or collect the package, because you are travelling all the time?
Yes, this is an issue! Usually we don't know where we will be in 3 days, let alone in 2 weeks! There are certain moments during a year, where we need to plan ahead (for instance flying to the Netherlands, leaving the ship in a harbor for 1 or 2 weeks). Then we make a reservation at a harbor for 1 month later and that's the moment we start sending packages to the harbor office. The harbor master is used to those questions, because that is what all sailors do: use the harbor office as package reception and storage 😉.
When it's urgent and we need for instance a special tool for the boat or we need to do a repair and need components quickly, we sometimes use an express service to send a package to a harbor we will pass by in the near future.
But if a package takes more time to arrive and we have to go, we get into this situation of resending that package to a next harbor over and over again. We have had this several times, for instance people sending presents for Christmas or my birthday, not arriving in time.
Sometimes we consider a package lost, because after sending it over and over again to the next harbor, we order a new package for a harbor to come. The last resort is finally rerouting the package to my mother in the Netherlands and collecting it later when we visit here.
8. How can you use Wi-Fi or have internet connecting while sailing?
We have our own 4G router on board, which can receive Wi-Fi up to 18 kilometers from the coast line thanks to an extra long and strong antenna. So the 'range' or distance is good, it can check in at any telephone pole on land being at a distance of max 18 kilometers.
Now about data, because using a Dutch sim card in the router will get you only 25 or 50 GB in a month when you are abroad, that is not enough for the average of 4 days a month that I do online training sessions. Then I use 8 GB during 1 hour using MS Teams! And we like to watch Netflix during the evening or use Google and internet for information.
So we buy a local sim card to have enough cheap GBs. So far the price has been around 40 euro's for 160 GB or 100 euro for unlimited internet in the countries we have visited (UK, France or Spain for example). We use the free Wi-Fi of cities or the harbors when we can, but usually it has a weak signal or is receiving data slowly. Our own routers has never disappointed us, we always had internet and if the signal was weak, we changed the simcard to another supplier (Vodafone for instance, we always have a backup local simcard), because that provider apparently has no coverage in that area.
9. What has this journey brought you 😉?
A new life with different priorities. We can really organize our own time, so no more alarm clocks and time pressure. Being outdoors makes you healthier. We feel ourselves more relaxed because of lack of planning or having social obligations. We developed new skills: cooking local products (mussels in special Brittany sauce when we were in France, preparing squid in Spain, baking pies in the UK or frying Pimientos de Padron in Andalusia).
You also get more innovative, creative and flexible being a nomad. You have to find solutions yourself, get out of your comfort zone to do, stay positive and confident. I also learned a lot more about technical issues and how to solve them (energy management, tools, laws of nature).
You learn to watch your environment closely, having more attention for your surroundings and notice more the development of wind, swell, weather and nature. Our respect for nature has grown a lot: the power of the Atlantic Ocean, animal life like dolphins we have seen and whales at the Azores. How they live together, have their feeding time, playtime, making room for other animals.
Also you develop your smell: at sea there is no smell, when you get towards land you can smell for example the pine trees from a great distance.
The grandeur of the seas makes you humble. Many people are concerned with having online presence, getting noticed on Social Media. The seas have been here for millions of years, so much longer than we will exist. When we sail over the waters, once you look back, 10 seconds later there isn't any trace left of you passing by there or even ever being there. The seas won't not remember us, we are just a drop in the ocean.
My agenda used to be determined by (work) appointments, 3 months in advance. I was all about planning. For instance in March, I knew where I would be on the 2nd of June at 14.00h…. Now with my life at sea, I don't know where I will be next week! It all depends on wind force, wind direction, current. So in short: nature in stead of work.
And getting to know the habits in different countries makes you worldly-wise. Cultural differences become more clear when you are in a country for several months. You get to meet locals, have a wonderful time with them, having dinner or doing sightseeing. We love meeting other sailors, invite them on our boat or go out for dinner, hearing their life stories and adventures.
Travelling makes you understand a country more in depth. Why the Portuguese are totally different in their character than the Spanish, how nature and sealife had developed over the years in a country (for instance in Scotland), the rivalry between Brittany and Normandy, how different mountain ranges have evolved, the work people do in an area (for instance fishing lobster or crab), standing on the invasion beaches of D-day in Normandy, driving through the Sierra Nevada, sailing in the Norwegian fjords, crossing the artic circle and experiencing the north cape. The planet has so much to offer!
10. What is your ultimate (concrete) tip to anyone who wants to do the same?
If you have a dream, for instance, travelling through South America or staring a B&B in Italy: don't call it a dream, call it a plan. Because when you call it a plan, you start planning, doing activities to make your wish come true. I noticed that other people will help you if it's a plan and not a 'vague' dream.
You have to pick a timing to work towards the moment of realizing your wish, because in your daily life there is always a reason not to go ahead with a long term plan (because of your job, children, parents, family, job, house, finances, etc, etc). There is never a perfect timing, so it's better to make a plan and start working towards a date to make it happen!
My experience is you need the help of other people, you don't have all the (local) knowledge and time yourself. Many people are brought up with the words: 'Never trust a stranger'. We only meet strangers! And you develop a 6th sense for whom you can trust and when you feel something's not right. Of course you have to keep your common sense working all the time. But 99 out of 100 times a person invites us for dinner at their home, help us to get tools or spare parts, take us for a trip in their car or boat, these were spontaneous moments and sincere offers and often the best fun we have had!