After a nice time in Porto, we started sailing further south down the West coast of Portugal. We had good wind and sunshine, so it was a great 6 hour sail along this coastline with many beaches and green hills. On the map we saw that this coastal area is part of the Reserva Natural das Dunas de São Jacinto.
Our next destination, Aveiro, can be reached after sailing into a ria. The city is surrounded by the largest lagoon in Portugal and Spain, called Ria de Aveiro.
We lowered our anchor in a quiet bay. Aveiro is known to be colorful city, so we started to explore the environment.
Colorful beach houses
First we visited with our dinghy Praia da Costa Nova, north of Aveiro and close to where our boat was anchored. Here, parallel to the beach, are cheerfully striped wooden houses in all kinds of colors next to each other. It reminded us of Scandinavia. But we could buy pastel de nata here 😊.
Colorful boats and bridges
The next day, we took our bikes to go into the citycenter, which was about 45 minutes cycling away. Unlike in Spain, cyclist gets a lot good cycle paths in Portugal! When we arrived in the city, we saw a lot of canals, we were surprised that this city had all this canals, but there was an explanation.
In the winter of 1575, the city was ravaged by a tidal wave during a violent storm. The consequence was that access to the fishing port was blocked. Trade came to a standstill and the fishermen had to wait no less than fifty years before an open connection with the sea was restored and different canals were dug. This gives the city a charming look, lots of terraces, restaurants on the quays.
On these canals the moliceiro boats sail. They look stylish and elegant like a gondola. In the past, this type of boat was used to collect seaweed in the lagoon. With a kind of rakes that are attached to the boat, the weed could be removed from the shallow bottom. It was then used as fertilizer in agriculture. Now these Portuguese boats are now used for tourist boat trips. It was a pleasure to see them pass by, with happy tourists in it, because of the sunshine.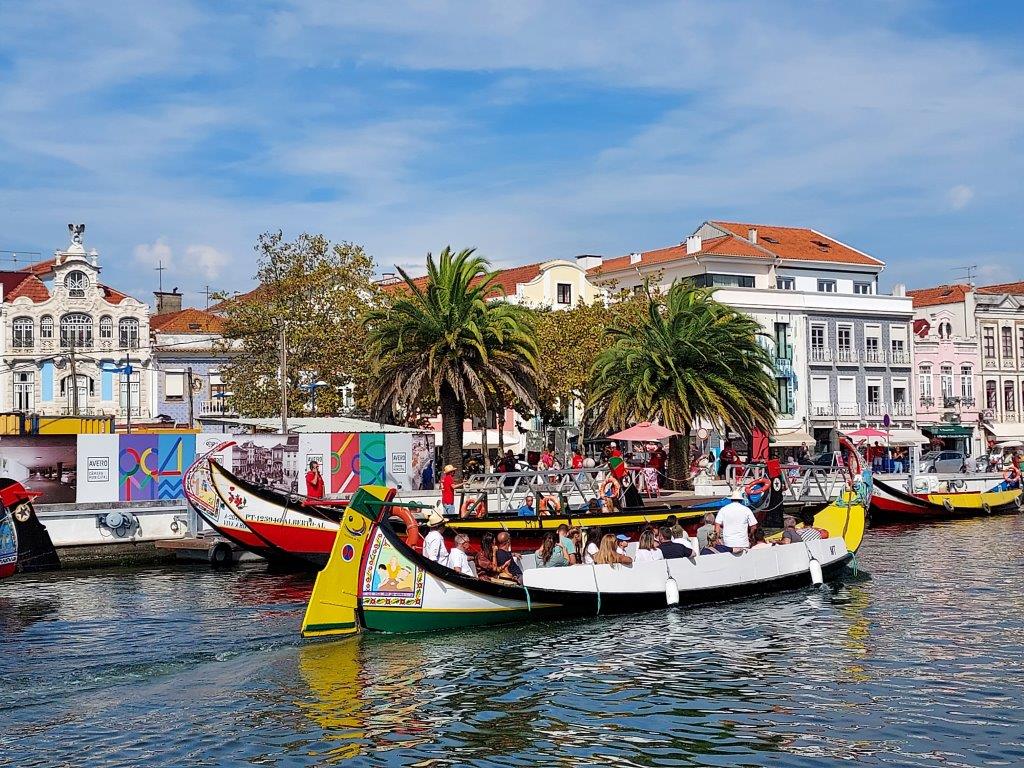 The canals have colorful bridges and I made a video of a violinist standing next to the bridge, as the moliceiro boats pass by:
One of the symbols of the city is a sweet made from egg yolk and sugar – the "ovos moles", which means "soft eggs" and are sold in small wooden vats or covered with a layer of wafer dough in various sizes. The recipe is at least 500 years old and came from a monastery where nuns used egg white to stiffen the colars of shirts. A lot of yellow of the egg was leftover. A smart nun discovered that the yolk would keep longer if she added a good amount of sugar, so now it became a sweet.
We bought a couple of them, but the combination of egg and sugar was too much for us. We prefer pastel de nata, also sugar, but with yellow pudding.
Colorful salt pans and flamingo's
When we were cycling to Aveiro, we passed the salt pans with different fields and colors of water, from grey to copper red. It was interesting to see the white salt that dries in the sun in the form of pyramids.
Next to the salt field was wetland, part of the lagoon surrounded by reed. We saw many flamingo's standing there in the water and fishing for crayfish with their characteristic curved bills. The white flamingo's are there all year and looked a bit 'pale' indeed, but once they started flying we noticed the pink color under their wings.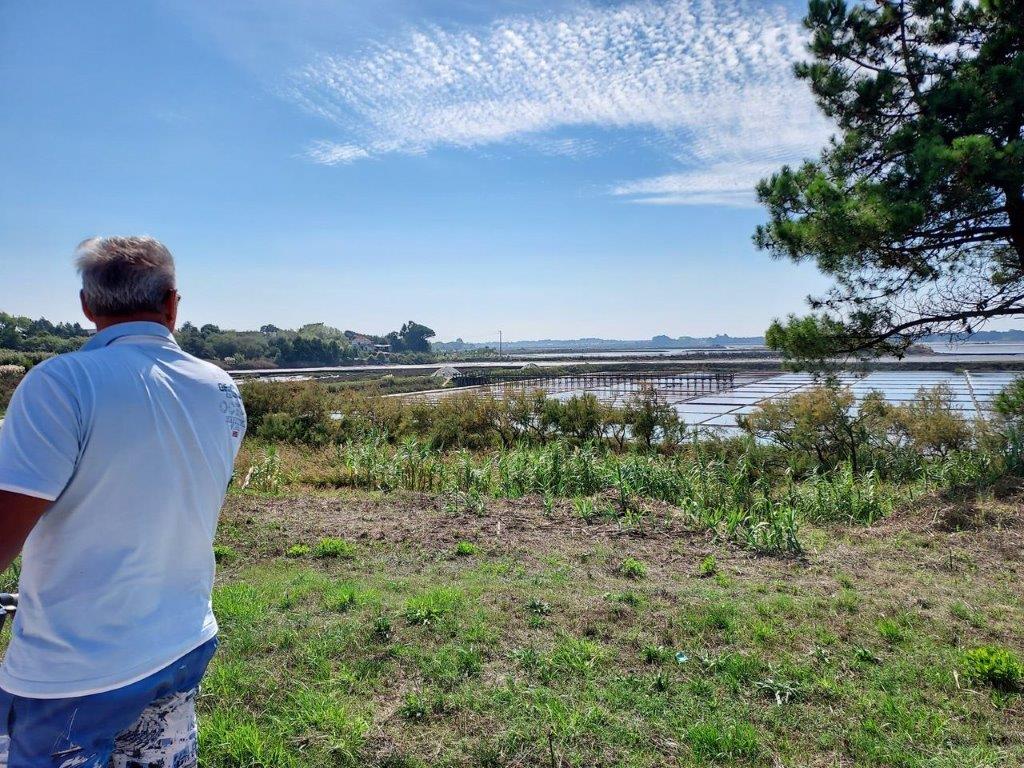 Aveiro has it's name because of all the birds that used to live in this area. 'Ave' means bird in Portuguese.
This is what I like so much of sailing and sightseeing in places where we often randomly end up. I never thought of Aveiro, and it turned out to be an interesting and beautiful city to visit. And there we were, cycling along the wetlands, enjoying the canals and having a great time!