I love islands! I was born on an island (Goeree-Overflakkee), when I was 18 I left the island to 'the other side' as they called it (the big city of Rotterdam) to study there and live there. But I never lost that feeling of how great is it to just be 5 minutes away from the water! I think islanders don't have blood flow through their veins, but water 😉.
So also on our world trip, I am always happy to visit islands, there is always a special atmosphere. After our last stay in Marseille, we sailed further along the southern French coast to the islands of Hyères.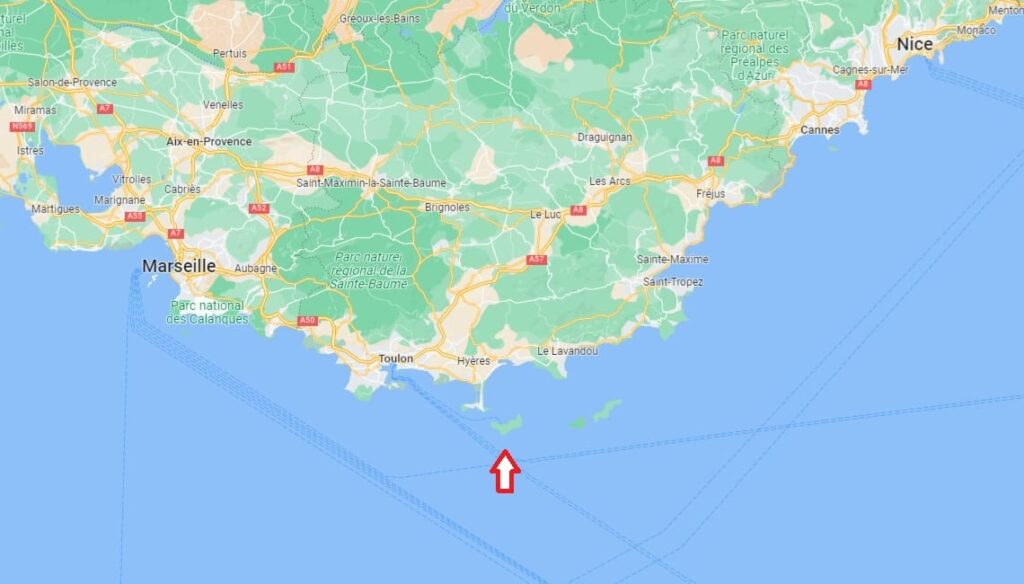 The island of Porquerolles is the largest and westernmost of this group of islands. It is about 7.5 kilometers long, 3 kilometers wide. The island has beautiful sheltered bays with azure blue water. Here you can see our catamaran:
Porquerolles was uninhabited for centuries, a rugged nature reserve. Until in 1912 it was bought by a Belgian entrepreneur. The island was his private property from 1912 to 1935. He built roads, drainage canals and vineyards on the island. He had a school built for his workers and their families and founded a cooperative. He died on the island in 1935 and was also buried there. It remained the property of his heirs until 1971, when it was sold to the French state. You are not allowed to drive motorized vehicles on the island (apparently some exceptions ;), but you are allowed to walk and cycle.
We thought it was an attractive island and cycled around and had dinner in the town there, at Port Miramar where the ferry also arrives from the mainland of the Cote d' Azur.
The most famous beach of the island of Porquerolles is Plage Notre Dame, which is 800 meters wide, in a crescent shape surrounded by pine trees and azure blue. We were on this island with Bianca and Marco Clazing, we still go sailing with them, and Bianca and I visited this beach.
I also really enjoy paddleboarding, how cool is it to do that around your ship in this beautiful bay!
We enjoyed the relaxed nature island for 3 days, especially since it is located well below the mainland and we were in a bay on the westside of the island, the sunsets are amazing:
When the wind picked up again we continued sailing. We went to the Bay of Saint-Tropez on our way, so more to the hip and trendy part of Cote d'Azur!