Before we left to the USA for the 4-day conference in San Diego (see blog nr 110), we sailed the last part of Spain, the northeast coast called Costa Brava. I mentioned that we visited the house of famous painter Salvador Dalí there, close to Cadaqués.
We also visited the Dalí Theatre-Museum in Figueres and the Dalí Castle in Púbol which are all in the same region (Catalonia). We are very impressed by the versatile artist Dalí and his works that we saw. So we'd like to dedicate this blog to Dalí, to share our experience and pictures of our visits to the 3 Dalí places.
Facts about Salvador Dalí
Salvador Dalí was an eccentric man and artist and to understand his work, you have to know about his background. Some facts about Dalí:
• Dalí was born in Figueres, a small town at the foot of the Pyrenees, about 25 kilometers from the French border, in Catalonia (Spain) in 1904 and died in 1989. He loved the rugged landscape there and has always had homes there and paintings made.
• Dalí received his first drawing lessons at the age of 10 from a friend of his father's, an impressionist painter.
• Dalí's first exhibition took place in 1918 when he was 14 years old, in the municipal theater of Figueres.
• Salvador Dalí studied in Madrid from 1921 to 1924. Already at that time, probably to draw attention to himself, he was an eccentric figure.
• In 1926 he went to Paris when he was 22 years old. There he met Pablo Picasso and Andre Breton. He joined Surrealism. The Surrealists believed that logic alone was not enough, so they turned to the subconscious and dreams in an attempt to transcend the limits of reason. The Surrealists were influenced by the ideas of Sigmund Freud and Dalí began to explore his own fears and fantasies and captured them through symbolic images on canvas
• In August 1929, Gala (10 years older than Dalí) and her husband visited Dalí in Portlligat, near Cadaqués. It was love at first sight for Dalí and Gala. Gala then divorced Éluard and married Dalí in 1934.
• In the summer of 1940, Dalí and Gala fled to the United States. In the US, Dalí worked for many years as a consultant and draftsman for the famous Walt Disney. He did a lot of commercial work in the advertising world, such as designing advertisements and he designed the logo of the lollipop brand Chupa Chups. In 1955 he returned to Spain.
• Dalí was a versatile artist, he painted, sculpted, made jewelry, objects such as perfume bottles, films, books, record covers, book covers, poems, shop windows and sets for ballet performances. Well-known objects are: the melting watches, a lobster telephone and a couch in the shape of big red lips.
• Dalí was also known for his mustache, which was thin, elongated and gracefully curved. As antennae, both mustache tips pointed up or were curled. Dalí claimed that he received inspiration from the cosmos through his whiskers.
3 quotes by Dalí:
o "When I was six years old I wanted to be a chef. When I was seven years old I wanted to be Napoleon. Since then my ambition has continued to grow at the same pace."
o "The only difference between a madman and Dalí is very simple: Dalí is not mad at all."
o "When you play genius, you become one."
Dalí Foundation
Dalí's works are housed in the Dalí Foundation, which consists of three Spanish Dalí museums: in Púbol, Figueres and Port Lligat. We visited them all, these our experiences
1. Dalí Castle – Púbol
We were positively surprised when we arrived in Púbol, looking for the Castle were the modern and artistic Dalí and his wife Gala lived. It was beautifully situated in a hilly countryside in the valley, surrounded by cornfields and flowers everywhere!
The Castle of Púbol is a Gothic-Renaissance fortification that originated in the 11th century. The basic structure of the building is three floors articulated from a tall and narrow central courtyard and has a large garden.
Dalí had promised to buy a castle for Gala. He considered several castles in the region, finally deciding to buy her the Castle of Púbol, in 1969, which was then in a very poor state. Dalí directed the restoration works, creating entirely the new decoration of the castle, and giving it his own personal touch. He offered Gala the castle where she would spend time every summer from 1971 until she died in 1982. He also agreed not to visit there without getting advance permission from her in writing.
After Gala's death in 1982, she was buried in the crypt in the castle that Dalí had prepared for her final place of rest. Dalí moved into the Castle for the first time the same year. He lived and worked there until 1984, when a fire broke out in his bedroom under unclear circumstances. It was possibly a suicide attempt by Dalí due to being depressed by Gala's death. He returned to Figueres, where he lived comfortably in the Galatea Tower of his theater-museum until he died in 1989. Dalí planned to be buried at the crypt of the Castle of Púbol, near Gala, but he instead would be entombed at his final home in the theater-museum.
Gala's private castle in Púbol was opened to the public as "the Gala Dalí Castle House-Museum" in 1996. Walking through the building, you immediately recognize the 'Dalí' colours: sienna red, blue and yellow/gold.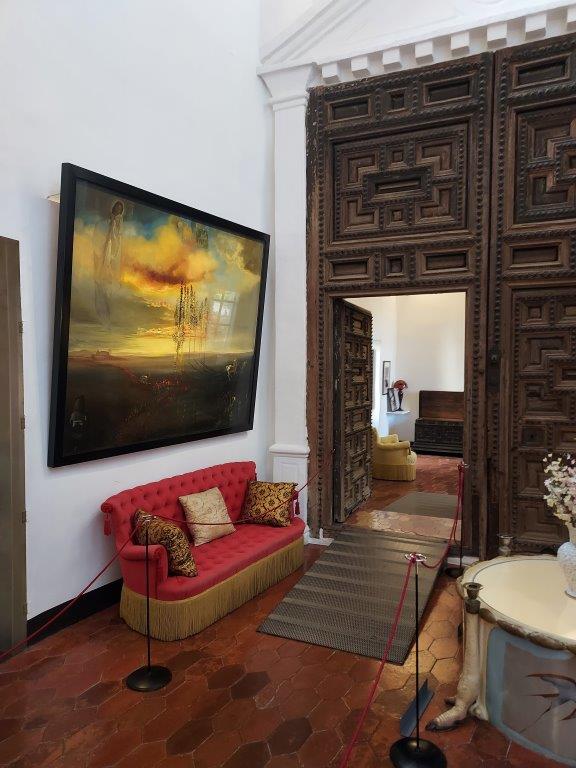 We also noticed the first examples of the famous 'melted watches':
The castle inside is an interesting combination of a house (there is a kitchen, bedroom, guestroom, attic, diningroom, livingroom library, garage) but it is decorated with Dalí's work like paintings and art objects in bright colours and shapes. Which makes it also an eccentric scene. And the advantage of being an artist is, that you can also make your own crockery. We saw in the kitchen drawers, beautifully designed plates by Dalí!
The garden is decorated with sculptures of elephants with long legs and there is also a pool where you'll see heads of Richard Wagner.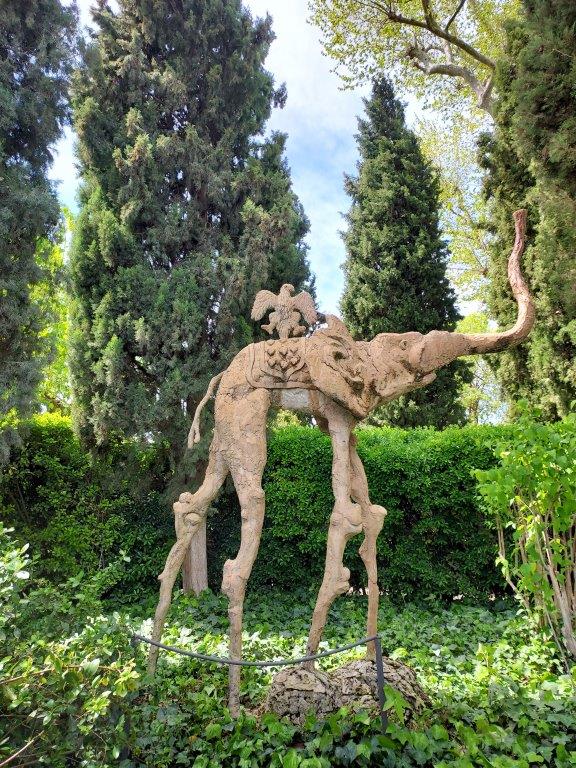 We were happy to have visited this castle, not only to get a first impression of Dalí's way of living and decorating, but also because of the beautiful rural area, when looking out of the windows of the castle.
2. Dalí Theatre-Museum – Figueres
We cycled to Figueres where the theater-museum of Dalí would be. And it couldn't be missed: the eggs on top of the building could be seen from far away!
Figueres is the place where Dalí was born and would also die. He grew up a few streets from this city theater. The 19th century the city theater was severely destroyed during the Spanish Civil War, after which Salvador Dalí decided to establish his own museum on the ruins. You will also see photos in the museum of all the renovations that Dalí put in place that lasted years before the museum opened.
Even if you don't like art, you should visit this museum. Because it is more an experience of walking through all kinds of small and large halls and looking at all kinds of (moving) objects that are in rooms that are so different that you are always surprised by the colors and shapes. And because it is a theater, there is a lot of light and there are beautiful rooms.
The Theater-Museum is one big creative splurge of Dalí. We've actually never seen anything like it! The combination of theater and museum really fits very well with a visit to this building and also fits very well with the character of Dalí who loved attention, decoration and art.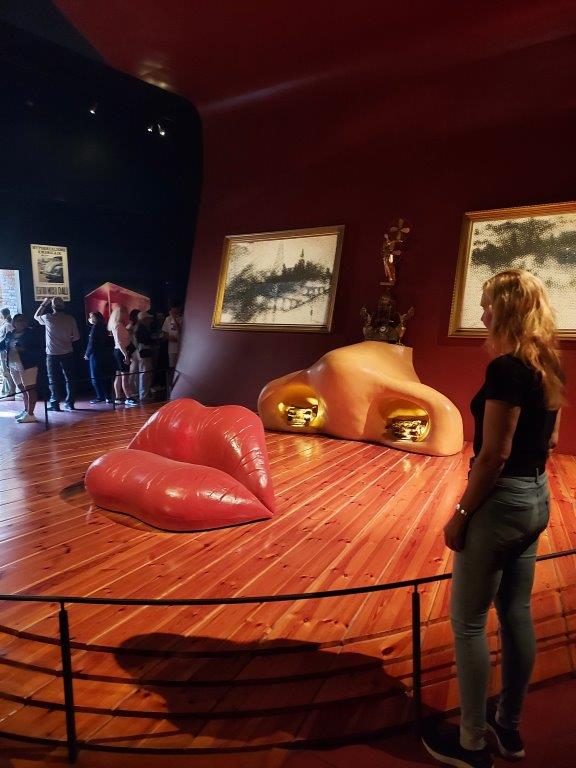 There are works of art from his early period (Cubism) and of course from the Surrealist period, but also the setups and objects that he liked to make. Maybe Dalí was not the best painter, but he clearly had talent and craftmanship when you look closer to the details in his work. And his productivity, diversity, creativity and originality made him a unique artist. The longer you look, the more colours and symbolism you'll see in his paintings.
We also saw holograms and other experiments that Dalí did with paining and using mirrors, for example. I think he would have found this period with the internet, digital photography and all the graphic developments he never experienced in his lifetime, really interesting as an artist!
If you are in the region, visiting this museum is a must! Make sure you book a ticket online for a number of days, because the number of visitors per time slot (of 3 hours that you really need!) is limited.
3. Dalí House – Port Lligat
The castle and the theater museum are slightly more inland and we visited by renting a car (Pubol) and by cycling (to Figueres). But Dalí's house is located on a beautiful bay called Port Lligat, near the picturesque town of Cadaqués. This was also our last stop in Spain before entering France. We made a video from our boat with the drone, flying over the bay to Dalí's house on the hill at the edge of the bay.
These are pictures of the house, you immediately see the well-known 'eggs' on top of the roof!
When we dinghyed to the house from our boat, we were kindly welcomed to the museum. We got a tour in a small group of 6 people (again: really book your visit in advance, because it can be very busy!) and saw the rooms where Dalí worked for a total of 30 years (with a break of 15 years in America ), before moving to the castle in Púbol in 1982 and then moving permanently to the museum in Figueres in 1984.
Dalí bought the house in 1930, when he had been with Gala for just a year and was looking for a house for both of them. It was a fisherman's hut with a total area of 22 m²: it had 1 room, which served as a dining room, bedroom and studio. A small staircase led to an upper floor where the small kitchen and a toilet were. He later bought the fishermen's huts that surrounded it and connected the houses together. As a result, the house has a labyrinth-like structure, with narrow passages and numerous level differences.
Because this was not only his workshop, but also his home, the place feels intimate. You see the cellar where he kept his paint and brushes. You see the rooms where canvases were stretched . Also many pictures of Dalí in the livingroom with people like Picasso, Walt Disney and artists such as Elvis Presley and Maria Callas. You walk through the bathroom and bedroom, all artfully decorated.
There is a large olive grove and the famous dovecote of Dalí's own design. The dovecote is decorated with wooden pitchforks and the semi-circular openings are meant to act as a wind chime when the region's famous 'Tramuntana wind' blew through.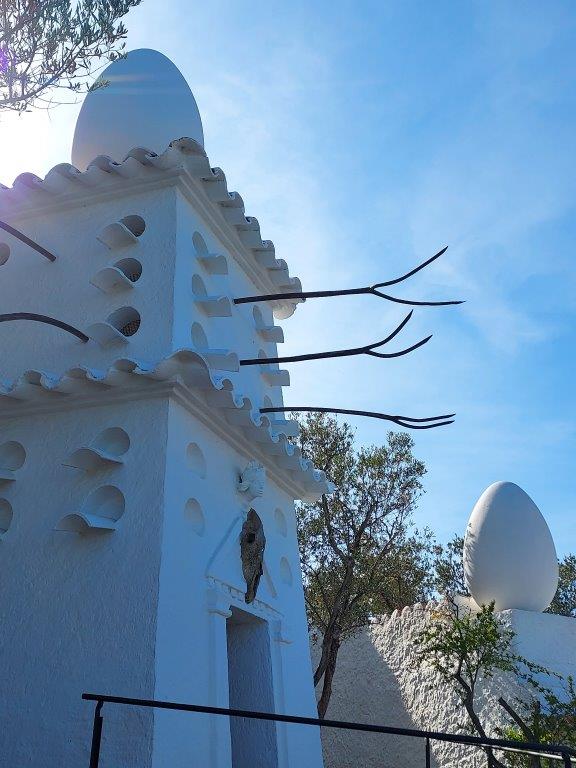 The pool was supposed to evoke memories of the gardens of the Alhambra in Granada. And also Dalí showed this commercial work here.
In short, here too there is a lot over the top that fits Dalí completely!