After a great time at Gibraltar, it was time to round the bend and sail into the Mediterranean! When we did, we looked at the other side of the Rock. There we saw a large sunken ship with on deck 4 yellow cranes still standing above water level. It turned out to be a ship of 178 meters filled with oil, that was on it's way to Vlissingen end of August 2022. It hit another tanker at Gibraltar during the night and got a hole of 10 meters in it's hull and sank. The owner has till March 2023 to remove the ship.
After watching this ship, we sailed further along this coast called Costa del Sol, which was enthusiastically sang about by "Zangeres Zonder Naam". We visited 3 famous coastal towns there: Estepona, Marbella and Málaga.
Estepona
We were advised by many sailors to stop at Estepona, because the town is really charming and you would immediately experience the Mediterranean atmosphere! And they were right. The harbor welcomed us with lots of palm trees, sunshine, buildings in blue and white colors and nice beaches around the corner. We ate at a Greek restaurant (I love tzatziki, dolmades, feta and baklava!). We drove with our bikes on the wide boulevard, saw a lot of nice restaurants on the beach where they grill fresh fish daily (see below on the right side).
Marbella
Next would be Marbella. We heard a lot about Marbella: it's an wealthy city with many expensive boats and a jet set lifestyle. It turned out that Marbella was also cozy with nice little streets and green parcs.
And from our boat, we had a view on the Sierra Blanca, the mountain range behind Marbella with peaks of 1200 meters.
I know that in the south of Spain, there are many orange trees, but I didn't expect them to be in bloom in this season. Probably because I also did not expect 20 degrees of sunshine in January over here! People having lunch outside on terraces and walking around in T-shirts.
The harbormaster was very kind and he was curious to know more about our world trip. We told him about Scandinavia and how in Denmark there were no daily harbormasters present, but like a carpark, we had to get a ticket out of a machine for 1 or 2 days staying at the harbor. Then we had to display our ticket at our rigging or behind a window to show that we had paid. The Spanish harbormaster could not believe it and told his colleague about it. Because in Spain, the 'check-in' is so extensive: at every harbor we have to fill in a 2 page document with many details about our boat (length, beam, draft, engine type, ownershipproof, insurance policy, passports of crewmembers, last port, next port, etc). It takes half an hour. And in Denmark, the system is more build on trust and efficiency. It is less personal, but it's also about less job creation to be honest…..
We also experienced Mediterranean mooring in the harbor. Which means, to save maximum space in the harbor, there are no boxes or jetties between the boats. You have to attach your boat to the rear of the pier with 2 lines. And then with a hook, you have to pick up a line with is again attached to the rear of the pier, but lays on the bottom of the harbor. You have to bring this all the way to the front of your boat and then tie it up there. So now you're boat is attached to 4 lines: 2 in the back at the pier, and 2 in front of the boat to the bottom of the harbor. The boats lie against each other, separated by fenders. It is actually an easy way to tie up your boat, but also a 'messy' one. Because the bottom of the harbor is usually muddy, filled with seaweed and shells, it's not a very elegant way to tie up your boat. As you can see in the picture below, it makes your boat quite dirty, and the boat next to you as well, and I'm not even mentioning your clothes…We need to get a bit handy with this way of parking our boat in the harbors. Practice makes perfect.
Málaga
Our last stop at the Costa del Sol would be Málaga. The wind was Westerly and strong, so our boat got a lot of wind from behind. Gilles put the main sail into a 45degree angle to catch as much wind as it can get. And normally, a foresail would point into the same position as the main sail, but with this wind, the main sail would block all of the wind of the foresail. Sailors then change to position of the foresail into the opposite to get the maximum out of the wind. This is called "Melkmeisje", named after the girl with traditional headgear with equal mirrors sticking out. Like a butterfly. In the picture you can see how we set our sails to get the most impact of the wind behind our ship, pushing us forward.
It would be Gilles birthday in Málaga, so we wanted to stay here 2 nights, do sightseeing, have dinner and be at walking distance from the city center. It turned out that finding a harbor was not that easy! There were 4 harbors: for fishing vessels, for ferries and cruise ships, for boats under 12 meters and a commercial harbor/industrial harbor for large tankers or construction boats. We were not welcome in any of those 4 harbors. So what to do? I checked 1 of the sailing apps that I had installed to find tips and answers. And I found out that there was a 5th harbor, a Super Yacht Marina, which welcomed private yachts from 20 meters. We are 13 meters, but still I called them. And they accepted in this quite season our request to stay at their Marina for 2 nights! There were about 4 boats in this Marina, we were absolutely the smallest one 😊. A friendly Harbor master welcomed us in his golf cart and helped us to parc our boat next to a 45 meter yacht with 4 floors and crew onboard (probably the costs of that ship would be over € 20 million….).
The harbor master helped us to get electricity, because we have an electricity plug of 16 amps, and in this Marina the minimum plug would be 125 amps… Usually ships in this harbor would use 250 amps (see the blue plug on the left) and that plug now had to be changed for us to fit in our little yellow cable with 16 amps (see on the right). The Marina can deliver up to 800 amps, this year even raised to 2.000 amps, because still it was not enough….. We had to laugh, because in our world we cannot imagine that much amps for a private yacht.
Gilles would now celebrate his birthday in style on our 'mini Super Yacht'! We visited the Teatro Romano, Picasso Museum (the painter was born here), cycled in parcs with so many palm trees.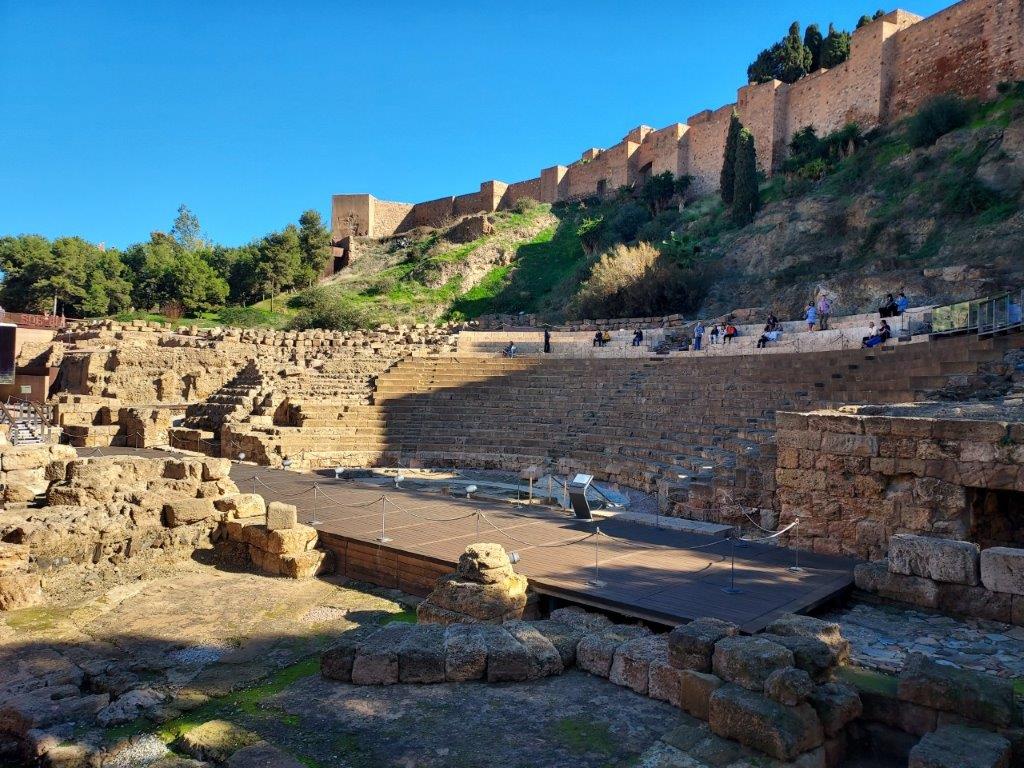 We had tapas and a drink at the beautiful bodega owned by Antonio Banderas (who was also born in Málaga). We visited the beaches, sat under a palm tree with a gin tonic and had a very relaxed birthday.
We also visited the market hall in Málaga which has been here for centuries and was very lively and busy. In this 43 second video you can see how the salesmen try to get your attention!
We would absolutely recommend Málaga for a weekend visit, it's lovely!