Now it was time to explore the Costa Blanca! It has beautiful beaches and cities like Alicante and Altea. This is the track we have sailed last weeks along the Spanish coast and I am highlighting 4 interesting places that we have visited.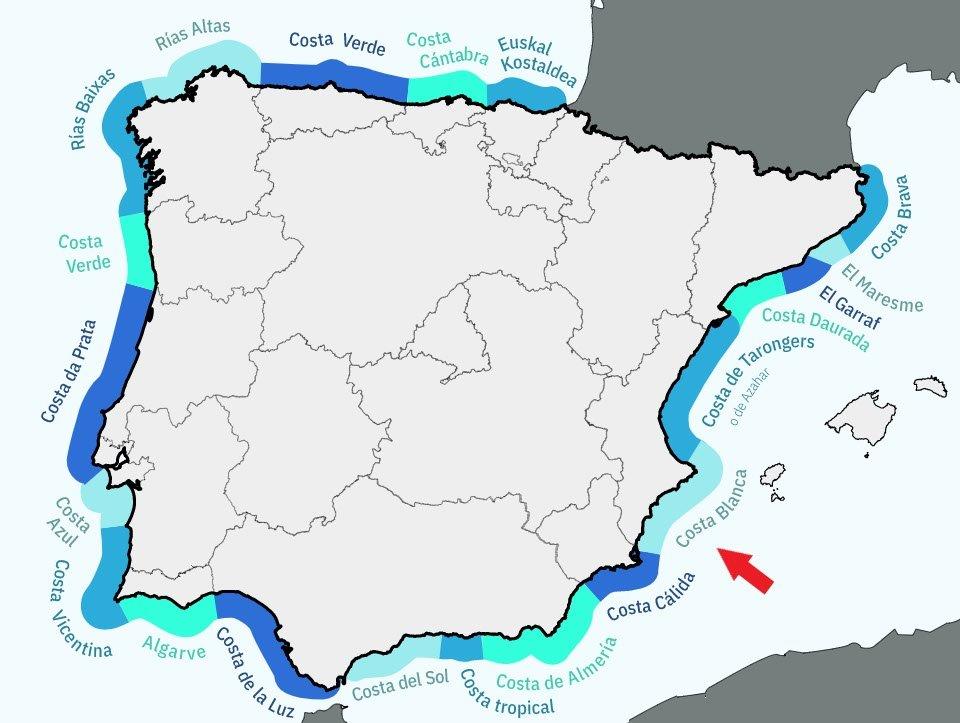 Torrevieja
When we sailed to along the coastline to Torrevieja, we noticed that the mountains were getting higher and also more light in color.
Torrevieja was not particularly a place that we had planned for sightseeing, but we had an appointment made there for the 2 year check of our rigging that holds the 22 meter mast in place. I've written about this check in blog nr 97. Maintenance, it's the nr 10 on the list. This check had to be done because of our insurance policy and it had to be done by a Lagoon dealer. I found a company called KAT marina, they had 4 locations at the Costa Blanca and their rigger did the check for us (measuring the tension of the rigging system to secure the mast).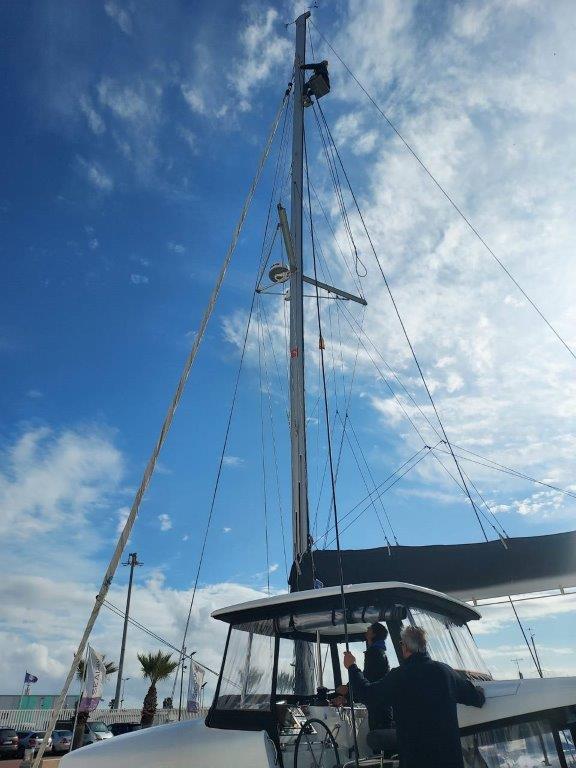 We stayed in the marina where the rigging company was. We had some time to clean the boat. Because we noticed the Mediterranean Sea is very salty (about 38 grams of salt per liter of water), it leaves a greasy layer on your boat and it's windows. So with our Kärcher high-pressure cleaner and a lot of foamy detergent, we got the job done (for now)!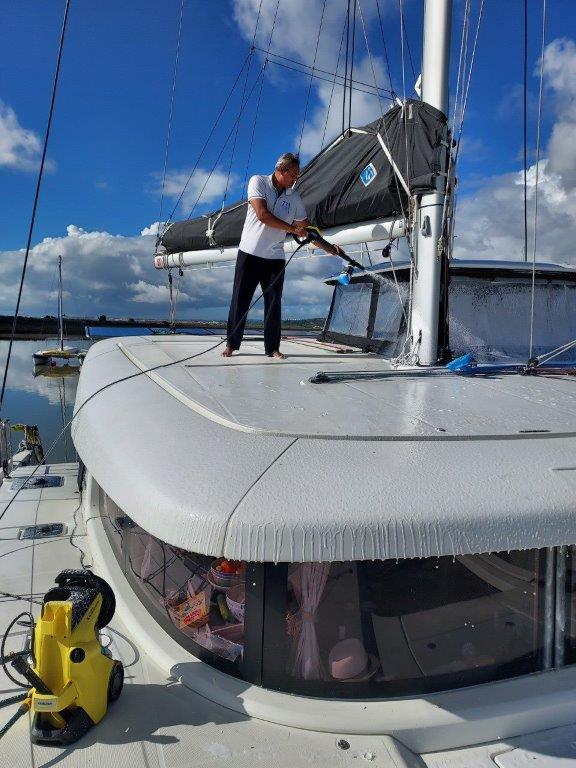 We also did some sightseeing in Torrevieja. We really liked the 'Laguna Salinas' (salt lakes), just outside the city. It's where several companies distract salt from the water. The water slightly has a pink color and during sunset, the lakes reflect the colors of the sun very brightly:
Alicante
We sailed further up the southeast coast of Spain and dropped our anchor at Alicante. After having been in a harbor for 5 days, it's nice to anchor. It's easy, more connected to nature and free! Alicante was a very nice city, we cycled along the boulevard and had a drink there.
The sunset was also beautiful over the bay of Alicante: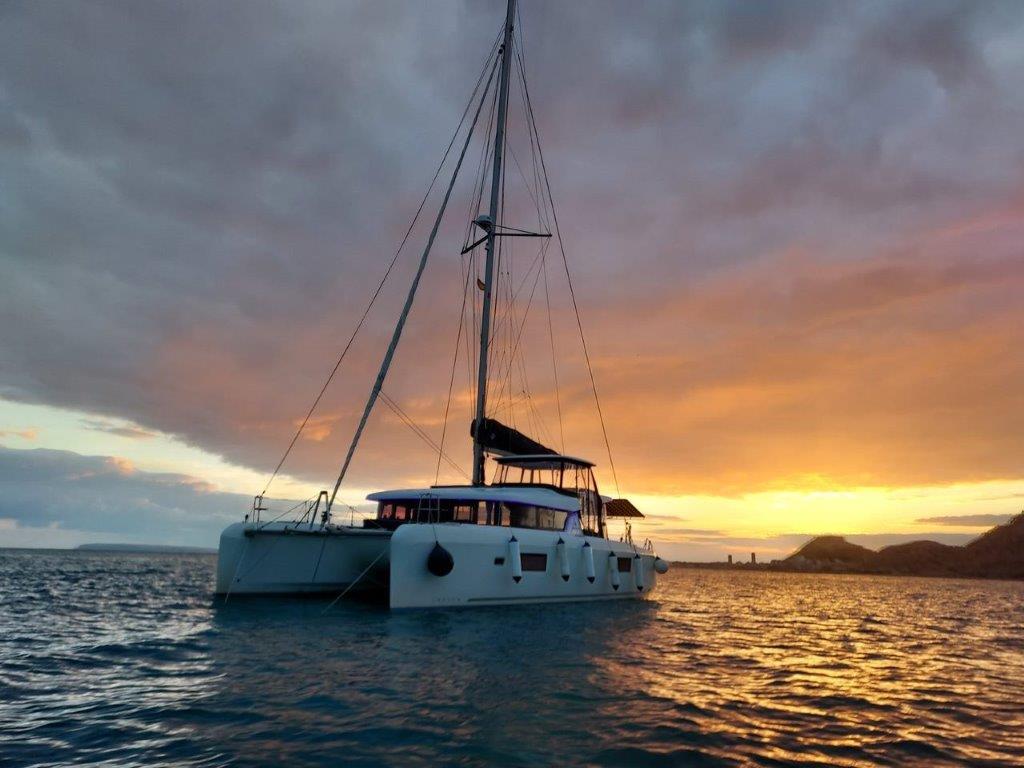 Benidorm
We noticed last weeks that the harbors are getting more crowded and also more expensive in this area. We were not used to that anymore, because from October when we were sailing in the Algarve (Portugal) and Andalusia and there was always plenty of room in the harbors. Because people usually sail from April to September, the harbors were quite empty during the last 4 months. We did not have to make reservations anymore or call upfront. Now we got refused in several harbors, because they were full. The Costa Blanca is very popular during Wintertime by North Europeans (British, Germans, Belgians, Dutch) and apparently they bring their boats as well!
After sailing for 6 hours from Alicante and being refused at 2 harbors, we sailed to Benidorm. You would expect Benidorm to have a huge harbor, because of the many tourists there, but we knew after checking online, that is has just a small fishing harbor which fits only 70 small fishingboats. Certainly not a catamaran. But Gilles had seen on the nautical map, that this harbor had 1 visitorsplace at the entrance at a quay of 10 meters, no water or electricity, just 2 poles to put the lines of your boat around. And that spot was empty when we came there! Since it was Sunday, the harbor office was closed, so no questions were asked and we put our boat in the visitors place and stayed there for 1 night.
The view was not great there: Benidorm has the largest number in the world of high-rise buildings (35 meters or higher) by population: on average there is a building of 35 meters or higher for every 180 inhabitants. Because of these high buildings and the fact that Benidorm never sleeps in the summer, the city is sometimes called 'Beniyork'. This is what it looks like in summertime at the beaches: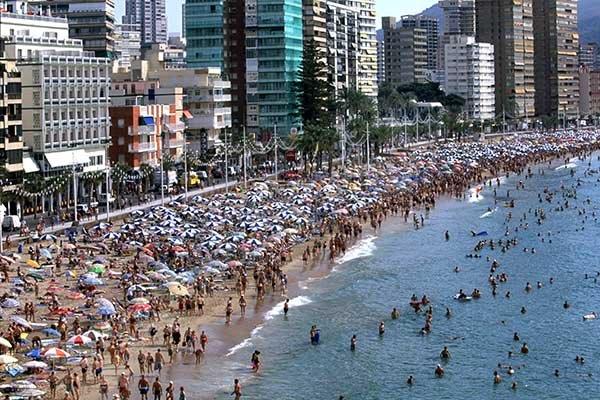 Altea
Next stop was Altea. And this was a beautiful village! Very charming with a historic center with small streets, houses, authentic restaurants. We really loved it! And we met some friends there as well!
Karima Matser is director of the Dutch Trainers association NOBTRA. She always goes to Spain to work from home there for 1 or 2 months during wintertime. To get a break from the cold. She and her daughter Danielle came to the catamaran where we offered them a lunch. We had great talks about travelling and working and our future plans!
We also met Fleur Pullen. She was owner of a Lagoon42 as well and we talked a lot about sailing during our time in Stavoren in 2019 and 2020. She is owner of a Training company just like I am, so we have a lot in common as travelers and workers! She now tours Europe in a campervan and she visited our catamaran in Altea with her parents, because they bought a house just recently in Altea Hills. Fleur drove in her campervan to them in February, the same time as we were in Altea.
We had such a great time and so much to talk about, that Fleur's parents invited us to their house for coffee the next morning in Altea Hills. That was so kind of them, we have good memories of all the nice talks we had with them!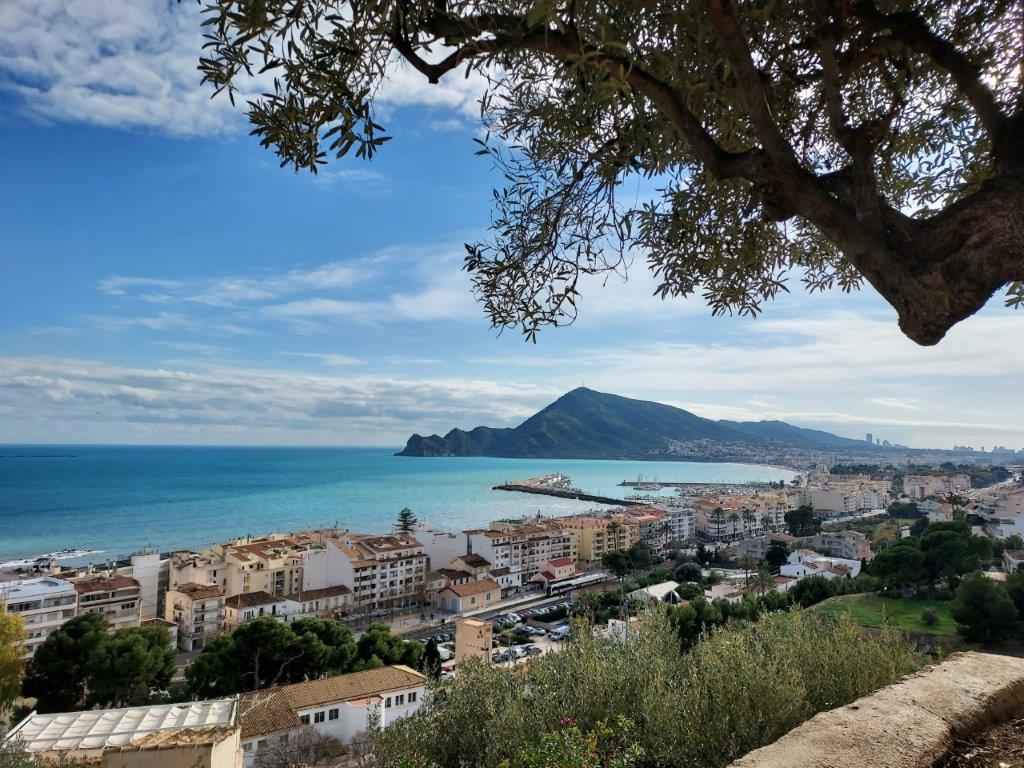 Every month I do online trainingsessions from the catamaran, usually 3 or 4 days in a row. And in February I gave again different training sessions to organizations like hospitals and banks. I enjoy working online and meeting with trainers in the Netherlands. This is a picture of when I finished the trainingdays.
The next trainingdays will be in March again, so we have a few weeks in between working and can make longer sailing trips. So we are planning to make the crossing from Altea to Ibiza, waiting for good wind, because it will be about 12-15 hour sailing from the mainland of Spain. My next blog will be written from Ibiza!