When we came back the 15th of December in Algarve from 4 days in the Netherlands, the contrast in landscape and temperature could not be bigger! From white frost, to the beach on a swing with 20 C° degrees!
We started the engines of the catamaran the next day and had a wonderful long day of sailing to Tavira where we anchored in the beautiful sunset:
From Portugal into Spain
Our last stop in Portugal was Vila Real de Santo António. On the other side of the river we could see Spain (Ayamonte). The next day we changed the red/green flag after 3 months of sailing Portugal, again for the red/yellow flag of Spain: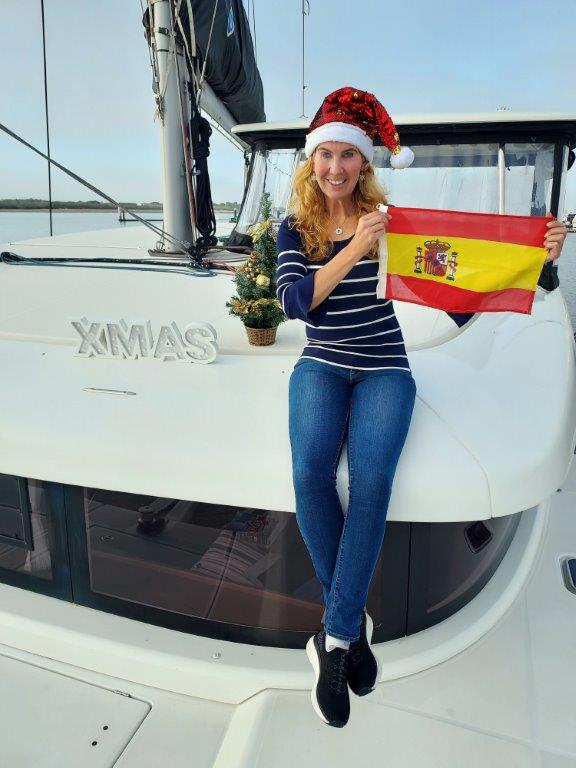 It was also time to transform the boat into a Christmas boat with lights and X-mas decorations:
We started sailing along the South coast of Spain. This region is called Andalusia with capital Sevilla. It has 8 million habitants and is the largest province in Spain.
Wintersailing
When Wintersailing you always have to pick your days to sail. Because there is more chance of fog, hard wind or rain. But in this area, with 20 degrees and lots of sunshine, it's a pleasure to do wintersailing! We don't wear coats but wear sunglasses in stead and even saw dolphins along this coast!
We stopped at El Rompido, Mazagón and Bonanza. We alternated between ports and anchorages.
Christopher Columbus
Then our destination for X-mas came into view: the bay of Cádiz. The city of Cádiz is the oldest city of Western Europe. Cádiz was once called Gadir by the Phoenicians and this name evolved into the Latin Gades when it was under Roman rule. The old town is located at a peninsula, where also our harbor (Puerto América) was. In September 1493, Christopher Columbus left Cádiz for the second time for America. After 5 quite days of quite wintersailing, it became busy in this bay with industrial ships, many coming from the Canaries.
Before we saw the peninsula and Cádiz, we first see a large bridge stretching over the bay. It is one of the highest and longest bridges in the world. It is officially called the Puente de la Constitución 1812 (Bridge of the Constitution 1812). Very symbolic, because the opening was planned for 2012. Unfortunately, construction was delayed for 3 years and the costs were not 100 million as budgeted but 5 times more….. I assume that is why the bridge is popularly called La Pepa (the Well).
In the harbor of Cádiz we were the only boat with Christmas lights, so that attracted some curious sailors:
Little Havana
The old town of Cádiz was great: small streets where we cycled, many squares, a beautiful cathedral and a long boulevard along the coastline. Cádiz is affectionately known as 'Little Havana' due to its similarity to the Cuban capital in its architecture, the cathedral and the stretch of its bay. In fact, there is a ruling in place in Cádiz that no building is permitted to be constructed which is higher than the cathedral, to protect the views from along the bay and to avoid the 'built-up' look so commonly seen in Spanish places.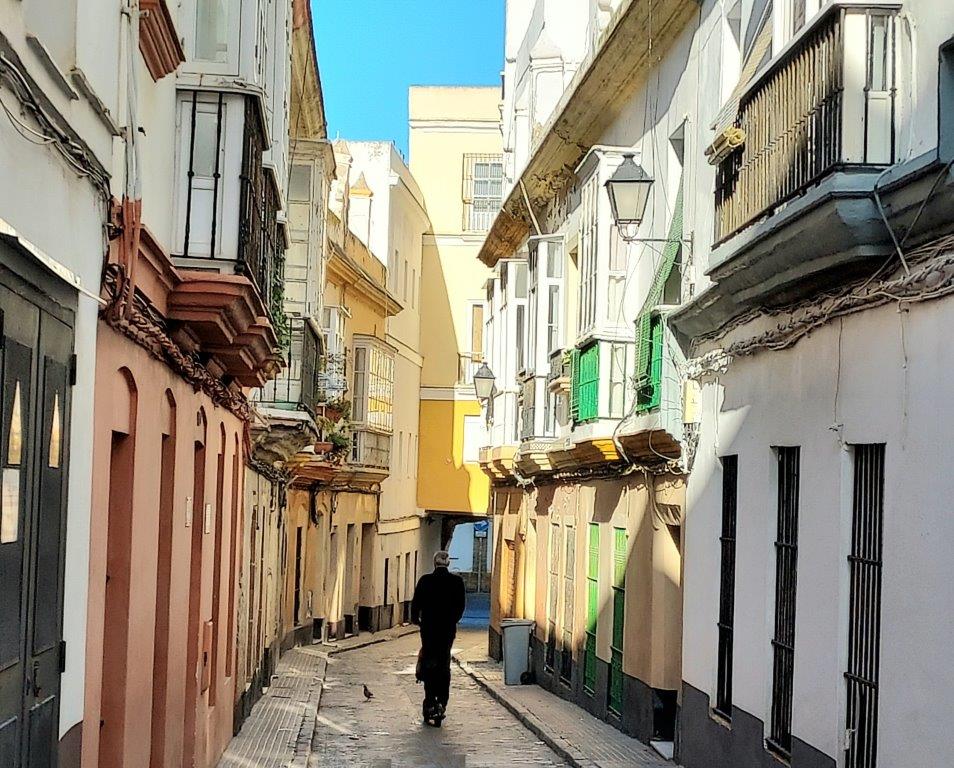 Palmtrees, no Christmastrees
My birthday is 25 December and we visited the open air Christmas market which had stalls, but was surrounded by palmtrees in stead of Christmas trees. It's so funny to celebrate Christmas this way! I enjoyed this day skating along the boulevard.
For Christmas dinner, we selected a restaurant which offered a 10 course Christmas menu which was based on Tuna and Jamón Ibérico. And also included Sherry wine which is famous in this region. We sat outside for the Christmasdinner from 20.00-22.30h surrounded by small fireplace fires, and had a great time! There was a relaxed atmosphere and the waiter with his Christmas hat made the evening also enjoyable.